Fundraising in the workplace can be fun. 
Whilst fundraising is primarily to raise money for charity, a great by-product is that you're also team building and creating strong workplace relationships. This helps to build a great workplace culture where people won't want to leave, which is why we've rounded up some creative fundraising ideas for work.   
In this article, we'll look at some easy fundraising ideas to inspire you. Whether you need office fundraising ideas for charity or creative fundraising ideas for those who work remotely, we have different suggestions to suit your workplace. 
In this article, we look at: 
One-Off Fundraising Ideas for Work
Let's look at some charity fundraising ideas for work which you can host as a one-time event. 
Dress-down day
This is one of the great corporate fundraising ideas as it's unbelievably easy and everyone participating will appreciate it. A dress-down day is suited to organisations that usually have a strict dress code (suits, jackets, etc). Having a day where everyone can feel a bit more relaxed in their jeans and t-shirts will be a fantastic way to boost engagement and also raise some money for charity. Individuals can pay a set fee to participate, plus donate any additional money if they'd like to. 
Office cinema
3, 2, 1… Action! This is one of the best charity night ideas. Who doesn't like a trip to the cinema? So, why not convert one of your meeting rooms into a cinema screen? Everyone can bring in beanbags, pillows and blankets and get cosy for a 'night at the cinema'. The whole team can vote on the film they want to watch and crack out the popcorn or pick 'n' mix. Money can be raised through cinema 'tickets' and even from a concessions desk selling snacks!
Office raffle
Here is another one of the great work fundraising ideas. Why not do an office raffle? Individuals can donate things they no longer want or need. Perhaps suggest that people donate their unwanted Christmas or birthday gifts to the raffle? Everyone can purchase a raffle ticket (or a few) to raise money for your organisation's chosen charity.
Top tip: choose the most extroverted person in the office to run the raffle who can work a crowd.  
Job swap
This is a fantastic idea, but your bosses will need to be willing to laugh at themselves! Put all the roles into a hat and draw them out one by one. Everyone then has to enact the role they've picked out for a day. This idea may not be the best fit for customer-facing roles – you don't want to generate lots of complaints! But it could be a good laugh for office-based organisations. How will the CEO do at manning reception? Will he or she know how to operate the phone system? Only time will tell! Again, individuals can pay a fixed fee to participate. But you could have someone doing a sweep for donations during the day too, to build up some extra funds.
Ongoing Fundraising Ideas for Work
Why not consider longer-term workplace fundraising ideas to really boost the amount of money you raise? Here are some simple charity fundraising ideas that could see your money double. 
Swear box
Pop a jar somewhere central and every time someone swears, oh $%£!, there goes a pound. If your organisation doesn't have this issue, why not have a jargon box instead? The next person to say phrases like 'blue sky thinking' or 'growth mindset', show them where the box is. You'll be surprised how much you can collect in the space of just a few weeks! In terms of easy fundraising ideas, this one comes top of the list.
Step challenge
A step challenge is a great long-term incentive to raise money, get fit and also have fun with your team! Individuals can pay to take part. Essentially, whoever does the most steps over a set period will win. This can be a physical prize, but if that isn't an option then often 'pride' is enough! You can track the number of steps on multiple devices, such as Fitbits, smart watches, apps on your phone. Organisations might even consider adding one of these devices as a 'company benefit' to support workplace fundraising! A great example of this is The Alzheimers Society which promotes 'step up for dementia'. 
Donate your coffee money 
We've all felt the pull of a coffee shop on the way to work and the temptation to buy a quick latte, but the cost of a coffee can be around £4 for each cup. Imagine putting aside that coffee money and instead donating it to a really good cause. Better yet, imagine a whole team or a whole organisation doing the same? This could be a really good way to fundraise money for your chosen charity.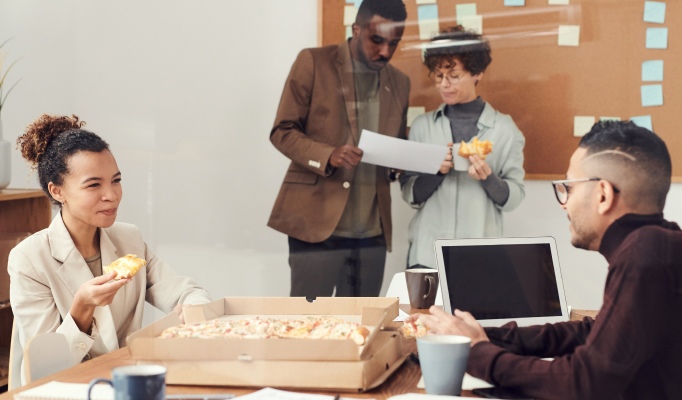 Annual charity
Longer-term fundraising ideas for charity can be more impactful when you choose a specific charity to fundraise for each year. This can be a great way to generate huge amounts of money for one deserving cause and make a substantial difference. 
Competitions
We all love to get a bit competitive with our work colleagues! Why not put that competitiveness into action when you're planning your fundraising? Here are some charity challenge ideas for your workplace. 
Great office bake off
This is one of the top fundraising event ideas across the UK. Employees can all get their aprons on and compete to make the best bake, in true GBBO style. MacMillan promotes the famous 'coffee morning' which is held annually, but the charity encourages everyone to hold one whenever suits them. 
Office Olympics
Just like the step challenge, office Olympics can simultaneously build strong teams, raise money for charity and improve the fitness levels of all participants. Much like sports days in school, office Olympics can see employees joining teams and taking part in various competitions. Your Olympic events could even incorporate office furniture, for example, desk chair races!  
Win a day off work
This creative fundraising idea would get lots of traction. Individuals would need to pay to enter but if they win, they would win a whole day out of the office to do whatever they fancy! Maybe that's a duvet day, a day full of shopping or even a day for life admin. All the entry money would then be donated to your chosen charity. 

Remote Fundraising Ideas for Work
What about some creative fundraising ideas for those who work remotely? Take a look at this list to get inspired.
Cheese and wine night 
Why not buy your favourite beverage and a selection of cheese and crackers? Pop onto Zoom and chat the night away with your colleagues. This is a really lovely way for remote teams to have conversations that aren't about work and simply get to know each other. Added bonus: you raise some great money for charity too!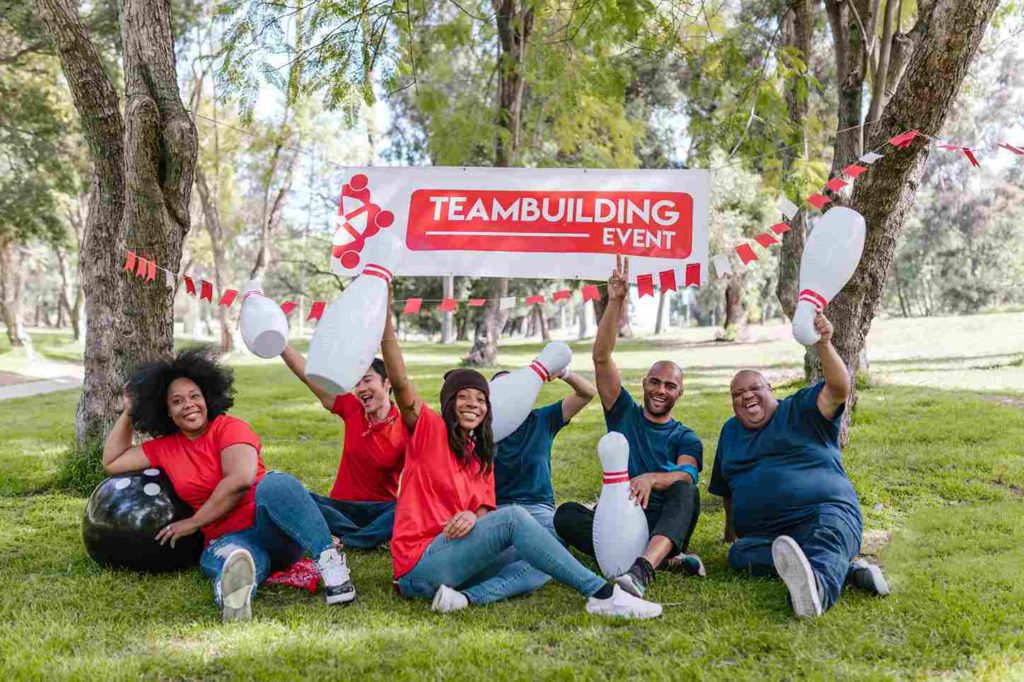 Quiz 
Since the pandemic, virtual quizzes are super easy to set up. There are so many websites out there that host group quizzes if you work remotely. Your team would jump on a Zoom call and run through the quiz – whilst joking about who is coming where on the leaderboard. Again, you would just charge a small fee to participate in the quiz and donate it to the charity of your choice. Quizzes are another fun way to build strong team relationships.
Webinars
One of the top remote fundraising event ideas is to put on a webinar. Think about what your organisation specialises in and what might encourage people to give up an hour of their time. Perhaps you could arrange for a charismatic speaker to talk about the latest trend in your industry? Once you decide on the content of your webinar, pop the event on social media and charge a small fee to join. Make sure you celebrate the fact that the event is to raise money for charity as people will be more likely to want to join!