It's well-reported that motherhood is the equivalent of 2.5 full-time jobs, with mums spending around 98 hours per week on parenting duties. This doesn't even take into account the 'mental load' or 'emotional labour' that many mothers take on. Add a job into that mix and it becomes a real challenge for many. 
Impact of the Pandemic
 Mums spin many plates, but the pandemic took this to a new level. Parents were expected to simultaneously work from home, look after their children and become long-term supply teachers. 
For many, the balance was unachievable. A study by the Institute of Fiscal Studies shows that working mums were 1.5 times more likely than dads to have either lost their jobs or quit since the start of the pandemic. Many mums had no choice but to step away from their career to focus on childcare.
Yet, in other ways, the rise of remote working facilitated the balancing act of mothers. It proved to employers that their teams don't need to be 'seen' to be productive. Employees can still do their roles without being sat in the office. This has created opportunities for women and has enabled conversations about flexibility and work-life balance. Post-pandemic working mums are now able to negotiate days at home or even permanent remote working. 
Less time commuting has even allowed mums to do the drop-off and pick-up duties without having to 'take time' from their jobs. A recent study found that removing the daily commute saves an average of 72 minutes each day. Mums can now utilise their time better – spending quality time with their children, catching up on life admin, or doing some housework. This has enhanced the work-life balance for many. 
Challenges of Returning to the Office 
Working mums with a gap on their CVs as a result of time out during the pandemic can find it challenging to reenter the workforce at the same level as when they left it. When employers see a gap, they often assume it equates to a shortage of skills or out-of-date knowledge. 
Women often have to re-enter at a lower level and build momentum to get back to where they started. Pre-pandemic, women as a group were already underrepresented in the workforce. Research by McKinsey has revealed that "for every 100 men promoted to manager, only 85 women were promoted". This disparity has been exacerbated due to women temporarily leaving the workforce.
The pandemic has also had an impact on women's wellbeing. Being told you're only qualified for a junior role when you have years of managerial experience can leave a huge dent in confidence. Working mums can start to question their own abilities, often developing 'imposter syndrome'.

How Can Employers Help Encourage Mums Back into the Workplace? 
Organisations have the power to make this transition a positive experience for working mums. Here are a few areas to consider when bringing mums back into the workplace: 
Promote government support
In March 2023, the government announced they plan to extend the UK childcare scheme as part of their 'back to work' budget.  Parents are currently eligible to receive 30 hours of free childcare each week if they live in England and their child is between 3-4 years old, but this move would extend the service to parents of 1-2 year olds as well. This would only be available during school term time and would last until the child enters reception class or reaches compulsory school age. Parents would only need to pay for supplementary meals, nappies or travel.
Signpost this service in your workplace and share through internal communication channels to raise visibility of the service! You can direct parents here to check their eligibility and apply for the scheme.
Look closely at policies 
Organisations should focus on providing equity, not equality. Companies should acknowledge the additional burden on working mothers. Business leaders should consider how they can help alleviate this pressure from a workplace perspective. For example, employers could offer paid time off to attend child-related appointments or to arrange emergency care if existing childcare arrangements break down. 
Transform ways of working 
Organisations should strive to change how flexibility is perceived in the workplace. Working flexibly is not slacking. Working at optimal times of the day can actually increase productivity levels. Enabling mums to have flex in the hours they work can support attending other child-related commitments. 
Working flexibly might look like later start times or earlier finish times. It might be a long lunch break, or even allowing mums to work a few hours in the evening once their children have gone to bed. This progressive approach to working hours – focusing on output rather than presence – will be invaluable to working mums in the long run.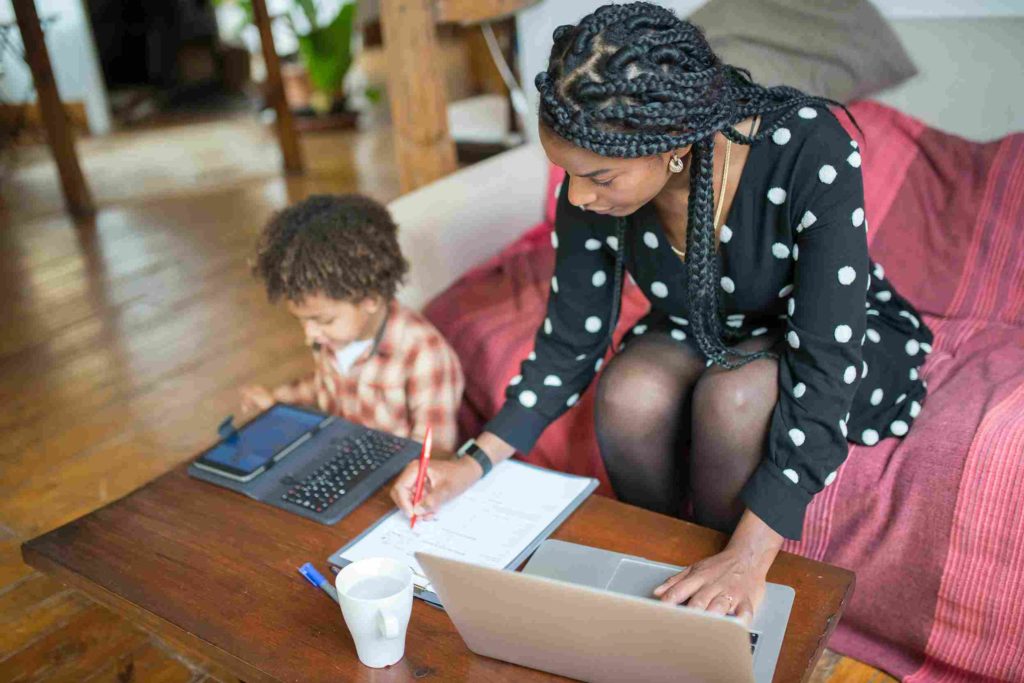 Make hybrid or remote working possible
Research has shown that mums are now less likely to return to the physical office when offered the option of remote working. Working mums undoubtedly value the additional benefits that working from home can bring. Studies show that women typically do the monster share of the housework. Women can get a headstart with this during their lunch break when working from home or in the time they would have spent commuting. 
Ensure competitive and equal pay
Organisations should make it worthwhile for working mums to re-enter the workplace. Women may also need to factor in additional travel costs, so if the roles being advertised don't come with a competitive salary in line with current market rates it isn't going to incentivise a return to the office. 
Organisations must also ensure that women are being paid the same as their male counterparts.  
Review recruitment practices
Organisations should make sure their recruitment processes are inclusive. Roles should be advertised on a variety of platforms to appeal to a wide pool of candidates, specifically working mums. 
Organisations could also consider how their interviews are undertaken. Interviewers should be warm and welcoming. If a working mum has been out of the workplace for some time, the prospect of being interrogated for an hour can be incredibly daunting.