Recruitment is the backbone of any successful organisation. The ability to identify, attract, and onboard top talent can make or break a company's growth trajectory. In the digital age, businesses rely on recruitment software to streamline and optimise their hiring processes. These tools not only help HR teams manage candidate data but also offer invaluable insights that drive data-driven hiring decisions.
In this article, we'll explore the top 10 recruitment software solutions for 2023. Each of these platforms is designed to cater to the unique needs of modern businesses, ensuring that you find the perfect fit for your recruitment requirements. By delving into the strengths and capabilities of each software, you'll be well-equipped to make an informed choice and take your recruitment efforts to the next level.
What is Recruitment Software?
Recruitment software, which in many cases is simply referred to as Applicant Tracking System (ATS) or talent acquisition software, is a digital solution that revolutionises the way organisations approach their hiring processes. It serves as a central platform for HR teams to manage every aspect of recruitment, from posting job listings to onboarding new hires. These systems are highly adaptable and can be tailored to meet the specific demands of any business, regardless of its size or industry. Down to its core functionalities, recruitment software is essentially your strategic tool for efficient talent acquisition, workforce optimisation, and compliance with recruitment best practices.
What does an ATS Software do?
ATS software is the command centre for all your recruitment activities. It consolidates candidate information into one easily accessible location. Its primary function is to simplify and enhance the recruitment process through a range of features:
Automated Job Postings:

Recruitment software automates the process of posting job listings on various platforms, including your company website and popular job boards. This widens your reach and attracts a diverse pool of candidates.

Applicant Tracking:

ATS systems keep tabs on every applicant's progress through the recruitment pipeline. This makes it easy to identify promising candidates, schedule interviews, and collaborate with team members involved in the hiring process.

CV Filtering:

You'll no longer have to manually sift through CVs. ATS software extracts relevant information from resumes, making it easier to match candidates with job requirements.

Candidate Assessment:

These systems often include tools for evaluating candidates through skills tests, assessments, and interviews, ensuring you select the most qualified individuals.
Benefits of Using an ATS Software?
ATS offers a wide array of advantages that revolutionise the hiring process. Here's a closer look at how an ATS can enhance your recruitment measures:
Centralised Information:

Recruitment software acts as a digital hub, consolidating all candidate and client data into a unified, easily accessible repository.

Simplified Job Posting:

It eradicates the chore of manual tracking and data analysis, replacing it with seamless automation.

Cost Efficiency:

Particularly beneficial for small and medium-sized enterprises (SMEs) operating with budget constraints, as it trims down the cost per hire by automating candidate selection.

Quality of Hire:

Through comprehensive data evaluation and integration with pre-assessment tools, it excels at identifying top-tier talent, elevating the quality of hires.

Accelerated Hiring:

By streamlining and automating various aspects of the process, an ATS significantly reduces the time-to-fill positions, granting quicker access to the best-fit candidates.

Enhanced Candidate Experience:

An ATS aids in this by automating updates to candidates regarding their application status, enhancing their overall journey.

Streamlined Recruitment:

HR departments can efficiently oversee and evaluate numerous applications.

Effortless Interview Scheduling:

Seamlessly sync calendars and remove the need for cumbersome back-and-forth communication.
1: Factorial: All-in-One Recruitment Solution
⭐️⭐️⭐️⭐️⭐️
Factorial stands as a comprehensive recruitment software solution tailored to meet the diverse needs of HR teams and recruitment agencies. For an in-depth exploration of Factorial's capabilities, watch this quick demo: 
Overview
Factorial is a comprehensive, all-in-one HR management software that offers various features and tools to streamline the recruitment process. It provides a range of modules designed to simplify and automate different aspects of recruitment, making it an efficient solution for businesses of all shapes and sizes.
With Factorial's Applicant Tracking System, recruitment teams can streamline the hiring process by posting optimised job openings, managing CVs, and tracking candidate progress, collaborating with hiring managers to review candidates and schedule their interviews effortlessly.
You can also easily create and publish job listings on multiple platforms, including your company's career page and popular job boards. This helps attract a wider pool of candidates and ensures that your job openings reach the right audience.
Factorial lets managers evaluate employee performance, provide feedback, and set development goals. Moreover, managers can create and assign performance reviews, and employees can view these performance reviews and development goals in real-time.
Onboarding and Offboarding
Factorial's onboarding and offboarding features help organisations streamline the onboarding process for new employees and provide a smooth transition when employees leave the company. Managers can create and assign onboarding and offboarding tasks, track their status from start to finish and easily communicate with relevant team members.
This digital solution also comes with goals and OKRs (Objectives and Key Results) features that allow organisations to set and track ambitious goals, align their teams, and measure progress. These tools let you create a unified direction and alignment across the entire organisation, where you can easily follow along on both the progress and the outcomes achieved.
Pros
✅ Integration with over 5000 apps
✅ Fully customisable ATS
✅ Full employee empowerment and self-service
✅ Effortless automation and reporting
✅ Free demo and 14-day free trial
Cons
❌ No downloadable software for PCs, which means you can only use the web-based version and the mobile application.
User Satisfaction and Reviews
Factorial users consistently express their satisfaction with the tool, emphasising its simplicity and adaptability in the recruitment process. They appreciate the user-friendly interface and the platform's ability to streamline various recruitment tasks. Overall, users frequently describe Factorial as an invaluable resource, highlighting it as one of their top choices for digital recruitment solutions.
Pricing
Price depends on which customisable bundle you choose. Find all options here.
2: TalentReef
⭐️⭐️⭐️
TalentReef is specialised recruiting software tailored for hourly worker management. Alongside comprehensive recruitment tools, it offers talent management functionalities, including performance assessment and employee engagement features.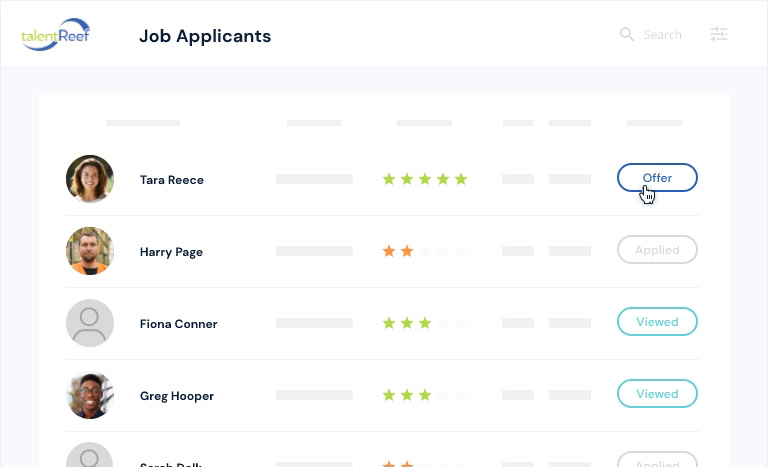 Overview
TalentReef is a cloud-based talent management and HR software platform with a comprehensive suite of tools and features to streamline and automate various HR processes, including recruitment, onboarding, performance management, learning management, and employee engagement.
The platform offers a range of features that cater to the unique needs of service industry businesses, such as restaurants, retail stores, hospitality establishments, and healthcare sectors. These functionalities include:
Job posting and applicant tracking

Background checks and screening

Electronic onboarding and document management

Performance reviews and goal-setting

Training and development programmes

Employee scheduling and timekeeping

Compliance management
Pros
✅ Customise your workflows and templates
✅ Tailored for hourly workers and their requirements
Cons
❌ Not an ideal tool for white-collared employees
User Satisfaction and Reviews
TalentReef users express delight with the platform, praising its user-friendly design and adaptability for streamlining hourly workforce management. They particularly appreciate its seamless integration of recruitment and engagement tools, making it an invaluable asset in their quest for top talent and employee retention.
Pricing
Pricing requires a specific quote from TalentReef.
3: Pinpoint
⭐️⭐️⭐️⭐️
Pinpoint offers the flexibility for hiring teams and managers to tailor the system to their preferences and working methods. Its adaptability can accommodate requirements at any stage of the hiring process, making it a valuable tool for many needs.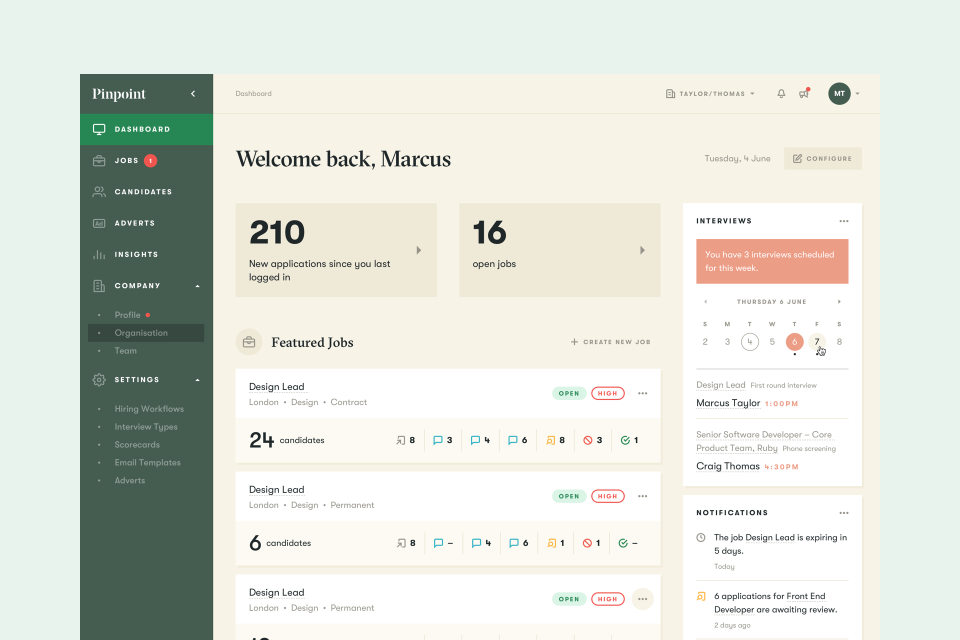 Overview
Pinpoint is an applicant tracking system tailored for internal talent acquisition and HR teams, prioritising user-friendliness and efficiency. Its standout features encompass blind screening to reduce bias, candidate scorecards for objective feedback, and robust reporting tools. Pinpoint also offers unlimited user access and includes essential ATS and CRM features such as job board posting, custom career websites, automation, and data protection measures like single sign-on and two-factor authentication.
Pros
✅ Inclusive blind recruitment tools
✅ Premium plan comes with multilingual support
Cons
❌ Can prove costly for small recruiting teams
❌ Onboarding tools come with additional costs
User Satisfaction and Reviews
Pinpoint users express unanimous satisfaction with the platform's flexibility for tailoring to unique preferences. Its adaptability also proves valuable across various stages of the hiring process, making it a reliable tool, though cost considerations for smaller teams are acknowledged.
Pricing
Request pricing by contacting the PinPoint team.
4: Recruitee
⭐️⭐️⭐️
Recruitee is all about fostering teamwork and empowering HR teams to organise and personalise recruitment efforts into a collaborative experience. Their hiring software can be used to distribute tasks, streamline daily operations, and nurture team growth collectively.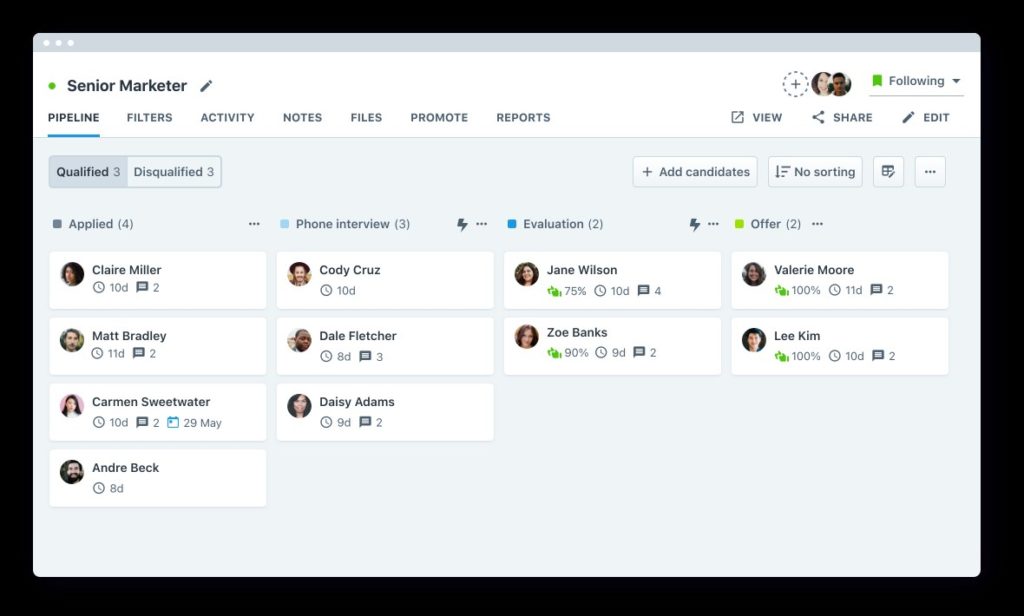 Overview
Recruitee is an excellent HR recruitment software that offers the flexibility to establish a collaborative hiring team with role-based permissions. It comes with comprehensive visibility controls, allowing sensitive information such as salaries and private notes to remain confidential, and facilitates centralised communication through features like notes, task reminders, and tags.
One notable feature of this tool is its Referrals Hub, designed to simplify the collection of employee referrals, and a customisable Careers Hub, which supports multi-posting and intelligent job campaigns, offers sourcing and referral tools, integrates with assessment and interviewing solutions, and provides e-signature and electronic onboarding capabilities.
Pros
✅ Great for collaborative hiring
✅ Video interview options available
Cons
❌ Lack of customisation
User Satisfaction and Reviews
Recruitee users value its emphasis on teamwork in recruitment, allowing collaborative hiring efforts, as well as simplified tasks like employee referrals. And while users appreciate video interview options, some do seek additional customisation.
Pricing
Pricing starts at £163 for the basic plan, which includes 10 job slots.
5: Trakstar
⭐️⭐️⭐️⭐️
Trakstar is a solution tailored to assist expanding enterprises in achieving streamlined and predictable hiring processes. The platform recognises that effective hiring thrives on collaborative decision-making and informed choices and has been thoughtfully designed to facilitate seamless operations.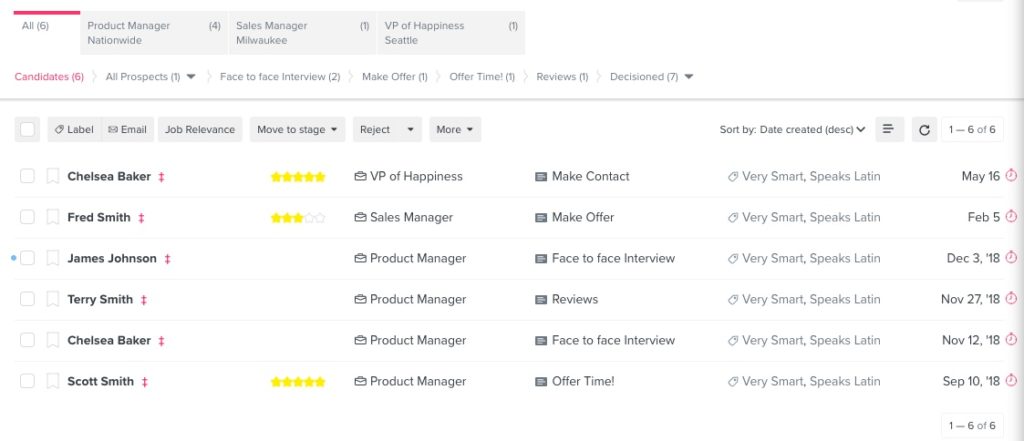 Overview
Choosing Trakstar as a recruitment tool is based on its ability to create professional career websites with custom branding, streamline job posting across various boards, and establish efficient referral channels for employee and external referrals. Once candidates are sourced, its cloud-based ATS simplifies screening, resume parsing, and analysis while maintaining a repository of promising candidates.
Something worth noting with Trakstar is its data benchmarking tool, which provides valuable insights into an organisation's competitive position within the industry by tracking critical recruitment metrics, including offer acceptance rates, time-to-hire metrics, and time-to-apply statistics.
Pros
✅ Highly customisable to meet personal requirements
✅ Cost effective
Cons
❌ Users can't look up their history
❌ UI and UX issues reported by some users
User Satisfaction and Reviews
While some Trakstar users mention challenges with UI and UX features, they do value its tailored support for expanding enterprises, emphasising streamlined and collaborative hiring processes. Other users also appreciate the platform for its simplicity, cost-effectiveness, and overall positive impact on their hiring operations.
Pricing
For pricing, get a quote directly through Trakstar.
6: ClearCompany
⭐️⭐️⭐️⭐️
ClearCompany empowers HR teams with a wealth of data-driven best practices, time-tested strategies, and expert-curated content, offering resources that are thoughtfully crafted to enhance HR confidence, kickstart talent initiatives, and optimise employee potential.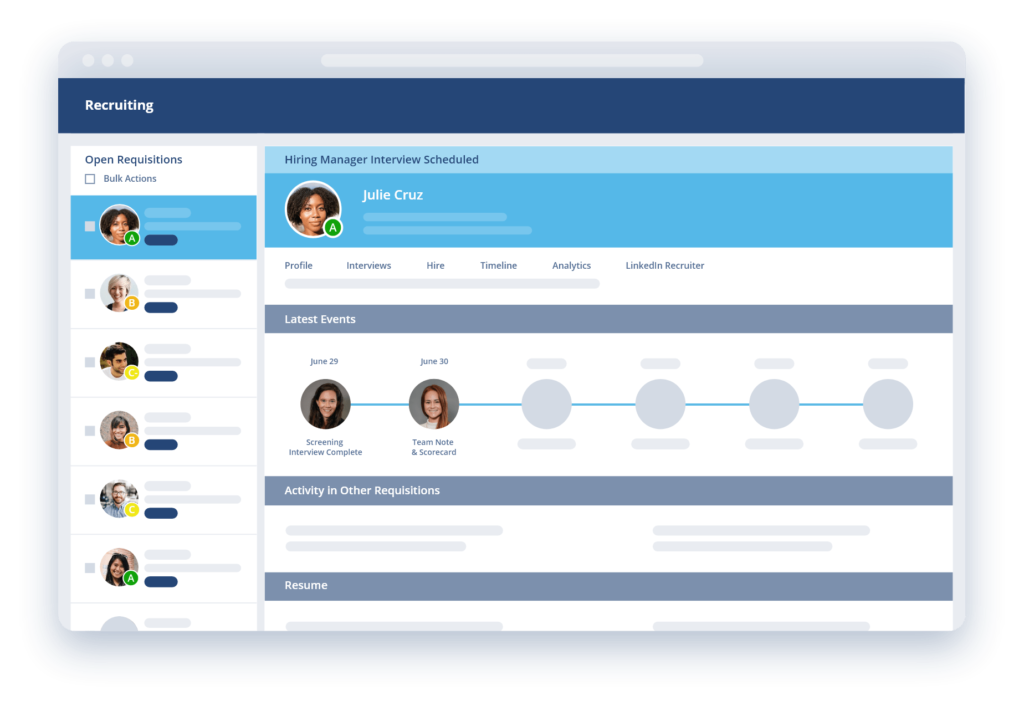 Overview
ClearCompany is a standout recruitment tool for a variety of reasons. For starters, it includes a module called Clear Text, an integrated text recruiting suite. This innovative module enables recruiters to effortlessly engage with candidates through mobile devices, aligning with the preferred communication method of today's candidates.
An additional plus is that this recruitment tool is powered by AI-assisted job descriptions, automation workflows for interview scheduling and candidate screening, and the availability of supplementary modules for comprehensive HR processes.
Pros
✅ Strong referral management features
✅ Easy creation of talent pools 
Cons
❌ Lack of pricing transparency
❌ Tailored for North American recruitment
User Satisfaction and Reviews
ClearCompany users consistently appreciate the platform's wealth of data-driven best practices and expert-curated content, boosting HR confidence and talent initiatives. While users value the strong features offered by this tool, concerns about pricing transparency are occasionally mentioned.
Pricing
Request a quote from ClearCompany for pricing.
7: Monday
⭐️⭐️⭐️
Monday serves as a versatile work platform, enabling users to establish comprehensive oversight of any process or workflow through personalised visual dashboards. For HR managers and recruiters, the platform offers pre-designed templates that can be leveraged to create tailored recruiting solutions aligned with their team's unique requirements.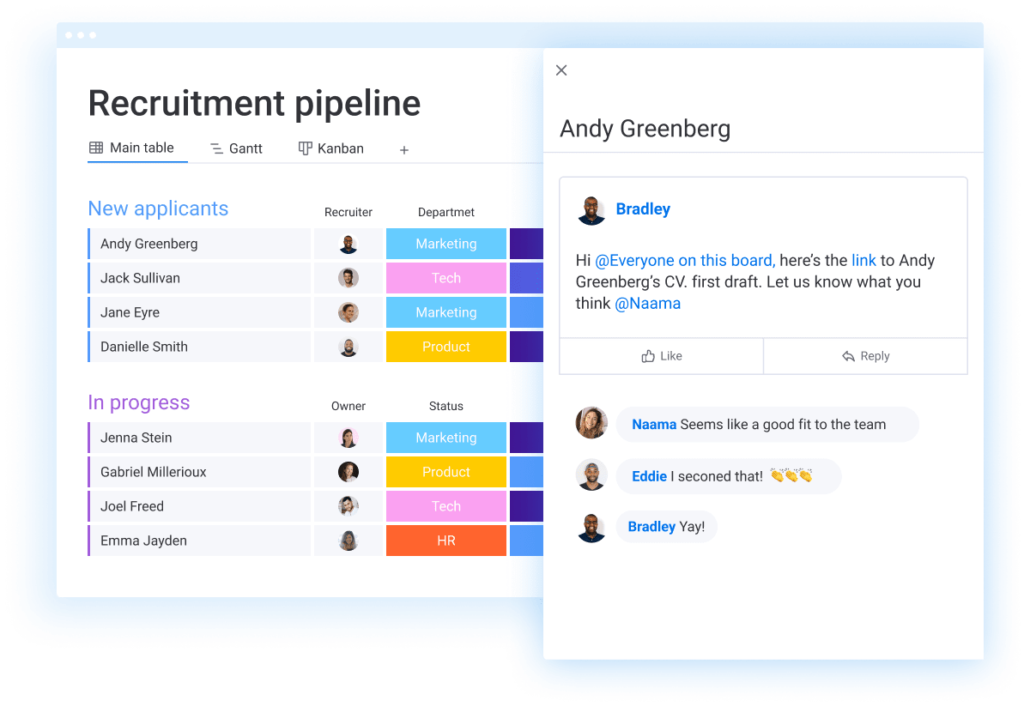 Overview
Monday.com offers an exceptionally customisable platform, granting users extensive control over its functionality to suit their unique requirements. With no-code automation, HR managers can significantly reduce time-consuming manual tasks, streamlining processes such as status updates and email notifications. 
To top it off, Monday comes with a handful of HR templates, over 20 drag-and-drop columns, an extensive library of third-party apps, and versatile widgets to tailor the platform precisely to one's needs.
Pros
✅ Highly customisable and scalable
✅ 14-day free trial
Cons
❌ Difficult to track time against each task
❌ Recruitment isn't the primary focus of Monday software
User Satisfaction and Reviews
Monday users express satisfaction with its versatile work platform. They particularly value Monday's customisability and its personalised dashboard feature, allowing extensive control without coding. Some note challenges in tracking time, but overall satisfaction stems from the platform's adaptability to diverse workflows and its user-friendly design.
Pricing
From a limited free plan to £13 a month.
8: Manatal
⭐️⭐️⭐️
Manatal is an AI recruitment software strategically designed to expedite candidate sourcing and hiring processes for HR departments, recruitment agencies, and headhunters.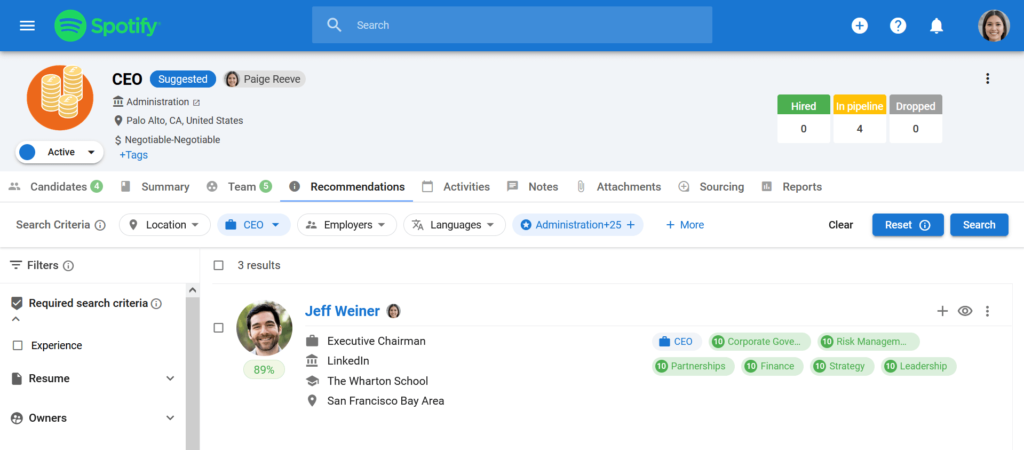 Overview
Something that sets Manatal apart from other recruitment software is its reliance on AI for recruitment functions. For example, it's got intelligent candidate sourcing and AI-powered recommendations that efficiently sift through candidate data, identifying the most suitable candidates. These features can be fine-tuned using customisable fields and search criteria, allowing organisations to prioritise specific qualifications and requirements.
Along with that, Manatal has advanced social media recruitment tools, offering a Chrome extension to import LinkedIn profiles and enabling direct job post sharing from the career page to platforms like Facebook or WhatsApp.
Pros
✅ Great for social media recruitment
✅ Excellent ATS features
Cons
❌ Lack of scalability
❌ Interface could be more user-friendly
User Satisfaction and Reviews
Manatal members express lots of satisfaction with the software's strategic approach. Some have made particular mention of the usefulness of its AI features, as well as the platform's advanced social media recruitment tools. Some users express concerns about scalability and suggest interface improvements.
Pricing
Starts at £12 PEPM and goes up to £28 PEPM.
9: Teamtailor
⭐️⭐️⭐️⭐️
Teamtailor is an applicant tracking system designed to cater to the needs of various companies. It offers a range of modern features tailored for both employers and candidates, providing comprehensive tools for successful recruitment.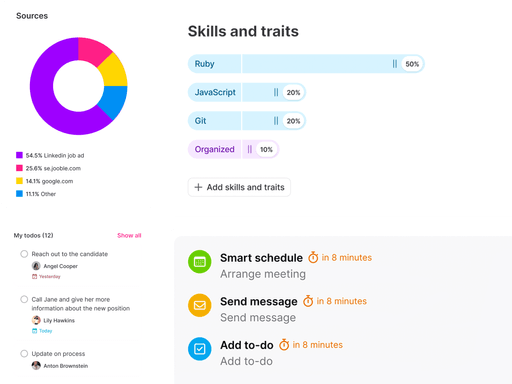 Overview
Teamtailor presents a comprehensive end-to-end solution for efficient talent acquisition, catering to sourcing, screening, and hiring needs. Users can create tailored careers pages to bolster their employer brand and employ dynamic applicant forms for seamless candidate data collection. 
The software is bolstered by social media integrations that facilitate candidate sourcing, while its automation tools simplify tasks like candidate messaging and meeting scheduling. The platform also offers intuitive search and filtering options, allowing users to narrow down candidates based on various factors, as well as bulk candidate management actions to further streamline the process.
Pros
✅ Fantastic employer branding tools
✅ Bulk actions for messaging, scheduling, and other features
Cons
❌ Limited built-in integrations
❌ Lack of pricing transparency
User Satisfaction and Reviews
Users value Teamtailor's versatile candidate tracking and seamless integrations, streamlining assessments and progress monitoring. The platform's user-friendly interface and easy navigation receive high praise, with users highlighting the system's adaptability. Some minor concerns about loading times and video-call integrations are raised by some users, but this tool remains reliable and effective for many recruiters.
Pricing
Get a specific quote by contacting TeamTailor.
10: Zoho Recruit
⭐️⭐️⭐️
Zoho Recruit is a cloud-based recruitment platform that provides HR teams and recruitment agencies with the digital resources necessary to expedite and streamline the hiring process.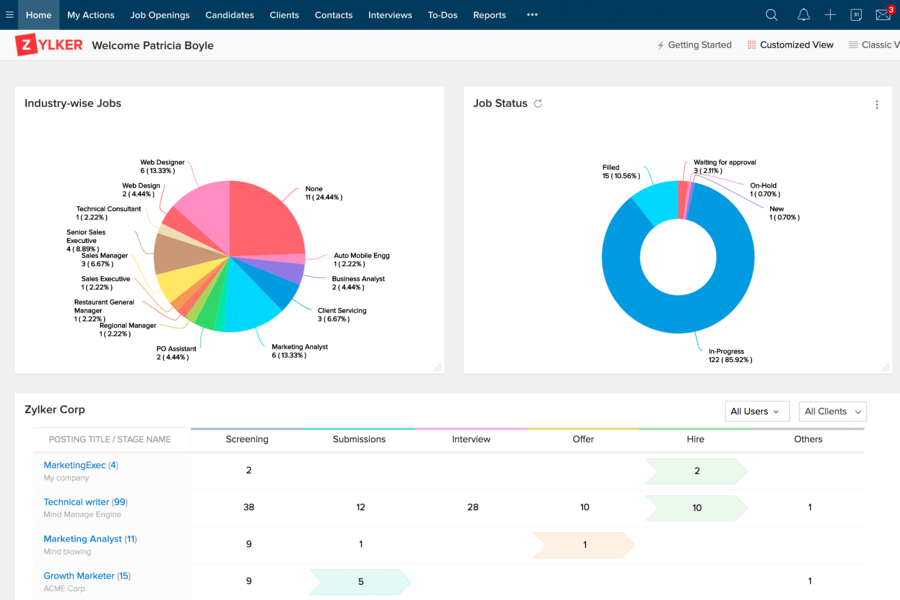 Overview
Zoho Recruit offers a flexible range of customisations and integrations, enhancing the capabilities that professionals can provide to their clients. The platform caters specifically to temporary staffing with tools such as reporting, versatile timesheet approvals, and comprehensive scheduling calendars. 
Similarly to other recruitment tools, Zoho Recruit also comes with an AI-based candidate matching, fostering more effective engagement between recruiters and clients. It enables sharing candidate shortlists via its applicant tracking portal, facilitating client comments and preferences. Additionally, the platform provides a robust mobile app for Android and iOS devices, simplifying SMS communication with candidates.
Pros
✅ Comprehensive sourcing reports
✅ Live and one-way video interview features available
Cons
❌ Limited customer support availability
❌ Complicated candidate assessment process
User Satisfaction and Reviews
Zoho Recruit users are quite satisfied with this cloud-based recruitment platform, highlighting its efficiency in expediting hiring processes. The platform's flexibility, offering customisations and integrations, enhances capabilities for HR teams and recruitment agencies. Many users appreciate features like AI-based candidate matching, but some do report limitations in customer support availability and a somewhat intricate candidate assessment process.
Pricing
Starts with a limited free plan and goes up to £65 per month for their enterprise plan.
11. BreatheHR ⭐️⭐️⭐️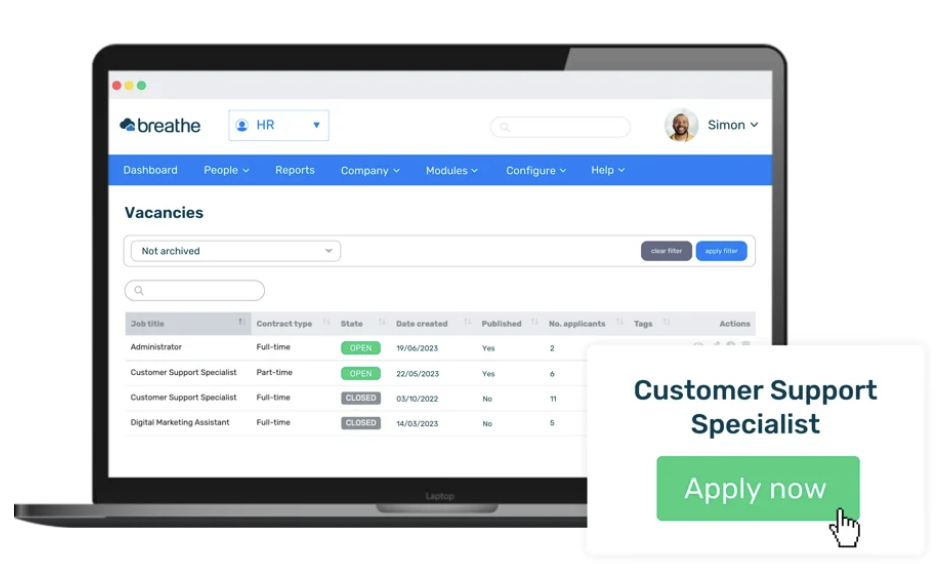 From receiving CVs to team meetings, BreatheHR is tailored for businesses to take charge of every stage of the hiring process.
Overview
BreatheHR has recruiters covered every step of the way, whether it's creating job listings, managing applications, or conducting interviews. But the best part is that it offers customisable workflows and reporting features, providing valuable insights into recruitment metrics and helping businesses make data-driven decisions.
Pros
✅ Candidate sourcing
✅ Automated communication
Cons
❌ Steep learning curve
❌ Integration issues
User satisfaction and reviews
While there's lots of satisfaction with the software across users, particularly noting its smooth operations, some drawbacks mentioned include the absence of version control for documents, difficulty in accessing uploaded documents, and limitations in Office 365 integration.
Pricing
£13 per month for teams of 10 and £500 per month for teams of 200.
12. BrightHR ⭐️⭐️⭐️
BrightHR streamlines the hiring process, saves time and money, and provides a comprehensive platform for managing the entire recruitment lifecycle.
Overview
BrightHR is a great solution for recruiters. You can easily post job openings, receive and manage applications, conduct interviews, and make job offers all in one place. This helps to reduce the time and effort required to fill open positions, allowing recruiters to focus on other important tasks.
Pros
✅ Comprehensive applicant insights
✅ Excellent progress tracking
Cons
❌ Some functions require BrightHR representative
❌ Lacking batch imports of employee data
User satisfaction and reviews
Users express satisfaction with the platform's ease of use and helpful support, facilitating smooth onboarding for the entire team. Some concerns are raised, such as the absence of VAT numbers on receipts and challenges in exporting comprehensive data for analysis, indicating areas for potential improvement.
Pricing
£10 PEPM for their comprehensive plan, which includes various recruitment features.
13. Sage HR ⭐️⭐️⭐️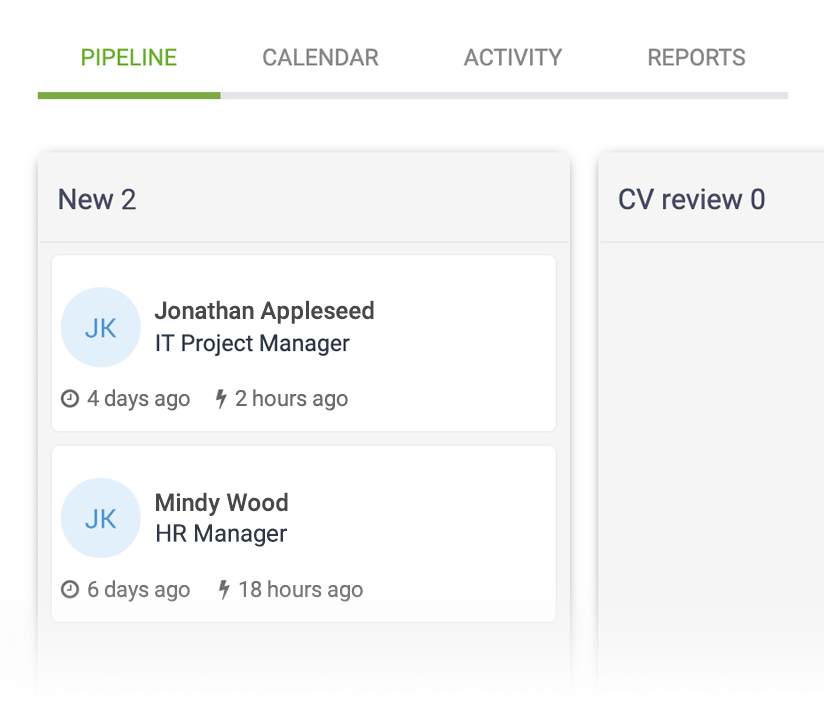 From interview scheduling to custom scorecards, Sage HR comes equipped with what you need to guarantee a spotless recruitment process.
Overview
Sage HR is a great recruitment solution, providing the tools for job posting, candidate sourcing, resume screening, interview scheduling, and onboarding, all within a single platform. While Sage HR has the following modules as well for an additional cost, it integrates with other HR systems, such as payroll and benefits administration.
Pros
✅ Customisable job postings
✅ Strong integration features
Cons
❌ One of the most expensive options for recruitment
❌ Steep learning curve
User satisfaction and reviews
Users highlight the customer support received and find value in the software's capacity to streamline internal processes, creating digital profiles for employees. But despite its feature richness, some caution against potential confusion and stress the importance of meticulous attention to permission settings.
Pricing
Pricing for its recruitment module starts at £154 PEPM.
14. CIPHR ⭐️⭐️⭐️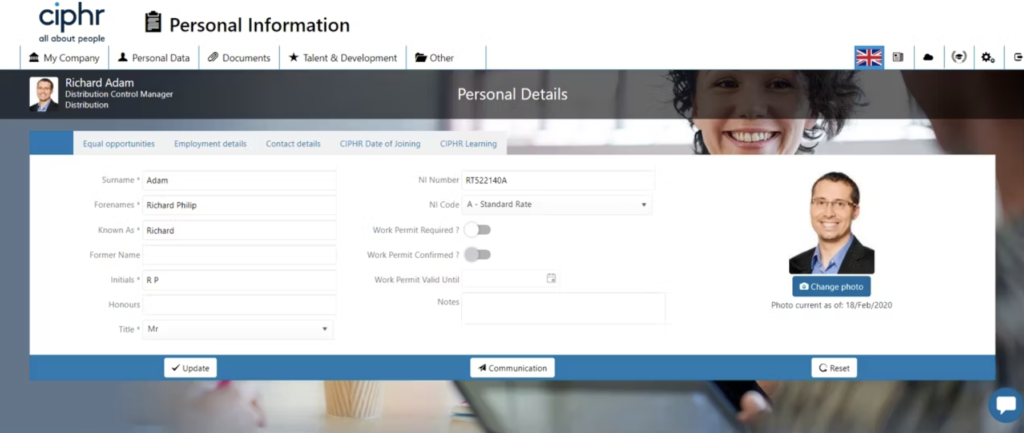 CIPHR is a leading human capital management (HCM) readily equipped with standout recruitment features fit for any recruitment team.
Overview
CIPHR emerges as a robust solution for recruitment purposes, offering a comprehensive HR software system tailored to streamline and elevate the recruitment process. It serves as a centralised hub for managing all recruitment aspects, encompassing job posting, candidate sourcing, and onboarding.
Pros
✅ Integrated interview scheduling
✅ Strong automation features
Cons
❌ Complicated reporting
❌ Many additional costs
User satisfaction and reviews
While users find the system easy to navigate, praising its efficiency in streamlining processes and its impressive report writing and statistical analysis capabilities, some mention that the additional modules pose cost issues and don't entirely eliminate the time-consuming administrative burden.
Pricing
Contact the CIPHR team for a personalised quote.