Data gives companies loads of insights into company functions, figuring out where things are going wrong and what's working. Most companies (68%) use basic HR analytics, and just over half (53%) use more advanced analytics. However, fewer companies use analytics to give recommendations (43%) or predict future trends (34%), which are crucial to business success.
Here is what you need to know about HR reports and analytics and how they can help your company stay afloat in today's competitive landscape.
What is HR Analytics?
HR analytics covers historical data, key metrics, data collection, predictive HR analytics, any raw data, or any other data points that give insights into your workforce dynamics.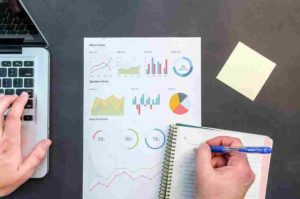 This information is crucial for just about any company function. Depending on what your HR data tells you, you can steer your internal strategies, your company projects, or even your culture ambitions in the desired direction. Whether it's identifying trends in employee performance, predicting turnover, or understanding the impact of HR initiatives, these analytics enable HR professionals to possess the foundation for informed decision-making, transforming data into actionable strategies that drive the success of your organisation.
Why is HR Analytics Important for Business Success
More generally, HR reports and analytics are the foundation of strategic workforce management. They allow companies to make informed decisions and moves based on patterns among their employees and organisational dynamics. This HR data can then be used to predict future behaviour, needs, or requirements and align your business perfectly for your team and your company goals. By leveraging these insights, businesses can optimise talent acquisition, improve employee engagement, and enhance overall operational efficiency, ultimately fostering an environment conducive to sustained growth and success.
Who is Responsible for Monitoring HR Metrics?
Monitoring workforce analytics is a collective effort. To collect data, you typically see a team of HR professionals, HR leaders, data analysts or perhaps even data scientists and IT specialists taking on this responsibility. This data collection is also gathered through various means, such as surveys, employee feedback, performance evaluations, or automated systems. In many cases, nowadays, HR analytics metrics are collected effortlessly through digital tools or solutions, facilitating the seamless extraction and analysis of valuable workforce insights.
The Key Role of HR
With a capable HR department at one's disposal, gathering key metrics becomes a strategic advantage. HR can identify trends, flawlessly manage employee data, and integrate analytics with organisational goals. Some of the most beneficial elements of HR when it comes to the monitoring of HR analytics are:
Endless Expertise:

HR professionals bring an in-depth understanding of the intricacies of human behaviour in the workplace, allowing them to interpret analytics in the context of the company culture and employee dynamics.

Alignment with Business Objectives:

HR plays a pivotal role in ensuring that HR metrics align with broader business objectives. This alignment enables the organisation to make data-driven decisions that contribute directly to overall success.

Talk and Action:

HR serves as a bridge between raw data and actionable strategies. HR professionals contribute significantly to improving organisational performance and employee satisfaction through effective communication and implementation of HR analytics findings.
How to use HR Analytics and Reports to Grow your Business
Successful HR teams and their companies have used data analytics to optimise several business processes. The primary things you'd want to do when using HR analytics and HR reports to grow your business are identifying trends, leveraging predictive analysis, and fostering data-driven decision-making. But there's much more to it. Here are some of the best ways to harness the power of HR analytics for business growth.
Enhancing Talent Acquisition
Survey data shows that recruitment and selection stand out as the second most frequently mentioned area for applying HR analytics by 45% of respondents. In the competitive talent acquisition landscape, HR analytics can streamline the process by analysing past recruitment data, identifying successful hiring patterns, and using predictive analytics. The result? More informed decisions when sourcing, evaluating, and hiring candidates!
Improving Employee Engagement
HR analytics can help measure and understand engagement levels, identify factors contributing to disengagement, and adopt targeted strategies to improve employee satisfaction and productivity. Optimising engagement levels can only bode well in the long run.
Optimising Training and Development
HR analytics provide valuable insights into employee skill sets and training needs. When analysing such data, HR teams can develop targeted training programs, identify high-potential employees, and check that the workforce has the skills to meet current and future business challenges.
Strategic Succession Planning
HR analytics and succession planning go hand in hand, as data can aid in identifying high-performing individuals, assessing leadership potential, and creating a talent pipeline for key roles. This strategic approach guarantees a smooth transition and continuity in leadership positions.
Measuring Diversity and Inclusion Impact
You might not have expected this, but HR analytics is pivotal in promoting diversity and inclusion. Why? They measure the impact of diversity initiatives, tracking representation across different levels of the organisation and looking for areas for improvement along the way. A systematic approach to building an inclusive and innovative work environment!
HR Analytics and Reports with Factorial
Factorial's HR analytics and reporting tools give you a clear perspective on employee productivity and performance, empowering your managers to make data-driven decisions. You can create custom reports, visualise all your data, and integrate with tools like PowerBI for comprehensive analytics. Moreover, you can monitor time tracking, 360° performance analytics, and real-time market data for competitive compensation packages.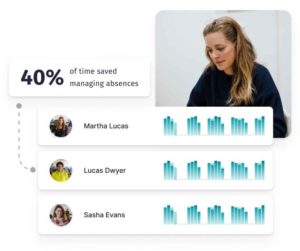 The best part? Factorial is a tool trusted by over 8,000 companies globally and recognised in G2's Top 50 HR Products 2023 as an all-in-one HR solution.