How do you sign your company documents? In a world where we're more conscious of the environment and lots of employees work remotely, many businesses are turning to electronic signature software to help manage signing contracts, timesheets and policy updates.
When you're managing lots of documents that different team members need to sign, it's easy to lose track of who has signed what and where you've stored each copy. The main benefit of electronic signature software is that you can securely store your documents after they've been signed within the software so you can keep everything organised.
In this guide, we've assembled the 12 best electronic signature software to help you find the best one for your organisation. We'll go through the pros and cons of each software and what real users have said about each one to help you decide which digital signature software is best for your business.
What is Electronic Signature Software?
Electronic signature software is a simple piece of software that allows you and your business to legally sign documents digitally and store them in cloud storage. It eliminates the need to print off documents and get physical signatures from employees or clients, speeding up your processes and leaving you to spend more time on more important tasks. 
Good electronic signature software will meet legal requirements for security compliance, so you can have peace of mind that your documents are safe and secure. It should also have features like notifications and reminders to users that they have documents awaiting signatures and allow you to sign things like timesheets to confirm worked hours.
What Does Digital Signature Software Do?
Digital signature software allows you to sign documents online without printing them off and physically signing them. It can help your business become more organised as all documents are centrally stored so you won't lose essential papers or risk a data breach. Unlike documents stored in a filing cabinet, only authorised people will have an account that allows them to access sensitive employee information, ensuring that you keep all contracts and timesheets confidential.
What are the Benefits of Having Digital Signature Software?
There are plenty of benefits to having digital signature software:
Speeds up processes:

One of the biggest benefits of digital signature software is that it speeds up processes like

onboarding.

Gone are the days when you'd have to post a new starter's contract out to them – now you can send them their contract and all documents by email for them to digitally sign before they start.

Supports remote workers: With more and more employees working remotely, it can be difficult to get policies and other documents signed quickly. Digital signature software helps you inform remote workers of new documents they need to sign and ensures that they return these documents much more quickly than you would if you had to rely on the post.
Keeps documents secure: Good digital signature software should be secure and legally compliant in keeping documents safe. Unlike keeping paper documents, keeping digital documents safe in a cloud means that they can't get into the wrong hands and you can keep sensitive employee information safe.
Cost-effective: While most digital signature software comes at a cost, you might save money compared to printing paper documents. Not only is paper expensive, but you'll have to buy or hire a printer and purchase ink, which can all add up.
Better for the environment: Become a paperless office and do your bit for the environment, reducing your carbon footprint through minimising stock deliveries to your office.
How Do I Choose the Best Electronic Signature Software?
To choose the best electronic signature software for your business, you should do your research on a variety of different solutions. Read reviews from users of the product, weigh up the pros and cons and review plans and pricing.
We've picked the 8 best electronic signature software in the UK and summarised all this information for you, so you can read up and make the best decision for your organisation. 
1. Factorial ⭐️⭐️⭐️⭐️⭐️
An all-in-one HR platform that allows you to send documents for electronic signatures and store employee information, but also empowers you to manage performance, time tracking, onboarding and offboarding, and more.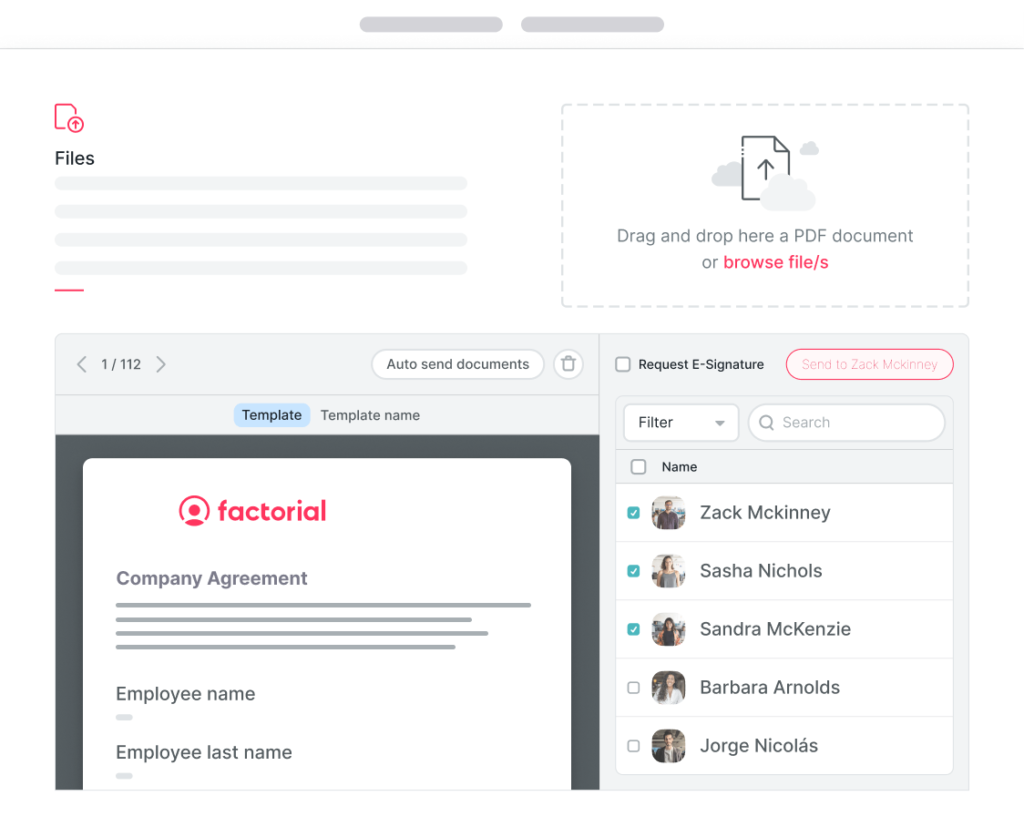 Overview
Factorial's digital signature software is just one of the platform's many features. It's a complete HR system for small and medium businesses that allows you to onboard your team, manage their holiday and payroll and conduct performance reviews all in one place. And at every stage, you can collect digital signatures where you need to.
Factorial is eIDAS (Electronic Identification and Trust Services) compliant, meaning that it meets the requirements for services that include verifying the identity of individuals and businesses online and verifying the authenticity of electronic documents. That means you can be assured that your documents are safe and signatures have been collected legally.
Pros
✅ User-friendly: An easy-to-use interface that customers report is simple to navigate
✅ Efficient: Streamlines the document signing process, saving you time as it reduces the need for physical signatures
✅ Automated storage: No more losing documents – as soon as your documents are signed, they're saved in the cloud where you can keep an organised record of all your signed paperwork.
✅ Secure: Factorial's eIDAS compliance means that all sensitive information is safeguarded, ensuring your organisation won't cause a data breach and your employees' information is secure.
✅ Integrated time tracking: Employees can sign their timesheets, giving confirmation that their hours are recorded correctly. This helps reduce absenteeism, as have to legally confirm their hours.
Cons
❌ The software is user-friendly, but when integrating with some APIs, teams may need to contact support.
What Users Say
The electronic signature feature is one of the top-mentioned features in reviews on G2 and Capterra. Users say it has transformed the way that they manage documents and signatures in their business, and reduced the need for paper. Customers love that all documents are saved in one place and that you can't lose them, keeping everything organised and easy to find whenever you need them. 
Factorial Electronic Signature Features
1. Request multiple signatures for one document
Request one or more signatures from employees, simplifying your onboarding, training and expenses processes. 
2. Automatically save documents
As soon as documents are signed, they're automatically saved, reducing admin time and preventing filing errors.
3. Reliable timesheet tracking
Use Factorial's time tracking app to produce timesheets that employees can sign. You'll get more accurate working hours records, reducing incidents of absenteeism and ensuring compliance with the working time directive.
4. eIDAS compliant
Factorial's digital signature software is eIDAS-compliant, meaning that you can be sure that your documents are legally recognised and secure.
Pricing
Price depends on the customisable bundle you choose. Find them all here.
Request a demo with a Factorial expert to find out more.    
2. Adobe Acrobat Sign ⭐️⭐️⭐️⭐️
Good for larger businesses that need integrations, but an expensive option for most.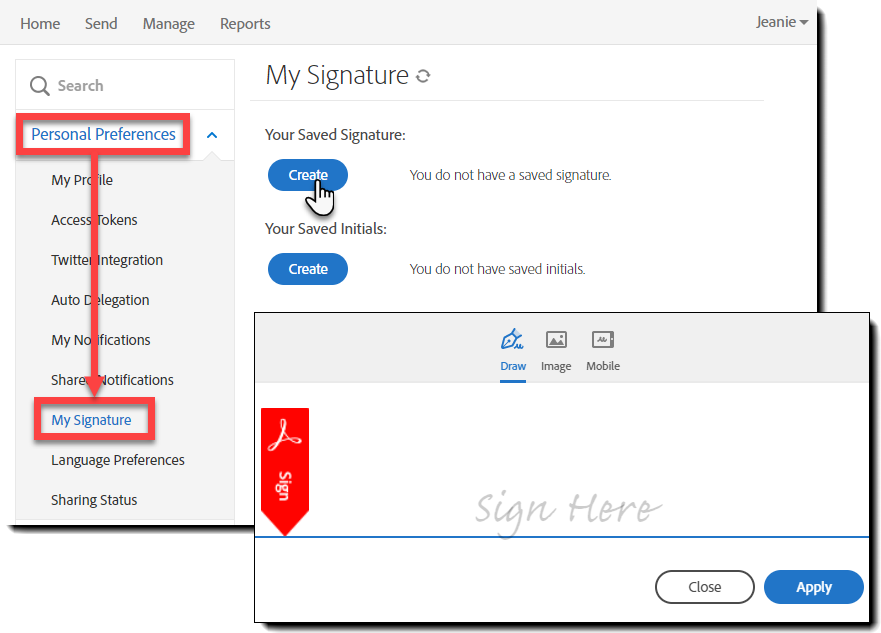 Overview
Adobe Acrobat Sign is one of the largest players in the electronic signature market. Collect electronic signatures from employees by uploading a document and adding the signer's email before sending it. It integrates with Microsoft Word, has a mobile app and sends real-time notifications when documents have been signed. However, some users find it difficult to locate their documents after they've been signed and find it inflexible.
Pros
✅ Easy-to-use interface
✅ Allows you to send contracts and other documents in bulk with different signers for each
✅ Integrates with Microsoft Word
Cons
❌ Expensive
❌ Difficult to add the date to documents, making it difficult to legally comply with some document types
❌ Some users find it hard to locate their documents
What Users Say
Users like Adobe Acrobat Sign and love the real-time notifications, but most reviews mention that it's an expensive solution that is only worth it for very heavy users. They also state that it can be difficult to locate documents, as they're not always saved in the most intuitive place. Customers also report that there's no way to re-enable a document once the signing deadline has passed, meaning you have to upload the document again and restart the process.
Pricing
Pricing is only available on request.
3. PandaDoc ⭐️⭐️⭐️⭐️
Great for collaborating on documents, but users report that it lags and customer support is lacking.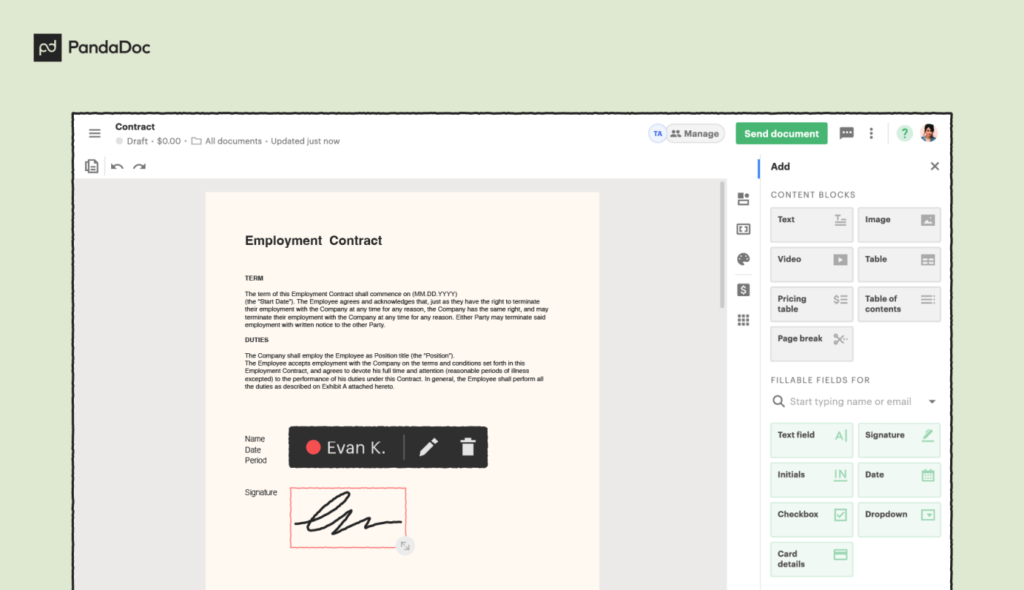 Overview
PandaDoc is a digital signature software that allows you to create and manage documents ready for signing. It has an easy-to-use drag-and-drop editing feature and also offers a choice of templates to help you create documents quickly. However, customers say that it's often slow to load and that it's difficult to get in touch with support.
Pros
✅ Easy-to-use dashboard
✅ Many templates to choose from to speed up document creation
✅ Good collaboration on documents with multiple team members
Cons
❌ Reports of lag, slowing down the document signing process
❌ Poor support
❌ Difficult to downgrade your plan
What Users Say
Users like the amount of ready-to-use templates available and that you get a notification when someone has opened or signed a document. However, lots of reviews mention that the software is often very laggy, probably down to the drag-and-drop features. Some users have reported that PandaDoc doesn't duplicate documents well, which makes bulk-sending policy updates or contracts tricky. When they've contacted support, customers have often felt ignored or waited a long time to get issues solved. They also reported that it was difficult to downgrade your plan.
Pricing
Plans start at $19 per seat per month for 2 seats max, then $49+ per seat per month for a business plan.
4. DocuSign ⭐️⭐️⭐️⭐️
Good for a range of businesses, but some struggle with integrations and user-friendliness.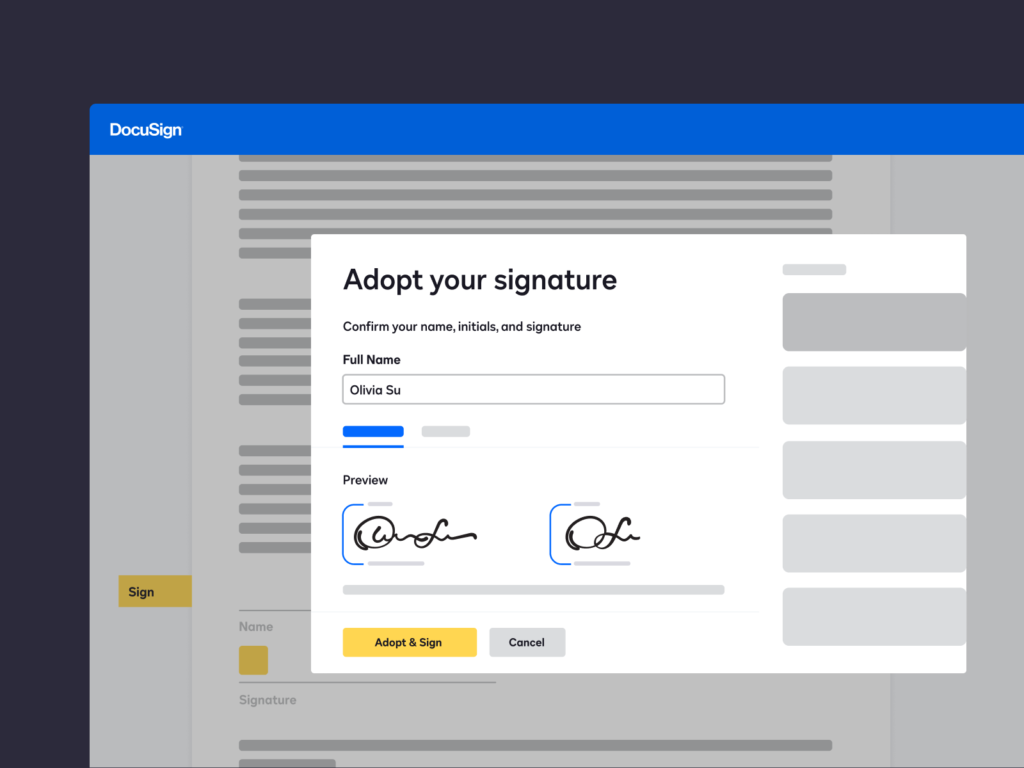 Overview
DocuSign is a popular digital signature software that allows you to customise your documents and send them quickly. It prides itself on integrating with a lot of platforms, including Google, Slack and Microsoft, but customers report that they often struggle to implement them.
Pros
✅ Easy to use and organise documents
✅ Comments section allows for easy collaboration and feedback
✅  eIDAS and GDPR-compliant
Cons
❌ Mobile version is not user-friendly
❌ Integration with other platforms is troublesome
❌ Can be difficult to use for more complex process flows
What Users Say
Customers like that DocuSign has a better pricepoint than some solutions, and its web version is more user-friendly than Adobe's. However, users report that they would like more templates to speed up their document creation process and find that there are limited customisation options. Some reviews also mention that they have trouble setting up integrations between other platforms and that it's difficult to update a document if you need to make changes once you've sent it.
Pricing
Standard plans start at £20 per user per month, rising to £33 per user per month for their Business Pro plan.
5. Dropbox Sign (formerly HelloSign) ⭐️⭐️⭐️⭐️
An easy-to-use option with good tracking features, but it's difficult to amend documents once sent and technical support isn't available to all.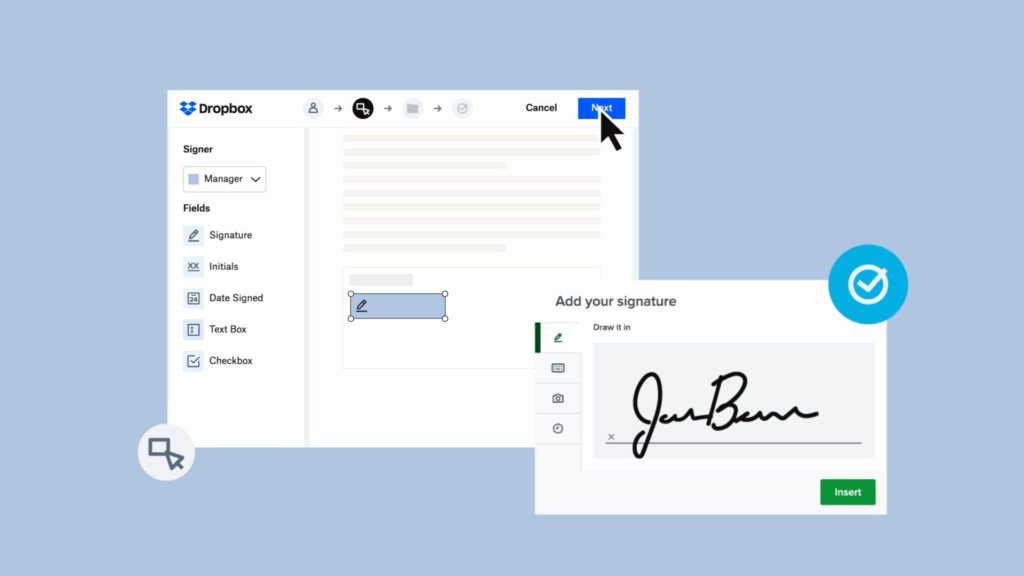 Overview
Dropbox Sign is a good option for small to medium businesses that need automated workflows for their documents and agreements. You can create templates, integrate with Dropbox, Google and Salesforce, and get unlimited signature requests with their Pro+ eSign package. However, users would like more features to be available in the mobile app, and complain that technical support isn't available to all customers on all plans.
Pros
✅ Easy-to-use interface
✅ More customisable without the need for an API than other solutions
✅ Daily notifications to track outstanding signatures
Cons
❌ You can't amend documents that have already been sent, even if no one has signed them
❌ You can't resend documents via the mobile app
❌ Technical support isn't available to all customers
What Users Say
Users consistently say that Dropbox Sign is easy to use. They like its simple interface and the automatic reminders and document tracking to make workflow management easier. However, lots of customers say that it would be good to have a Microsoft Word add-in rather than having to sign in manually every time they want to use the software with a Word document, and that customer support is hard to communicate with. In fact, some pricing tiers don't even have support available to them, leaving them to solve problems using documentation. 
Pricing
Plans start at £12 per user per month for a Standard plan, rising to £18 per user per month for an Advanced plan.
6. Jotform Sign ⭐️⭐️⭐️⭐️
A new option that allows you to add signatures to your Jotform forms, but still working on improving some features.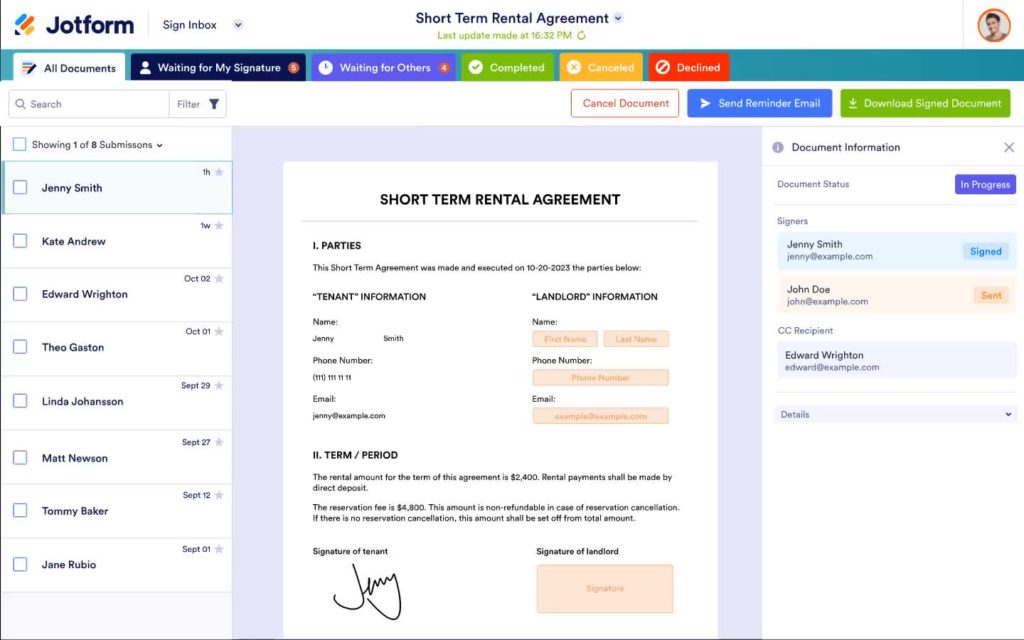 Overview
Jotform Sign is a relatively new part of form-designing software Jotform. Its main USP is that you can create your ideal form once and send it as many times as you need, collecting signatures and assigning signer roles to many employees. You can create approval workflows to ensure everyone who needs to see a document views it and signs it before it's uploaded to the cloud. However, there are still some aspects of the software that need to be worked on. Customers report that they get a lot of emails even if they've signed a document and that you sometimes need to refresh the page multiple times to get your form to load properly.
Pros
✅ User-friendly
✅ Works well across desktop, iOs/Android mobile and tablet
Cons
❌ Expensive
❌ All signees have to create an account to sign a document
❌ Lots of email notifications and reminders
❌ Pages don't always load correctly the first time
What Users Say
Users like that Jotform Sign is easy to use and that it performs well over multiple devices – something that other solutions fall down on. However, they also report that it can be difficult to navigate when you're not used to using the platform, and that document transfer from another solution is hard. The main complaint from customers is that sometimes fields or sign boxes don't place properly in the document the first time, meaning that you have to refresh or edit the page to get it to look right. It's also pretty expensive for users, with limits on forms and submissions.
Pricing
Plans start at $34 per month for one user per team.
7. Foxit eSign ⭐️⭐️⭐️⭐️
A cheaper option for heavier users, but the licensing process can trip you up.
Overview
Foxit eSign is a good option for organisations that need to have their employees sign a lot of documents. You can upload your file and add signer fields to quickly prepare a document for signing, or use one of Foxit's templates or create and save your own. If your business requires customers to sign documents, it's a good option to consider as you can integrate it into your app or website. However, users find pricing and licensing confusing, and often report that it is slow to load.
Pros
✅ Cheaper compared to others, as you pay one annual fee rather than a per-user fee
✅ Ability to use your own custom signature to create authenticity
✅ Integrates with platforms like Hubspot, Zapir, Slack and Google
Cons
❌ Sometimes glitchy
❌ User interface is not intuitive
❌ Customisation options limited past your own signature
What Users Say
Customers like that you can use Foxit's templates to speed up the signing process or save your own to use time and time again, and that it's easy to have multiple signers on one document. However, one of the biggest complaints is that the software is difficult to navigate and is often slow to load. Finally, there are a few different levels of license that you can pay for with Foxit eSign, and users say that it's hard to understand and you have to make sure you've read everything thoroughly to ensure you get the features you want.
Pricing
Prices start at £82.36 per year for a basic plan, rising to £257.30 per year for enterprise customers.
8. Xodo Sign (formerly eversign) ⭐️⭐️⭐️
A good all-round solution with a personal touch, but the interface is clunky with complex documents.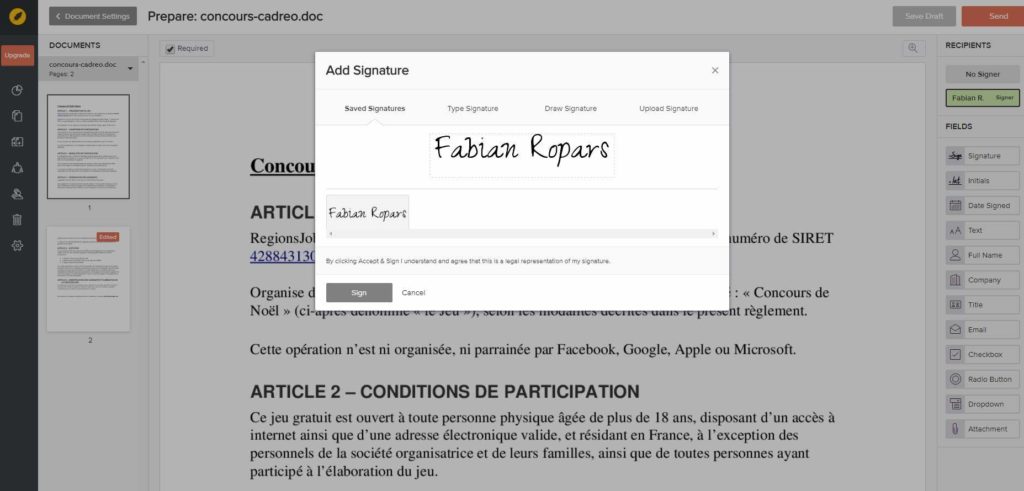 Overview 
Xodo Sign, formerly eversign, is a good option for a range of organisations that want to go paperless. Its USP is that you can still sign documents in person, so an employee can sign on your own PC, tablet or mobile so you don't even need to email it to them before you store it securely. However, customers say that it struggles to keep up with complex forms and can be slow when uploading large files. 
Pros
✅ Easy-to-use, intuitive interface
✅ Automatic audit trails
✅ Automate functionality with their API
Cons
❌ Collaboration features are limited
❌ Can be clunky when you have to add lots of different fields to one document
❌ Can be slow when uploading large files or using complex templates
What Users Say
Customers like that you can use in-person signing, which makes Xodo Sign a good option if you require your customers to sign documents too. They also like the personal touch that you get from being able to physically sign with a tablet pen or finger, making it seem more like pen and paper. 
However, users also report that the software can be slow and unresponsive at times, especially when dealing with complex documents or large files. It can also become difficult to use when you need to add lots of different fields to one document – for example, if you need to add text boxes, radio buttons and checkboxes all to one file. Plus, reviews mention that it would be good to see more details about a document's progress and whether a signer has viewed a document yet.
Pricing
Prices begin at $7.99 per month for one user, rising to $39.99 per month for up to 5 users and $99.99 per month for up to 15 users. For more users, you have to contact sales.
9. HiBob ⭐⭐⭐⭐
A great all-in-one HR software with electronic signature capabilities, but some users say it needs improvement.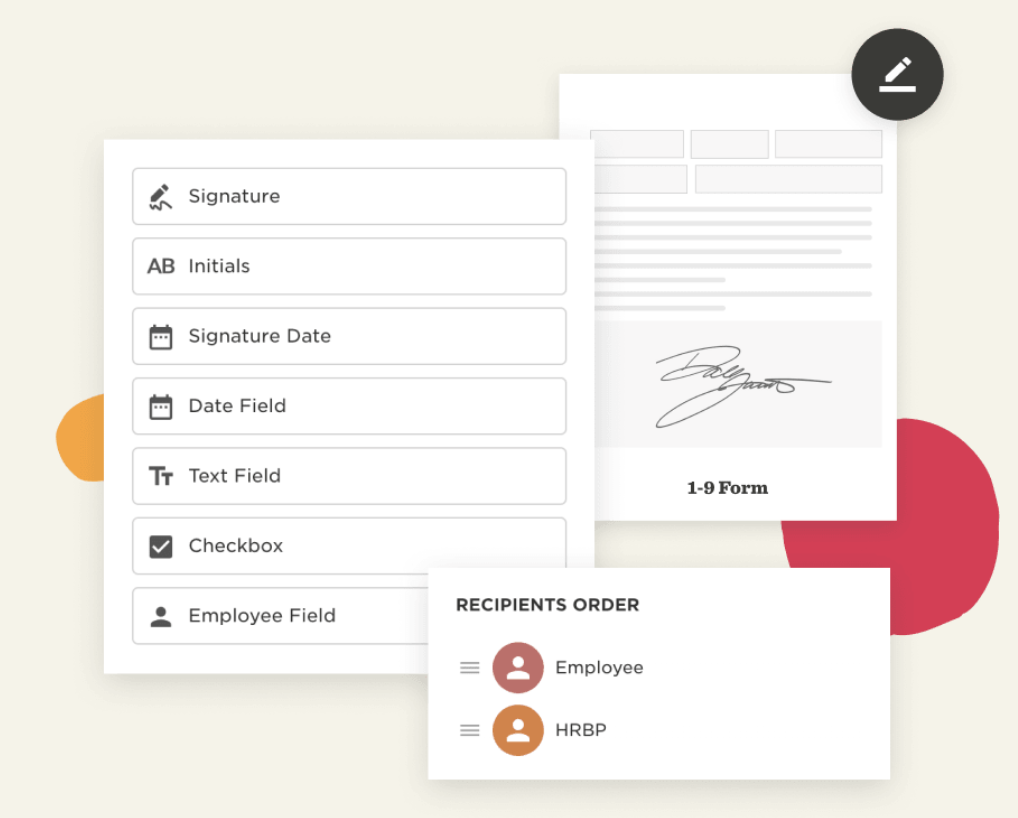 Overview 
HiBob also features on our list of best performance management software – it's a good all-round solution that includes digital signature software that it calls eSign. You can add dates, initials, checkboxes and many other elements to customise your documents, and you can create templates for commonly used documents like contracts to save you time. You'll also be notified when a document is signed and submitted, and if you need to you can track the timestamp and IP address for each signer. 
Pros
✅ Modern and sleek user interface
✅ Create custom templates to save time
✅ eIDAS compliant 
Cons
❌ No document previews available
❌ Can be slow to load and login
❌ Signature request process can be difficult to learn
What users say
Users have a lot of good things to say about HiBob, including that it's easy to implement, it keeps all your HR processes together and there's a high adoption rate among teams. However, they don't have many good things to say about the eSign element! There is no preview for sending mass documents for signature, which could lead to errors, and some customers say that the process of preparing and sending a document for signature is clunky and takes time to learn. Users think that the eSign solution could be more comprehensive. 
Pricing
Only available on request for a quote.
10. Signaturely ⭐⭐⭐⭐
A great solution with a free version, but falls short when it comes to editing documents.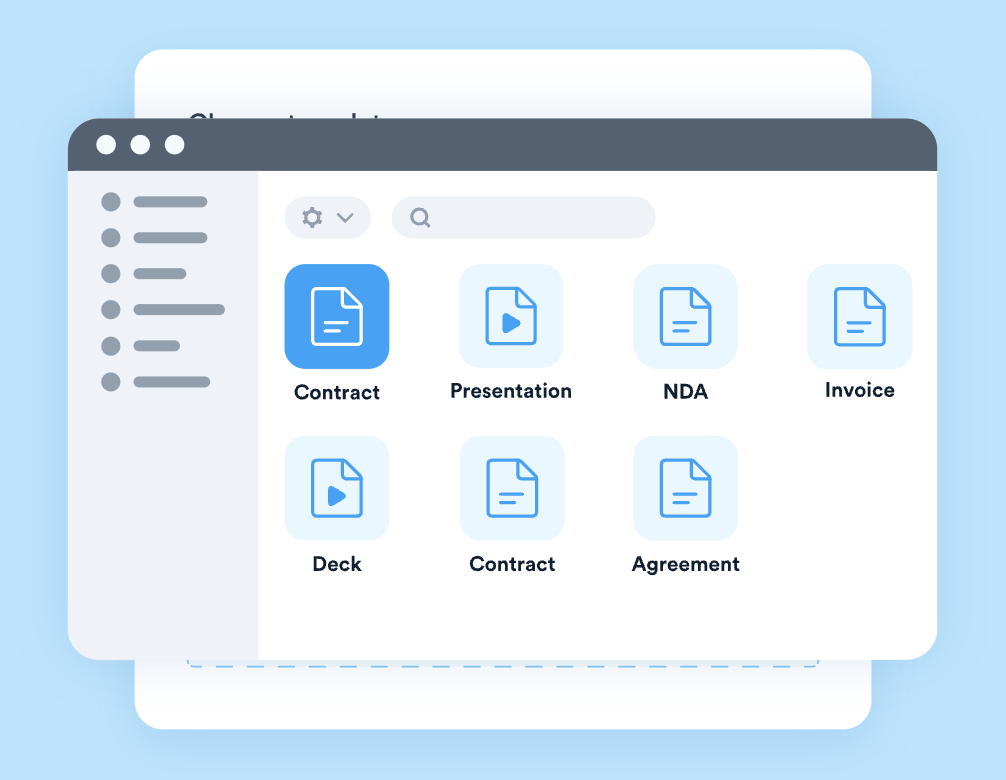 Overview 
Signaturely prides itself on being simple. It allows you to upload a file or edit a template, send it to the signers and wait for them to sign it – and when they do, you'll get a notification. If they don't sign within a certain time, they'll get an automatic reminder. Once the paperwork is signed, it's stored in the cloud for you to access whenever you need it. It also integrates with popular software such as Google Drive and Dropbox. Its free version allows you to send one signature request per month, which probably isn't enough for larger HR teams, but at least you can try the software before you commit to buying it.
Pros
✅ Simple and easy to use
✅ Edit permissions for different document folders
✅ Create templates to speed up processes
Cons
❌ No in-app document editor
❌ Can be slow to upload documents
❌ No mobile app
What users say
Customers like the simplicity of Signaturely and how it's easy for signers to sign and send documents back without having to create an account. The interface is clean and easy to use, and it's not difficult to add fields for signing into documents once you upload them. However, some users have expressed the need for an in-app document editor so they can make edits like change typos or add extra lines without having to edit the document elsewhere and re-upload.
Pricing
Free for one signature request per month, or $40 per user per month for unlimited signature requests, templates and integrations.
11. GetAccept ⭐⭐⭐⭐
A top solution for companies that also need to send documents to customers, but can be glitchy with occasional CRM integration problems.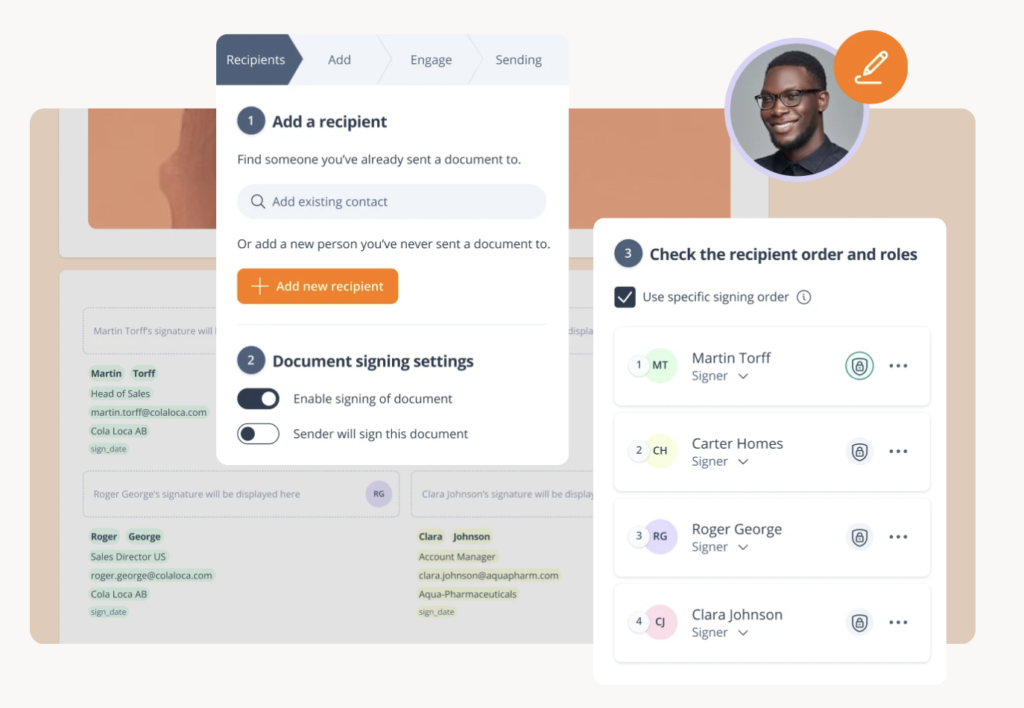 Overview 
GetAccept is a unique offering that claims to be your 'digital sales room', making it ideal if your company has to sign contracts with customers as well as employees. Upload your document, use a template or create one from scratch with its editor, then create a workflow with all the signatures you need and in what order. You can send the document via email or SMS, and choose to send reminders if signers don't sign quickly – you can even record a video reminder!
Pros
✅ Integrates with CRMs
✅ Send documents by email or SMS
✅ Set up your own workflows
Cons
❌ Integrations have intermittent problems
❌ Limited video tutorials on how to use the software
❌ May be too sales-focused for HR teams
What users say
GetAccept is a great tool for sales teams as you can integrate with CRMs such as Hubspot and Salesforce. However, customers have noticed that sometimes integrations fail, leaving teams to find their contacts manually. Users also say that the software can often be glitchy or slow to load, taking up valuable time. Overall, HR professionals may find it easier to use a specialist HR software or a simple e-signature solution rather than one that acts as a secondary CRM.   
Pricing
Prices start at $15 per user per month up to $79 per month, with bespoke pricing for enterprise customers.
12. Signable ⭐⭐⭐⭐
A comprehensive solution that offers full audit logs and customisation, but can have some usability issues.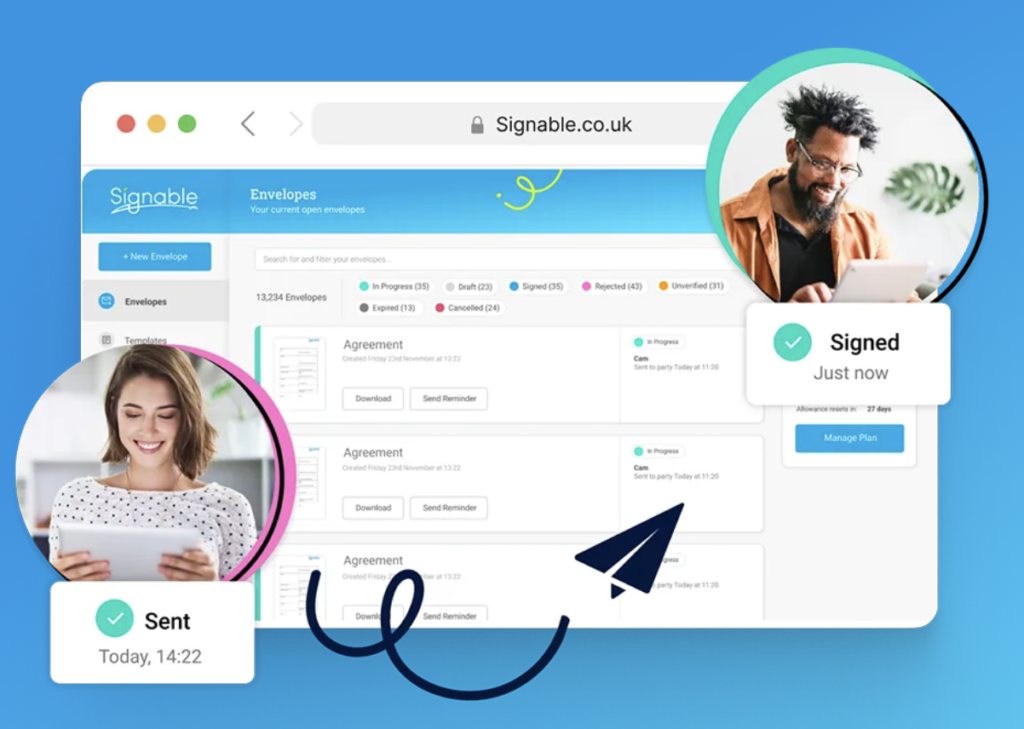 Overview 
Signable is a digital signature software that claims to streamline your document signing workflow. It has a big focus on audit trails and protecting the legality of documents and integrates with software such as Dropbox, Zapier and Google Drive. It allows you to have unlimited users for one fixed price, making it easier for colleagues to sign documents, and sends out auto reminders to signers who haven't sent a document back yet.
Pros
✅ Easy to retrieve documents to view at a later date
✅ Good technical support
✅ Pay-as-you-go option
Cons
❌ Functionality can take some time to get used to
❌ Website's UX needs improvement
❌ No option to edit documents once created without re-uploading
What users say
Customers like the pay-as-you-go option which is ideal if you only need to send a few documents every month. They also praise the support team for being helpful. However, some users say that the UX could be improved – the chatbot pop-up can be intrusive – and sometimes you need to edit fonts and fields multiple times to get it to look right. Once prepared, you can't edit a document without having to create another one, which uses up another credit.
Pricing
Prices start at £1.50 for one 'envelope' (a package of one or more documents to one signer), or £25 per month for small businesses needing 50 'envelopes' per month and up to £2,629 per year for corporate customers with very heavy use.
Final Thoughts
Now you've heard about the top electronic signature software in the UK, it should be easier to make your decision. Consider whether you need the full features of an HR system like Factorial, or whether a simple document storage and electronic signature software is good enough for you. However, bear in mind that many digital signature software solutions can be pricey, and it may be more cost-effective to use a complete HR software that keeps all your processes in one easy-to-use solution.
Try Factorial's Electronic Signature Software for free!