Factorial, the digital HR software, and Piggy, the all-in-one loyalty solution, are teaming up to make it quick and easy for you to reward your top performers for overtime and retain your best talent. 
The partnership between platforms will allow you to track extra hours worked by your employees and reimburse them with customisable benefits – without carrying out dev work or coding. 

Who are Piggy? 
Piggy is the all-in-one platform for increasing customer loyalty, including over 100 features to create a lasting bond with your customers. Through their platform, you choose your own rewards, rules, triggers, gamifications and campaigns based on what will appeal most to your employees.  
Their service allows businesses worldwide to grow by turning first-time interactions into lifelong relationships. It empowers you to build the reward program you want, collect valuable data and automate your marketing in all your channels. 
How will Piggy and Factorial work together? 
Using Factorial's time tracking tool, you can accurately monitor hours worked by your employees. Any overtime hours will become points that employees can redeem for rewards. These are fully customisable and can range from digital vouchers to personalised offers and much more.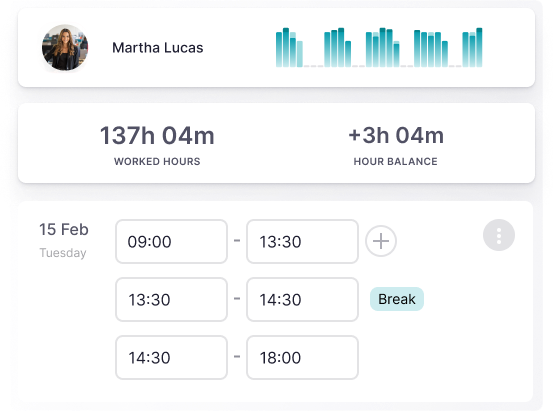 Essentially, it's an effortless loyalty programme that will drive employee retention and performance by celebrating hard work and creating a positive culture everyone wants to be a part of. 
Once set up, you can enjoy the following features: 
Rewards: points, rewards & perks
Gamification: tiers, levels & loyalty
Giftcards: digital, physical & redeem
Coupons: create, promote & track
Marvin Molijn, Factorial's Partnership Manager, announced the partnership this week, saying: "We're thrilled to team up with Piggy to provide companies with an innovative reward system. At Factorial, our ultimate goal is to centralise and automate company processes to make daily tasks easier for everyone, which is exactly what this partnership achieves. Bringing these tools together will make it simpler than ever to drive employee satisfaction and retain your star players." 
Why is customer loyalty so important? 
It's estimated that just under a quarter of UK employees do not feel valued by their organisation. Loyalty programmes are a way of countering this by recognising hard why by incentivising it. They come in lots of shapes and sizes, such as discounts, coupons, points accrual, rewards, bundled offers, and more. But why should you implement one? 
For starters, a whopping 82% of employees would be happier if given recognition at work. When employees are satisfied, their performance and productivity increase as a result. Boosting team morale in this way will also foster a more positive company culture that will trickle down into every process and project. 
But it's not just about the employees within your company. Recognition is one of the top drivers of candidate attraction. If reward and recognition schemes are implemented successfully, your brand and reputation as an employer will improve, giving you a competitive edge and attracting the best candidates.  
Automate HR processes with Factorial 
Factorial is an all-in-one, digital HR software that converts these never-ending, manual processes into integrated, effective ones. Our easy-to-use platform automates administrative tasks and digitises documentation, enabling companies to transition to paperless and empowering HR professionals to make better business decisions. 
With Factorial, you can: 
Make holiday requests hassle-free

: Our absence management tool automates annual leave requests and increases visibility over time off so you can identify clashes and adapt plans painlessly.  
Clock in and clock out effortlessly:

Easily create working time policies and ensure compliance thanks to our time tracking tool, accessible via desktop or mobile. Keep records you can trust for better insights and accurate overtime pay.  
Build shifts in a few clicks:

Gain complete oversight of shifts in a user-friendly calendar view alongside absences, so you can create water-tight schedules. Save hours by replicating templated working patterns in a few clicks.  
Accelerate employee growth

: Automate and personalise performance reviews to foster employee development and retain high-performers. Track competencies across your team so you can spot gaps and improve your workforce planning. 
Refine, recruit, repeat

: Build your dream team in no time with an Applicant Tracking System that filters CVs so you don't have to. Automate the hiring process from start to finish and personalise each step to boost your employer brand and attract top talent. 
Transition to paperless

: Store everything on our encrypted, cloud-based platform. No need for pens, either; you can request e-signatures on documents legally and securely. Customise each sheet in one click and distribute them in bulk.