In a thriving workforce, there's one common trait that enables your business to outperform competitors – employee wellbeing. A holy grail for healthier and happier teams, workplace wellbeing must take centre stage when it comes to people management.
That said, there's a predicament all managers face in their quest to become great leaders: "how do I promote employee wellbeing in the workplace?" Because believe it or not, without encouraging behavioural change, your team likely won't act. 
Below, we've explored 5 techniques to really drive home the importance of wellbeing at work. Once you have finished reading, you will be one step closer to building a culture of health and wellbeing in your team. 
Remember, healthy employees are happy employees, and happy employees thrive in the workplace.
Get Everyone on Board
Do you feel better when everyone is on board with a project? If you answered yes, it isn't as surprising as you may think. That's because positivity, motivation and emotions, in general, are contagious. When we see others ready to seize the day, we want to do the same.
This can be applied to a lot of different scenarios, but it's especially applicative in health, fitness and workplace wellbeing. As an employer, People Manager, or team leader, it is your job to round up your team and get everybody on board – not for the sake of attendance, but to really emphasise teamwork and togetherness. 
If you're trying to instil health and happiness in your team, explain the benefits, and consider group yoga classes or fitness sessions. Find out who would be interested in things like Monday morning yoga sessions. The higher the buy-in from your employees, the more likely you can improve employee wellbeing in your business.
Leaders that Lead by Example
Similarly to group classes, senior team members must lead by example. It isn't enough to promote workplace wellness, you must also get involved in any group activities and challenges. The most successful teams (be it in business or sports) are led by leaders who play a pivotal role in their team. They understand that their ability to inspire and motivate is significant to great results. And as a leader, you must also recognise this when considering how best to promote workplace wellbeing. 
First, start by asking your team what kind of health, fitness or holistic wellbeing experiences they would enjoy. Once you've collected their answers, find an employee wellbeing platform or provider and get involved with your team. Show them that it isn't just important for the sake of good health, but that you as a leader value your own health and wellbeing. Leading by example is one of the best ways to promote wellbeing in the workplace and bring about behavioural change.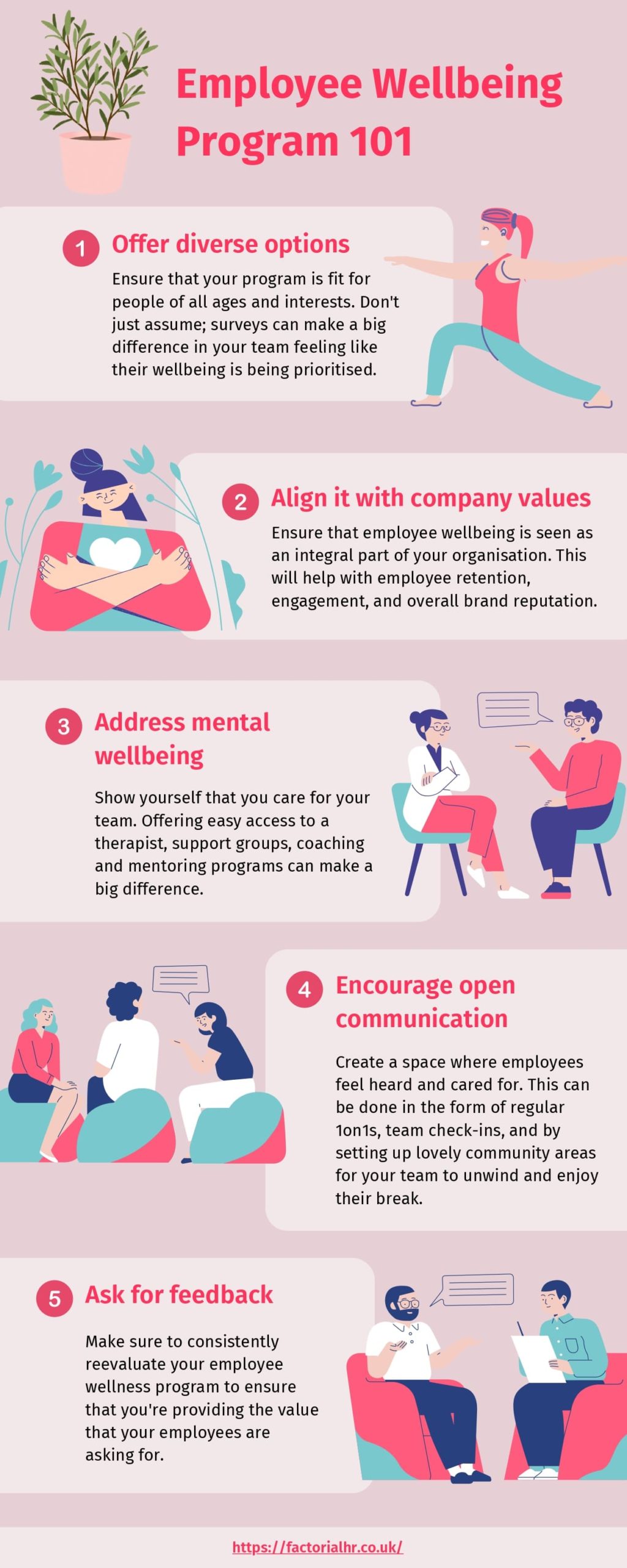 A Work Environment of Honesty, Trust and Openness
Moving on, what else can leaders do to avoid a toxic work environment and enhance employee wellbeing? It all starts with openness, honesty and trust. In many toxic work environments, characteristics such as bullying, ridicule, disrespect and plain ignorance come to mind. 
In a positive work environment, leaders create a culture of listening and support. It's through the art of openness, honesty and trust that employees can really grow and thrive. When we feel heard we are happier and more determined to work at our best. 
As reported by Small Business, one worldwide study found that 34% of employees feel their ideas about improving the business are unheard by employers. What's more, Forbes reported on a Salesforce survey in which it found employees who felt heard were 4.6x more likely to work to their best ability.
Leaders must take note and begin listening to their employees. Find out what it is they dislike about the work environment (there's always room for improvement). Find out how you can better support your team in both personal and professional circumstances. A good way to go about this is having 1on1s in smaller teams or sending out a wellbeing survey in bigger ones.
It's also important to show your employees that honesty is key – be honest about how you are feeling. Mental health and employee wellbeing shouldn't be taboo. Hosting wellbeing meetings with your team is a surefire way to promote wellbeing in the workplace.
Employee Wellbeing Isn't a "One-Size-Fits-All" Solution
If you ask a thousand employees what workplace wellbeing means to them, you'll likely come away with hundreds of answers – it's as simple as that. Because of this, leaders mustn't fall victim to the idea that coming up with a generic workplace wellness plan will be enough. 
It is also worth remembering that wellbeing comes in many forms, such as mental and emotional, holistic, physical, financial and more. And coming up with a workplace wellness plan is not a case of one size fits all. While some of us simply want to hit the gym after a hard day's work and appreciate those food vouchers, others are looking for good pension contributions and professional development opportunities. 
Once leaders understand this, they can better prepare a range of employee wellbeing initiatives and experiences that really cater for each and every employee. Many employers consider employee wellbeing less important than a lot of other operations within the business. This ignorance leads to wellbeing as just box-ticking and can do more harm than good. Benefits and incentives in the workplace don't always come free, and a lack of interest or use from your team means leaders are throwing money down the drain. 
As leaders begin to build a culture of honesty, openness and trust, they can quiz their team on what kind of support and employee wellbeing incentives they want to see. This not only impacts current employees but will help with future recruitment hires.
Work With Your Team on Policies and Decision-Making
Last but certainly not least, you should include your team in company policy and decision making. After all, it is these very rules that impact your employees; including their wellbeing and happiness. If you really want to build healthier and happier teams, you must become flexible and work with employees.
In recent years, the workplace has changed dramatically. With the rise of hybrid and remote working arrangements, many employees demand much more to be done to support better wellbeing. 
This is exactly why you should embrace collaborative decision-making with your team. Everything from remote working budgets to better office design should be considered. You can really make a difference for your employees once you start emphasising the importance of wellbeing at work.
Find out the working arrangements that people want, build an office that invites open communication and collaboration, and put people in the driving seat of the thing that impacts them the most – their working environment and culture.

Credit: Alex Hind is CEO and Co-founder of Heka, an employee wellbeing platform that supports everyone in the workplace with 1000s of experiences, services and products.