Time-tracking software has been around for a long time but has recently grown in popularity since the rise of remote and hybrid working teams. But with so many options available, seeing the woods through the trees can sometimes be difficult.
In this article, we'll look closely into everything you need to know about time-tracking software, its benefits, and what to think about when deciding to take the plunge. 
What is Employee Time Tracking Software?
Employee time tracking software is usually a cloud-based tool designed to help businesses record working hours and their employees' activities. While the concept might be simple, the data these tools can provide is often invaluable, allowing employers to track employee attendance, work hours, and tasks to gain valuable insights into performance.
What does an Employee Time Tracking Software do?
Different time-tracking software offers various feature options, and picking the right one will mean understanding what you need from it beforehand. So, let's start by looking at some of the features available in standard time-tracking solutions.
Time Tracking

Clock:

This function eliminates the need for manual timecards or punch clocks and generally provides more accurate information on your employee's working hours.

Timesheets:

Timesheets offer more in-depth information recording than simply clocking in and out and allow employees to record their daily or weekly work hours, as well as overtime, breaks, and different types of paid time off.

Task and Project Tracking:

Some time-tracking software functions as productivity tools, too, allowing employees to track their time to specific tasks or projects. This is particularly useful for businesses that bill clients based on hours worked or for agile teams working across a range of projects.

GPS and Location Tracking
Payroll Integration
Reporting and Analytics
Compliance and Legal Requirements
What are the Benefits of Having an Attendance Management System?
Increases Accuracy –

Get more accurate data and reduce errors associated with manual attendance record-keeping. Many systems also offer real-time reporting and analytics, giving your business insights into attendance trends and patterns and allowing you to make data-driven decisions in your workforce management.
Increases Productivity –

Identify attendance patterns and address issues as they arise and before they can impact productivity. Time management software can also benefit employees by encouraging them to take their productivity into their own hands, with greater visibility over their time and increased accountability.

This software can also reduce the administrative load on HR and management

, eliminating the need for manual data entry and simplifying the whole process. 
Support your teams –

Many modern time-tracking solutions now support remote work arrangements, too. Tools not only allow employees to clock in and out from different locations

but also act as a way of increasing their engagement with your organisation.
Increase security –

The nature of cloud-based time-tracking systems means better security over the data they hold when you compare them to physically storing records.

Added security features, like limiting access to specific data, can also help businesses comply with stricter security requirements.
What to Look for in an Attendance Management System
So you've decided to invest in a time-tracking system. What next? Here are some questions to ask yourself while you're evaluating what software will work best for your organisation. They'll help you consider key factors when choosing a system that aligns with your business and your teams.
1. Is it easy to use?
If you want to ensure your new software's uptake is good, perhaps one of the most important things to consider is whether the software is user-friendly – for both employees and the teams managing it. A complex or unintuitive system can lead to resistance, inconsistent use and errors.
2. Will it deliver accurate data?
Accurate attendance tracking is paramount. Look for a system that minimises the potential for errors in data entry and reporting.
3. Is it scalable?
Ensure that the software you choose can grow with your organisation. It should handle your current number of employees and be able to accommodate future growth.
4. Does it integrate with the other systems you need it to?
Check if the system can integrate with your existing HR, payroll, and other relevant software. Integration reduces data entry redundancy and ensures data consistency.
5. Does it have the customisations and integrations your business needs?
Every business will have different requirements for its time-tracking software, so being able to customise your chosen platform to suit you is really important. Here are some of the key customisations to keep in mind:
Mobile Accessibility

Biometric Features

Geolocation Tracking

Notifications

Compliance Features

Leave Management

Employee Self-Service
6. What do you want to be able to measure and report on?
Different reporting and analytics capabilities can provide a range of insights into attendance trends and patterns. If your requirements are very specific, customisable reports are a plus!
7. Who will be managing your time-tracking software?
Work out what support and training they'll need and what level of training each software provider can give them. Also, look at what customer support is available, so if any issues do arise, you're sure you'll get help resolving them quickly.
8. What level of security does your business need?
Data security is critical for any business, but some require more secure software. At the very least, make sure the system has robust security features to protect sensitive attendance data from unauthorised access and breaches.
9. Think about the cost.
Understand the pricing structure, including any subscription fees, implementation costs, and ongoing maintenance expenses.
10. What do other people say?
Research user reviews and look for case studies from different companies offering time management solutions. This will help you paint a picture of the software from other organisations' experiences.
11. Is it data regulation compliant?
We all know about the importance of GDPR these days, but stricter regulations govern some industries, so make sure it fits your business's needs.
Before making a final decision, remember that many software providers offer free trials, so you can test a few of them before deciding what works best for you. And don't forget to involve key stakeholders from other departments in the process – it always pays to have IT involved from the start!
1. Factorial ⭐️⭐️⭐️⭐️⭐️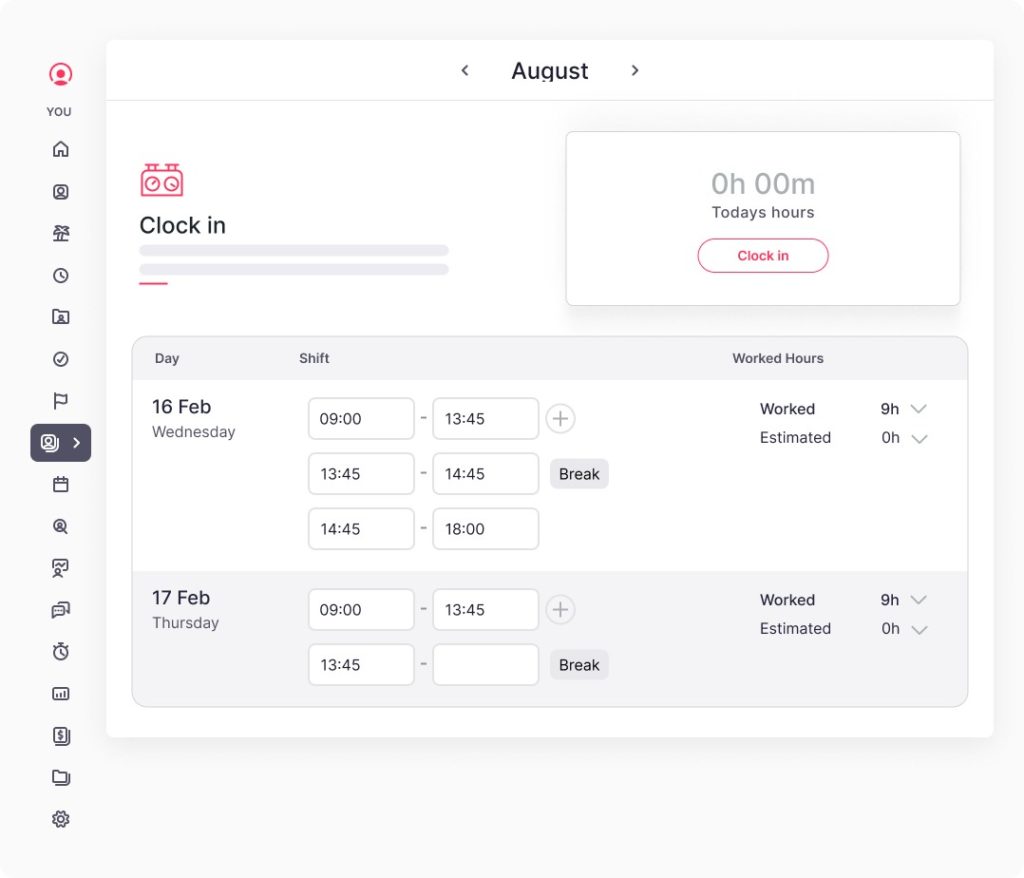 Overview
Factorial's Time Tracking Solution simplifies time management for businesses. It allows you to track employee working hours effortlessly, enhancing productivity and minimising absenteeism. Its time and attendance software is easy to personalise, so you can set work schedules, compare actual hours worked to expectations, monitor remote work, and customise tracking for each employee.
Features like daily time tracking, shift approvals, and easy management of extra hours help to increase productivity, while teams also see a reduction in absenteeism with attendance monitoring, location-based clock-ins, and bespoke permission settings that give the right people the necessary visibility. Additionally, the mobile app and integration with Slack make time tracking convenient, while robust reporting and absence management tools provide valuable insights for better decision-making.
You can also try our free work hours calculator here.
Pros
✅ Comprehensive HR Management Features: Factorial stands out for its extensive HR management capabilities, offering a wide range of tools and functionalities to help streamline workflows for human resources teams.
✅ User-Friendly and Accessible Design: Many users have reported their appreciation for the software's user-friendly interface, which is easy to navigate and designed with a fantastic aesthetic, all contributing to a positive user experience.
✅ Integration Capabilities: The software's ability to seamlessly integrate with popular email and chat tools like Outlook and Slack allows smoother workflows and increased efficiency.
Cons
❌ Undergoing Continuous Improvement: While the functionality of Factorial's software is sound, users can look forward to ongoing enhancements and additions as the platform continues to develop its offering.
Pricing
Price varies depending on which customisable bundle you choose. View them all here, or try for free with a 14 day trial.
2. Timely ⭐️⭐️⭐️⭐️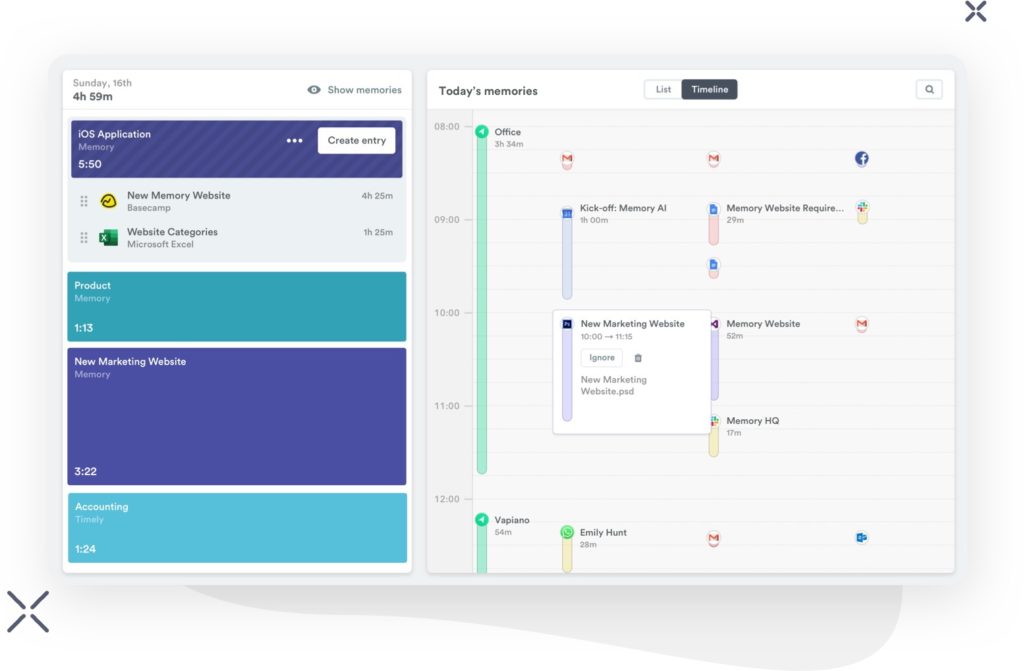 Overview
Timely is an innovative business management software trusted by a vast community of 46,000 professionals in 5,000 companies across 160 countries worldwide. It's designed to cater to businesses of any size, stage, and budget, providing automatic time-tracking capabilities developed by its Norwegian innovators.
Timely empowers businesses with accurate payroll, project management, team management, and capacity planning reporting. It also automates timesheet administration, allowing teams to focus on meaningful work while prioritising user-level privacy.
Pros
✅ User-Friendly: Timely's system is easy to use and often described as 'excellent' by users. It's favoured particularly by teams that need to manage bookings, marketing, and invoices. It integrates seamlessly with Google Calendar, and users appreciate its widget function to embed it into other tools easily.
✅ Affordable Pricing: Timely's reasonable pricing structure makes it a cost-effective solution for businesses.
✅ Responsive Support: Its stand-out customer support team are responsive, helpful and easy to reach for assistance. The company is also committed to listening to feedback and improving the platform continuously.
Cons
❌ Customer Dissatisfaction: Some users have experienced serious problems with the software, which they believe have led to customer dissatisfaction and even attrition.
❌ Limited Functionality: Users have found that while Timely's functionality is broad, some things are missing that can hinder their processes. Being unable to use customer credit on invoices that have already been issued and cancelling appointments online are both things that are frequently mentioned in customer reviews.
Pricing
No free plan. Starts at $8 per user per month. 
3. Toggl Track ⭐️⭐️⭐️⭐️
Overview
Toggl Track is a versatile time-tracking app designed to enhance productivity for anyone, from individuals to large cross-functional teams. It boasts a user-friendly interface, real-time tracking synchronisation across devices, and detailed reporting capabilities.
Toggl Track streamlines time management and eliminates manual administrative tasks. It offers flexibility and integration with various project management and invoicing tools, making it a valuable solution for businesses seeking efficient time tracking and reporting.
Pros
✅ Effortless Task Tracking: Toggl Track simplifies the task tracking process, allowing users to effortlessly monitor their activities, providing insights into time allocation, and enhancing overall focus and productivity.
✅ Seamless Integration: Toggl Track integrates with Asana and other tools, offering a valuable solution for teams who want to optimise their time management and task tracking within their existing project management workflow.
✅ Great Free Version: Toggl Track's free version delivers comprehensive features and services, allowing users to quickly set up and start time tracking without needing a subscription.
Cons
❌ Difficult to Use: Some users have experienced difficulties understanding how to use Toggl Time effectively. One of the main concerns has been the loss of logged hours because they haven't been tracking their time when they thought they were.
❌ Lack of Pause Function: The absence of a pause feature for tracking sessions in Toggl Track has also been problematic for many users. Customers must stop their current session and create a new one when they need to pause, leading to multiple short-duration sessions. Correcting time entries can be frustrating, with minor errors reverting the changes back to default entries.
Pricing
Free for up to 5 users. $9 per user per month. 
4. Clockify ⭐️⭐️⭐️⭐️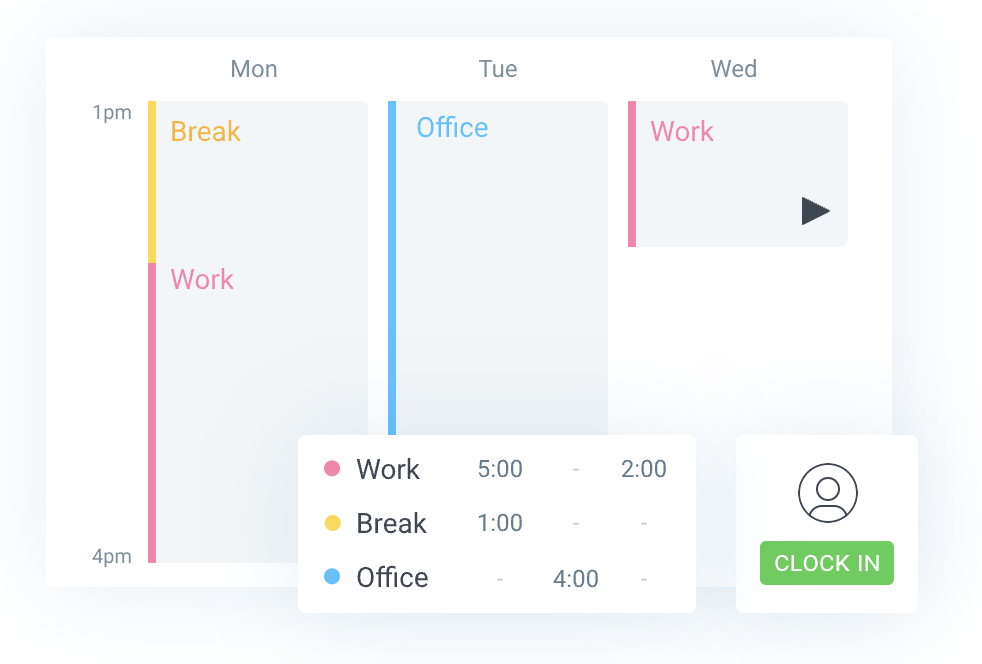 Overview
Clockify is a versatile and free time-tracking app that caters to teams of all sizes and types. It allows users to monitor work hours, set hourly rates, and allocate tasks effortlessly, making it useful for diverse businesses, including digital agencies, NGOs, and educational institutions. The platform offers features like customised reports, billable hour tracking, and cross-device accessibility, ensuring efficient time management and productivity analysis.
Pros
✅ User-Friendly and Cost-Efficient: Clockify offers an uncomplicated and cost-effective solution with many key features in its free version. Users appreciate its easy sign-up process, simple and easy-to-organise interface and mobile app for on-the-go time tracking, making it particularly for remote and on-the-go teams.
✅ Comprehensive Support: Its library of extensive resources under the Help tab includes documentation, tutorials, and support assets, enhancing the overall user experience.
✅ Easy Billing and Invoicing: Clockify calculates billable hours and generates invoices directly from inputted data, making it a top choice for agencies and freelancers.
Cons
❌ Confusing Reporting: Some users have found the reporting features in Clockify confusing, which has sometimes impacted their ability to get accurate numbers.
❌ Difficulty in Editing Time Entries: Editing time entries within the app is difficult if a user forgets to start or stop the timer.
Pricing
$3.99 per user per month. Free version available. 
5. TimeCamp ⭐️⭐️⭐️⭐️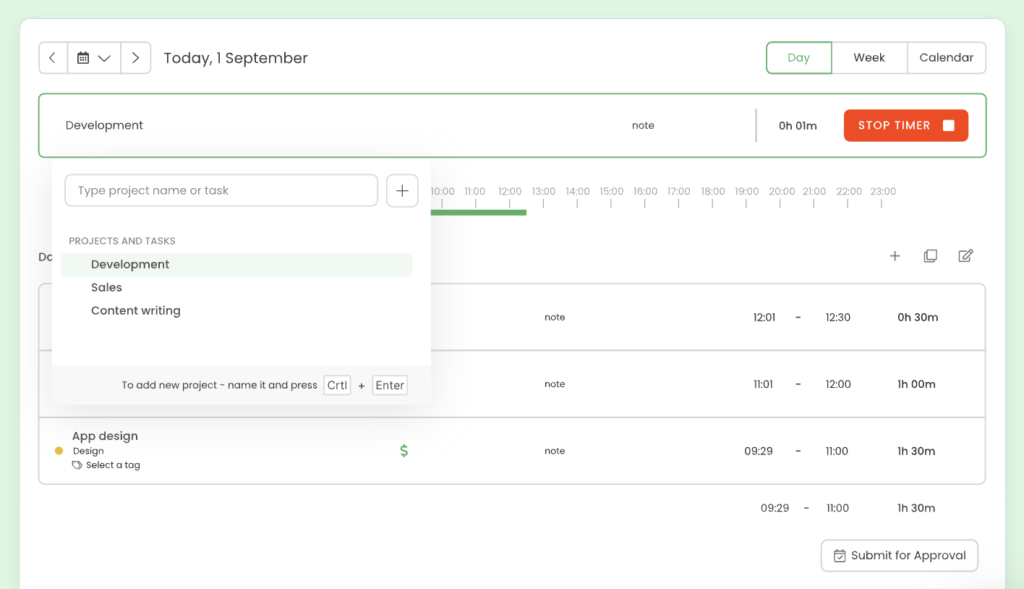 Overview
TimeCamp is a versatile and cost-effective time-tracking solution suitable for teams of any size. It offers accurate timesheets, detailed reports, and automatic real-time tracking, allowing businesses to project profitability and employee performance forecasts accurately. TimeCamp's flexibility extends to integrating various applications, making it a comprehensive system for project management and productivity optimisation, whether for in-office or remote teams.
Pros
✅ User-Friendly Interface: TimeCamp has an easy-to-use, clean interface that users find simple and intuitive and contributes to a positive experience in tracking and managing their time and projects. It also integrates with other productivity tools, like Asana.
✅ Better Focus and Productivity: Users often cite TimeCamp's capacity to help them stay focused on completing projects. It aids in tracking tasks and assists in reviewing weekly progress, promoting the team's autonomy over their productivity and time management.
✅ Reliable Uptime and Helpful Support: TimeCamp's reliable internet availability is a significant advantage for users who rely on consistent access. The platform's technical support is also helpful and responsive, ensuring users are assisted quickly.
Cons
❌ Costly Investment: Some users found TimeCamp to be a relatively expensive choice for its value, leading some to go elsewhere for their time-tracking resource.
❌ Difficulty in Adjusting Time Entries: Adjusting time entries, especially for accidental runs, is challenging within the platform. Users have been concerned about how this might affect time-tracking accuracy. Additionally, occasional software glitches have caused timers to not work on other platforms.
Pricing
Free plan available. Starter: From $2.99 per user per month. Basic: From $5.99 per user per month. Pro: From $7.99 per user per month
6. QuickBooks Time ⭐️⭐️⭐️⭐️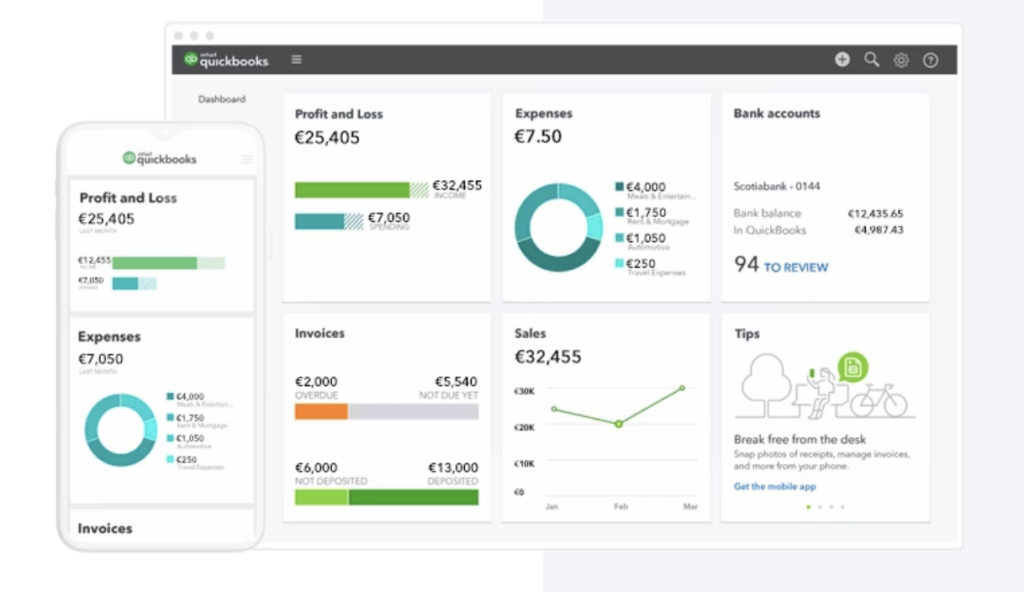 Overview
QuickBooks Time, a member of the QuickBooks family, is popular because of its seamless integration with popular accounting tools like QuickBooks Online and ADP. This comprehensive solution allows businesses to efficiently manage their workforce, projects, and payroll all within a single platform.
QuickBooks Time simplifies employee time tracking and scheduling, streamlining payroll, invoicing, and job costing. It offers the flexibility for teams to track time from anywhere using various devices, and it's uniquely embedded within QuickBooks, providing a seamless experience for reviewing and approving employee time data without leaving the QuickBooks environment.
Pros
✅ Exceeds Expectations: Users are consistently positive about QuickBooks Time. They tend to be satisfied with its functionality and even find it has more features than expected.
✅ Impressive Customer Service: The QuickBooks family have a great reputation when it comes to customer service and support; QuickBooks Time is no different. Users find its support team to be responsive and helpful in assisting with their issues and challenges.
✅ User-Friendly and ADP Integration: QuickBooks Time has a user-friendly interface, making it accessible even for individuals with limited computer knowledge,  and is compatible with the ADP system, enhancing the software's usability for specific needs.
Cons
❌ Occasional Technical Glitches: Some users have reported occasional technical issues with QuickBooks Time, such as being unable to clock out or start a new timesheet. These functionality errors, particularly those related to QuickBooks integration, have caused users frustration.
❌ Software Lag and Timing Issues: There have been reports of instances where the time clock function of the software lags by a few seconds. This delay or occasional missed clock-in/out can be attributed to the software's slowness, which has frustrated some users.
Pricing
Elite: $10 per month per user per month + $40 base fee per month. Premium: $8 per user per month + $20 base fee per month. 
7. RescueTime ⭐️⭐️⭐️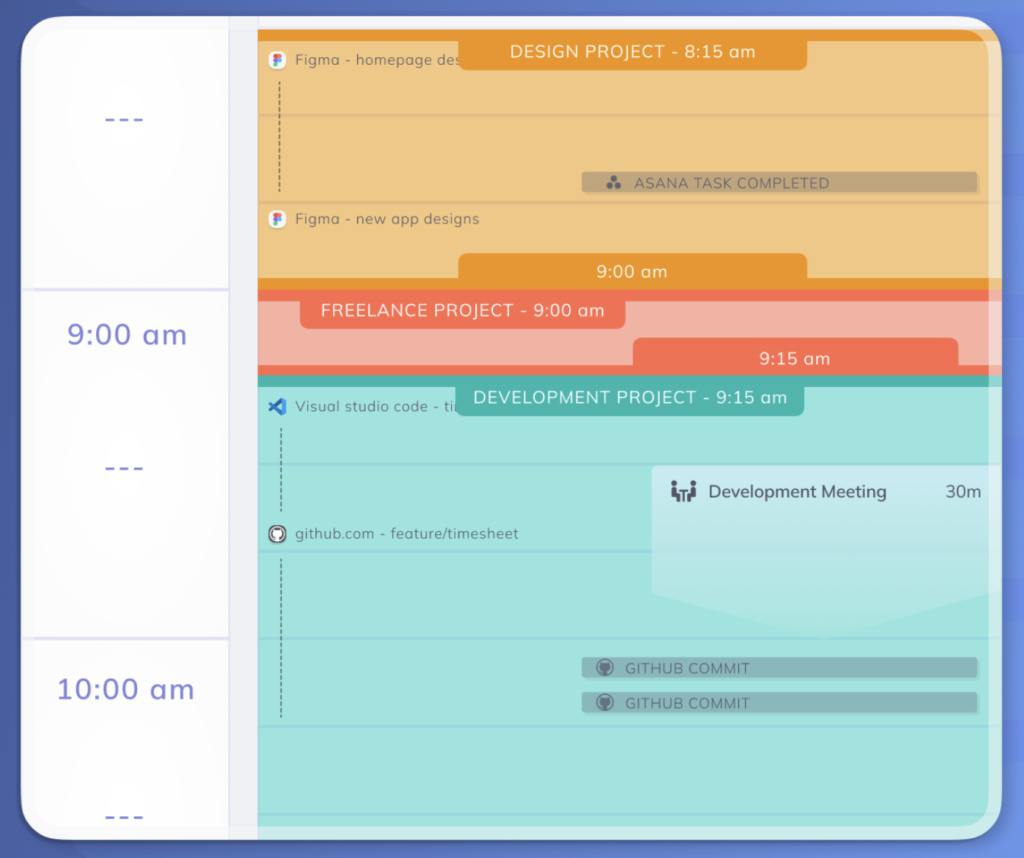 Overview
RescueTime is a web-based productivity tool designed to enhance efficiency and focus for its users. It helps prevent distractions by tracking time spent on various applications and websites, giving teams and individuals insights into their daily habits and improving productivity.
With over 14 years of experience in time tracking, RescueTime is a trusted leader in habit-building software, helping its users set goals, track time, and manage distractions.
Pros
✅ Valuable Additional Resources: Users have found 'RescueTime' to be more than just a time-tracking tool; it also offers a wealth of time management articles and productivity courses through its website. The high-quality content in these resources has motivated users to use RescueTime regularly, making it a valuable platform for improving productivity and time management skills.
✅ Effective Time Management: RescueTime can help users manage their time effectively by providing insights into time allocation and allowing users to make informed decisions about how they spend their hours – ultimately enhancing their productivity. Users find RescueTime's capacity to show them how and where they are spending the majority of their time particularly helpful.
Cons
❌ User Experience and Interface Could Be Improved: Several users have mentioned that while 'RescueTime' is functional, it lacks a polished and finished user interface and user experience.
❌ Limited Use for Individual Projects: While some users find 'RescueTime' useful for tracking time on basic projects alone, the software's capabilities might be better suited for team collaboration and larger-scale projects.
Pricing
RescueTime Lite: Free. RescueTime: $12 per month. 
8. Connecteam ⭐️⭐️⭐️
Overview
Connecteam is a versatile workforce management app designed to streamline business processes and enhance productivity. It empowers managers to automate tasks, allowing them to focus on business growth.
It gives employees the flexibility and tools to be more productive with features like custom checklists, task management, skills development, and a GPS time clock for tracking work hours and scheduling shifts. It also provides tools for simplifying employee communication, skills development, and daily task management.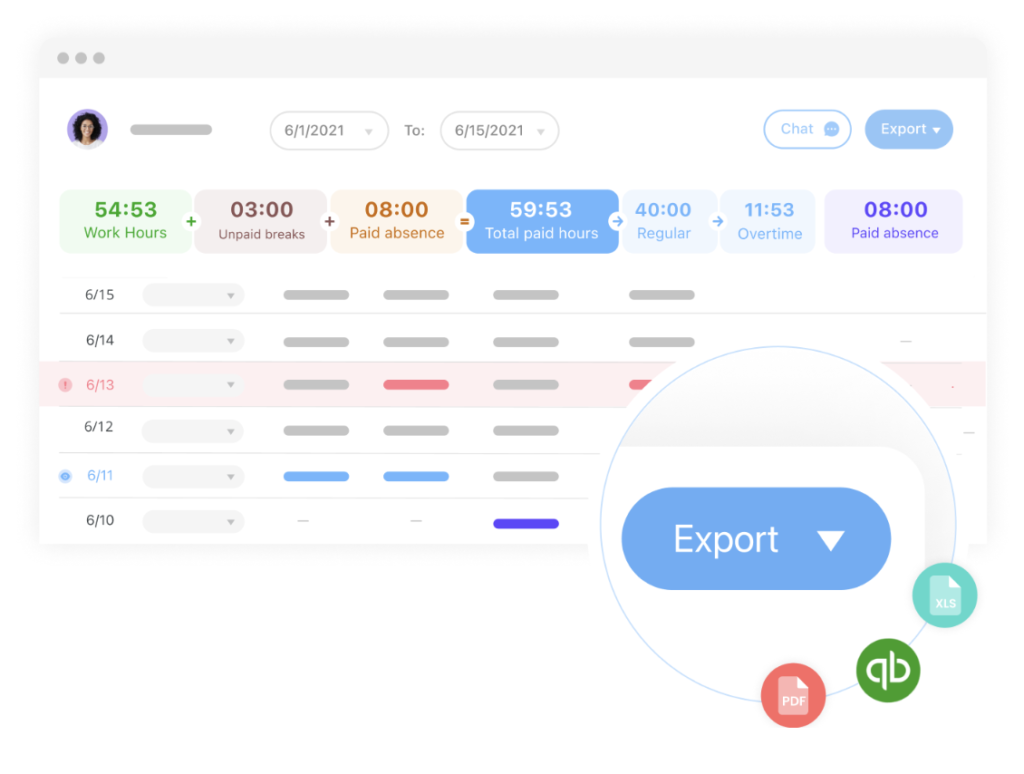 Pros
✅ Customisable Features: This flexibility ensures a streamlined and efficient experience tailored to your organisation's requirements.
✅ User-Friendly and Intuitive: The straightforward design and ease of use make it accessible for users of all technological abilities.
✅ Cost-Effective Pricing: The cost structure is transparent, and users can upgrade without hidden fees.
Cons
❌ Limited Compatability: Connecteam's admin features can only be accessed through the website, not the app. Similarly, Connecteam's app is available on Android and iPhone only, with no desktop app for Windows or Mac.
❌ Lack of Advanced Permissions: The platform lacks advanced hierarchy features and customisable permissions for administrators, potentially limiting the level of control and customisation some organisations may need.
Pricing
Connecteam has five pricing options, with a free trial for up to 10 users.
9. Nostra ⭐️⭐️⭐️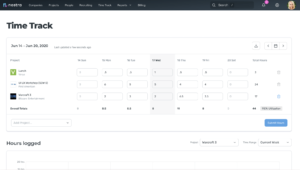 Overview
Nostra is a business management solution tailored for Professional Services and Software organisations and aims to enhance operational efficiency. It assists in employee management, skill tracking, resource allocation, and financial tracking for customer engagements. This solution is particularly suitable for professional services companies with 10-500 employees seeking to boost profits by optimising resource utilisation.
Pros
✅ Simplifies Complex Data Management: Nostra offers a more efficient and user-friendly way to track time, forecast revenue, and manage projects and roles.
✅ User-Friendly: Nostra has an easy-to-understand user interface that offers enhanced visibility into resource allocation and project configurations.
✅ Supports Resource Management: The ability to track team members' skillsets and interests and its fit score recommendations make it a game changer for resource management.
Cons
❌ Limited Functionality: The platform is evolving and may benefit from further feature development.
❌ Ongoing Features Development: Some features are still under development, affecting some user's experience.
Pricing
Contact Nostra directly for a quote.
10. BrightHR ⭐️⭐️⭐️
Overview
BrightHR is a comprehensive software platform backed by HR, health & safety, and legal experts, designed to simplify people management for businesses. Since 2015, over 75,000 global companies have benefitted from its innovative software and support services.
The user-friendly software streamlines tasks like staff holiday management, overtime, sickness, and lateness – all accessible through its mobile apps. BrightHR's time clock solution allows users to clock in digitally and is enhanced by various other features.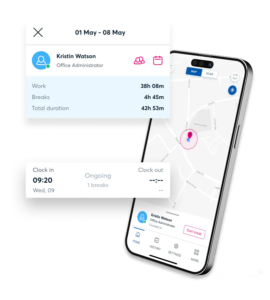 Pros
✅ Efficient Information Management: BrightHR's time clock feature helps keep all essential information in one user-friendly space, allowing it to integrate with its other tools.
✅ Integrated Leave Request System: This simplifies requesting and managing time off.
✅ User-Friendly and Efficient Navigation: The platform is easy to navigate with a straightforward setup process and a dashboard that enhances the overall usability of the platform.
Cons
❌ Lacks Functionality: The system lacks some features, like copying previous rotas or saving shift times for staff members. Users also face challenges when switching staff between fixed and variable shifts.
Pricing
Contact BrightHR directly for a quote.
11. Insightful ⭐️⭐️⭐️

Overview
Insightful is a powerful workforce analytics and productivity software that provides actionable data insights to optimise employee performance and efficiency. It offers employee productivity monitoring, automatic time tracking, and remote team management to aid productivity and streamline workflows.
It also delivers behavioural data insights and is trusted by over 1,000 global brands to enhance organisational productivity. This user-friendly platform is available in the Cloud or On-Premise, ensuring enterprise-grade security and privacy. It's a go-to solution for businesses that want to elevate their workforce analytics.
Pros
✅ Comprehensive Time Tracking: A user-friendly interface with start and stop timers, task switching and break recording, making it easy for employees to log their work hours accurately.
✅ Customisable Features: Insightful offers flexible and customisable features that cater to specific needs, like goal setting, project deadlines, and automated reminders for breaks and tasks.
✅ Employee Monitoring: Employee monitoring capabilities allow for website and software tracking, providing valuable insights into employee productivity.
Cons
❌ Missing Features: Insightful lacks features like attaching website URLs to projects.
❌ User Management Limitations: Users can only be deactivated and cannot be unmerged once you've merged them.
Pricing
Starts at $6.40 per user per month.
12. Harvest ⭐️⭐️⭐️⭐️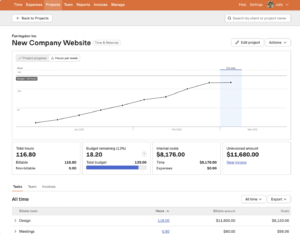 Overview
Harvest is a versatile time-tracking and project-management tool designed to streamline work processes. It simplifies tracking time, gaining insights from previous projects, and facilitating efficient payment collection. With native apps and integrations with popular tools like Asana and Slack, Harvest seamlessly integrates into team workflows and offers a variety of visual reports to ensure project smoothness and team support.
Harvest also helps teams turn tracked time and expenses into invoices with integrated online payment capabilities.
Pros
✅ Exceptional Time-Tracking: With features like built-in notifications and auto-adjustments, Harvest is a user-friendly tool for tracking time accurately.
✅ Seamless Integration: Harvest integrates with various project management tools, making tracking time across different platforms easy.
✅ Ease to Use: Set up is fast and straightforward, and task allocation and timesheet functions are accessible.
Cons
❌ Lacks Viewing Options: Harvest only has a one-day view and lacks calendar or monthly review features.
❌ Limited Functionality for Internal Departments: The platform is primarily designed for agencies working with multiple clients and billing for their services, meaning internal departments within a company might need to work around certain structural elements.
Pricing
Harvest has three pricing options – a limited free account, $12 per month for individuals, and $12 per person per month for teams.
13. BambooHR ⭐️⭐️⭐️⭐️
Overview
BambooHR offers an all-in-one HR solution that seamlessly integrates various functions and tasks, streamlining operations and improving efficiency. The platform automates processes and ensures smooth workflows across the employee lifecycle by combining employee, payroll, time, and benefits information in one place while ensuring data accuracy and security. The user-friendly design makes it accessible and intuitive for employees, even on mobile devices.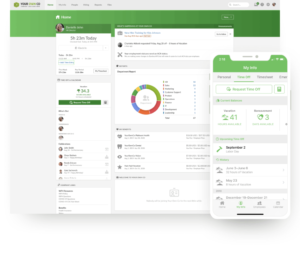 Pros
✅ User-Friendly Portal: BambooHR offers different portals for its users, allowing employees to maintain their own records, track time off, and sign documents electronically, while HR managers have separate access to the tools they need.
✅ Intuitive Interface: It is easy to navigate and access features for both administrators and end users.
✅ Efficient Time-Tracking: BambooHR's mobile app makes time tracking particularly easy and allows for company-wide announcements that reach everyone, wherever they are.
Cons
❌ Complex Custom Report: Building custom or specialised payroll reports through the platform can be time-consuming.
❌ Limited Functionality in Core Platform: Users must purchase and integrate additional systems through a "bolt-on" approach.
Pricing
Starts at $8.75 per user per month.