After a turbulent few years for small businesses in the UK, this coming year is set to bring just as many challenges. There are currently 5.5 million small businesses operating in the UK, most of which are feeling the financial pressure brought on by inflation. In fact, 82% of SMEs that took part in a Lloyds survey reported experiencing negative impacts as a result of the cost of living crisis.
Now more than ever, small businesses need to find ways to save time and reduce costs whilst maintaining – or improving – productivity and business performance.
Implementing HR software can do just that. Human resources can use HR tools to support core HR functions and HR tasks, from centralising employee data to automating talent management and performance management.
In this article, we'll outline the top HR software systems that every small business should be introducing to its HR department.

Why Digitise Your HR Processes?
Human resource management systems are changing the world of workforce management by automating and streamlining everyday HR processes. Using HR tools to improve human resource processes saves HR teams time and therefore increases productivity, resulting in greater focus on strategic initiatives that can strengthen a company's bottom line.
Approximately 40 days a year are lost by employees and managers on administrative tasks but, by digitising core HR processes and introducing HR software, HR managers and HR professionals can reclaim this time to focus on business strategy, employee performance and employee experience.

7 HR Management Software Tools Every Small Business Needs
An HR tool is used to automate and improve the processes relating to workforce management and the employee lifecycle. Whether it's employee data, recruitment, payroll, performance appraisals, or employee training, these tools help streamline a wide range of tasks and procedures, allowing the HR department to more effectively perform their duties.
These HR tools offer effective solutions for small businesses with specific needs, however, an all-in-one HR management software provides a more straightforward solution.
An HR software is a combination of multiple HR tools brought together in a centralised platform. They allow all HR tasks to be carried out from one place for easy and intuitive people management.
Here are our top 7 human resources tools for small businesses that can also be integrated into an all-in-one HR management software.
1. Applicant Tracking System (ATS)
Talent management all starts with finding the best candidates.
For HR managers and HR professionals, talent acquisition is one of the most crucial parts of the talent management cycle that they must coordinate. An ATS is therefore a crucial part of any HR platform as it automates the entire recruitment process and allows HR professionals to:
Manage openings on multiple job boards with single data-entry
Build custom-generated career pages
Track, manage, rank, grade, and perform background checks on applicants
Create personalised job offers, application forms or pipeline steps
Centralise applicant information and generate reports
Use filters to screen CVs based on skills, experience and more
Save personal data to carry across into the onboarding process.
By modernising the hiring process using this HR tool, companies can save time spent searching for candidates and managing employee onboarding.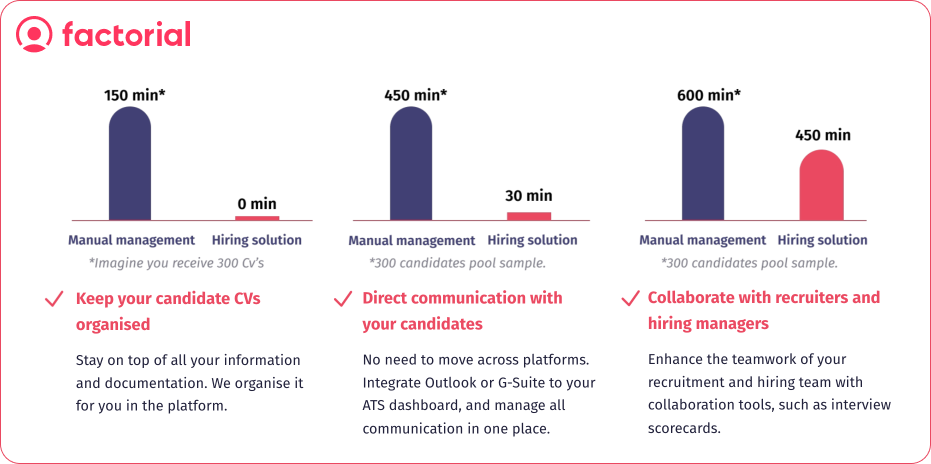 2. Performance Management Software
Performance management is another important part of the talent management cycle that involves monitoring productivity and outcomes, giving feedback and developing action plans.
Essentially, it is the process of supporting your employees to learn and grow through evaluations and honest conversation. 
Tracking employee performance and progress is essential to the success of a growing organisation. Many HR processes feed into performance management, such as carrying out performance appraisals and overseeing 360 degree reviews. Luckily, human resources can use HR tools to facilitate these HR tasks.
HR managers can set individual employee goals, track their performance and employee development, collect feedback from the team and report on performance metrics all from one place. Tools such as these better help facilitate performance evaluations, meaning that employee performance reviews can be done more efficiently.
Human resources can use HR software systems to:
Score employees on competencies you've defined and create a 9-box grid to visualise their performance and potential.
Customise performance reviews to individuals, teams or offices.
Create automated and recurrent 360º reviews.
Generate reports on anonymous survey feedback to measure workforce wellbeing.
These HR tools will allow human resources and company leaders to measure and track abilities to boost growth.
3. Payroll and Expenses Management Platform
Whether it's a start-up or an established business, using payroll software and expense management tools can speed up the end of month tasks by automatically compiling payroll variables and facilitating bulk distribution.
In addition, these tools help HR departments keep better track of employee wages, calculate total compensations, and reduce human calculation errors.
They can also streamline expense processes for simpler benefits administration. Expense requests and reimbursements can be digitised and extra compensation can be managed from the same place as payroll. Compensation management doesn't have to involve crumpled receipts and painful, manual calculations!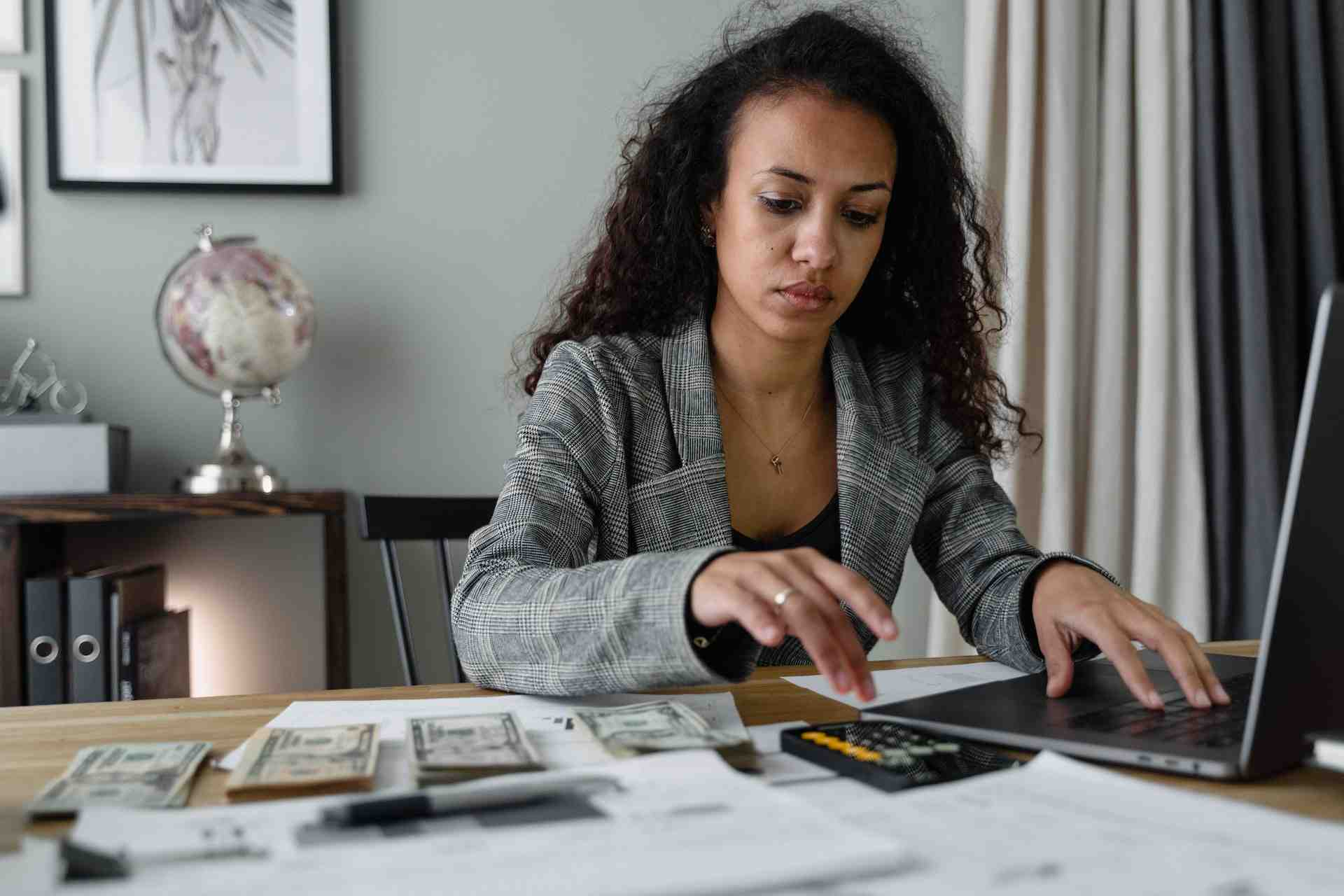 4. Shift Management Tools
Even within a small team, clash managing rotas can be a nightmare. Managers can increase visibility and plan work schedules with flexibility using shift management software.
These handy solutions automate employee scheduling so that creating a shift calendar can be done in a few clicks.
You can assign shifts to individuals, teams, offices or locations and view all of these in a calendar view. Conflicting schedules are then flagged automatically so you can detect them easily and adapt your plan. Managing shifts in this way means you can view them in tandem with absences, holidays, scheduled time off, and more.
You can even replicate weekly shift schedules so that generating rotas isn't a weekly chore – you just create, save, click, repeat!
5. Time and Attendance Software
Although employee time tracking may not be law all across the globe, the practice of monitoring worked hours to ensure compliance with employment law is.
Offices, retail establishments, factories, and even hospitality centres, can all improve productivity through the simple act of time tracking using HR software. HR software solutions like this allow employees to easily clock in and out themselves and request time off, whilst allowing senior staff to streamline absence management.
These systems also digitise time-off approval workflows so that, with minimal effort, communication between managers and team members will be improved and documented automatically. You can then track absences more easily and gain visibility over time off clashes to avoid staffing issues.
Most HR management tools will now allow you to tailor time-off policies to types (such as PTO or TOIL), individuals (including 0 hour contractors), teams and locations.
6. Onboarding Tool
Developing an onboarding plan is a task for the human resources department to manage as part of the people management cycle. Your primary role is to help integrate incoming team members into their work environment whilst introducing them to the company culture and ensuring employee engagement is high from day one.
Human resources management software can support these processes by handling onboarding task workflows, documentation, tax submissions, payroll and more, making it a major time saver for the HR team.
You can set new hires tasks to complete, allocate them documents to e-sign, and even tag supporting staff members that need to be involved in the process. Digitising these workflows means you'll integrate them into their role faster and ensure a productive start.
7. Employee Training Tool
IBM reported that 84% of employees in 'Best Performing Organisations' are receiving the training they need compared with 16% in the worst performing companies. Not only this, but retention research shows companies that drive strong learning cultures see a rise in retention rates by 30-50%.
By providing employees with constant opportunities to develop and grow by learning something new, you can decrease talent turnover and improve your bottom line. This might take the form of mentoring and coaching from expert employees, virtual training sessions, or in-person workshops.
However, investing time and money into development can be more difficult for small businesses with fewer resources and a lower budget. On-the-job training is great in theory, but not when it's takes more than it pays back!
This is where cloud based HR software comes in. Not only can digital tools help to monitor employee skills and identify areas for growth, they can track progress toward goals and allow you to set training plans to get them there.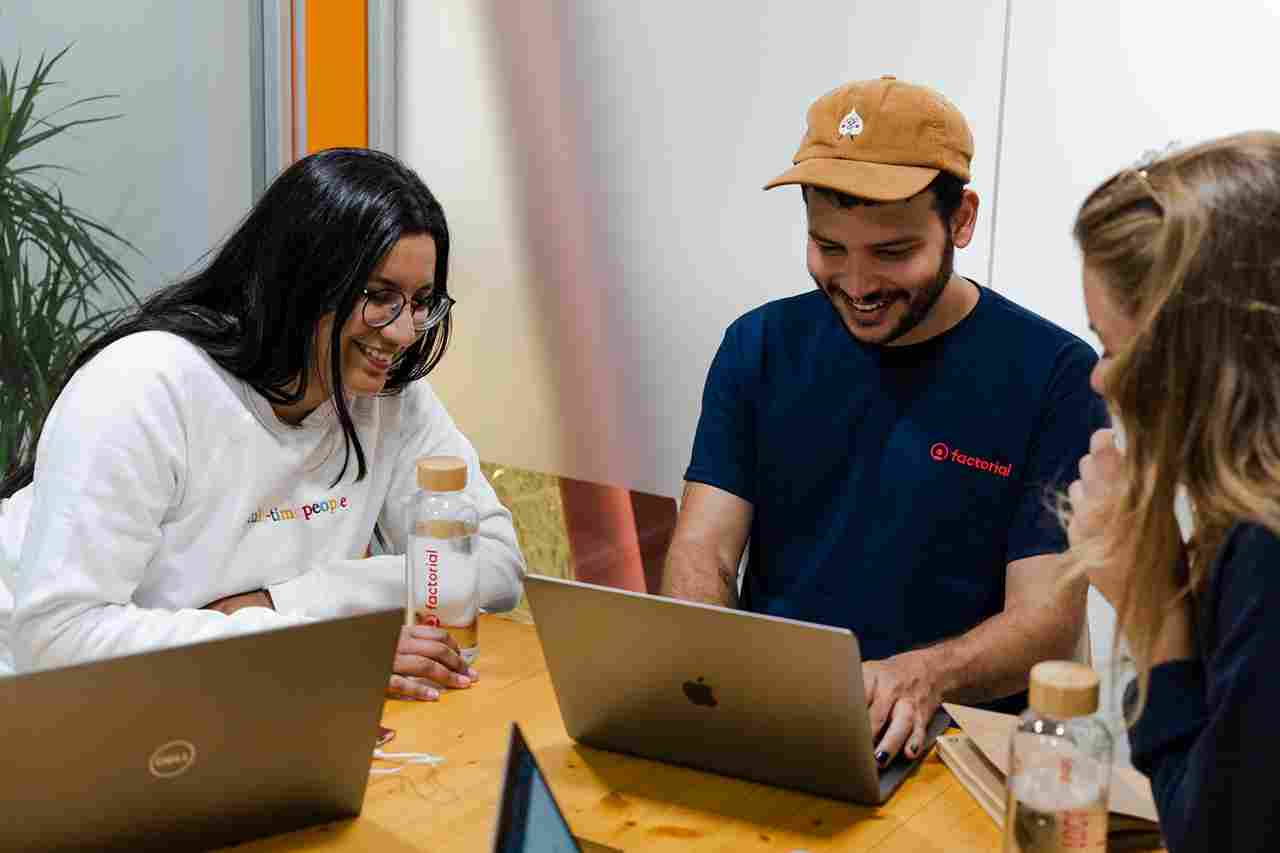 This could be anything from health and safety training for new hires to more specialised exercises for employees to learn how to use a certain tool.
HR admins can even create training material that merges different multimedia formats to create dynamic training programmes for their team. Over time, managers can track the team's award certifications, progress, and more.
Whatever the content, a learning management system allows you to track employees as they develop their skill sets and adapt your approach as needed.
All-in-One Cloud Based Solution for HR Professionals
The tools mentioned above are just a selection of the best tools HR departments can benefit from, but Factorial offers a digital solution that combines all of these tools in one place.
Factorial is an all-in-one, digital HR software that converts these never-ending, manual processes into integrated, effective ones. Our easy-to-use platform automates administrative tasks and digitises documentation, enabling companies to transition to paperless and empowering HR professionals to make better business decisions.
Our intuitive software helps companies reduce up to one week's worth of repetitive tasks per month. Over 300,000 users across nine countries are already reaping these benefits, including KFC, Booking.com, and Whisbi. They use our HR management tools daily to streamline recruitment, onboarding, performance, time tracking, payroll, expenses, and more! We also provide enterprise tools for SMEs to boost each company's bottom line and accelerate growth.
You can get more out of every working hour with our time management tools. These allow you to monitor hours worked per project and give more visibility over scheduled annual leave and shift plans.
We can also support and improve your entire talent management cycle; acquire suitable candidates quickly with our Applicant Tracking System, and nurture and retain top talent effectively with automated and personalised performance reviews.
With Factorial, you can access all of these HR management tools – and more – from one place, saving you time and resources so that in addition to managing people, you can dedicate yourself to bringing out the best in them.
Plus, with our customisable bundles and price plans, you can choose which tools best suit your company's needs without any commitment – you're not tied into anything.