In an era of big data, companies face an overwhelming amount of information that needs to be managed every day. But it's not an easy job to stay up to date with every department and streamline the workflows of the office. So, how do the big players keep track of employee and customer records, measure performance and streamline payslips and contracts? Most of them use a solid Document Management System (DMS) that can help to reduce time spent on manual tasks without losing legal compliance.
But how can a Document Management System help your organisation?
In this article, we'll explore how you can benefit from a DMS and how to use Factorial to simplify the document workflow at your company. 
What is a Document Management System?
A Document Management System is a software solution that helps organisations manage, store and track documents electronically. A DMS enables the creation, modification, storage and tracking of documents within one place, making it easy for team members to access and collaborate. This is especially useful for remote teams as they can work asynchronously from any location. 
Beyond just storage, a DMS can automate many of the manual tasks associated with managing paper-based documents, such as filing, retrieving and archiving. They also provide an added layer of security by controlling access and tracking who has viewed or edited them. 
The right software can also help your team stay updated with legal and regulatory requirements. This is key for HR departments, as it ensures that confidential documents such as contracts, performance evaluations and employee records are stored safely.
It's a fact that digitalisation is changing the way we work in the UK. Yet still, many SMEs in the UK have resisted digitalisation despite managers across the nation considering it important. Almost 76% of UK SMEs surveyed recognised that digitalisation is the only way to survive and compete, but only 28% of the organisations shifted to a more digital-focused approach.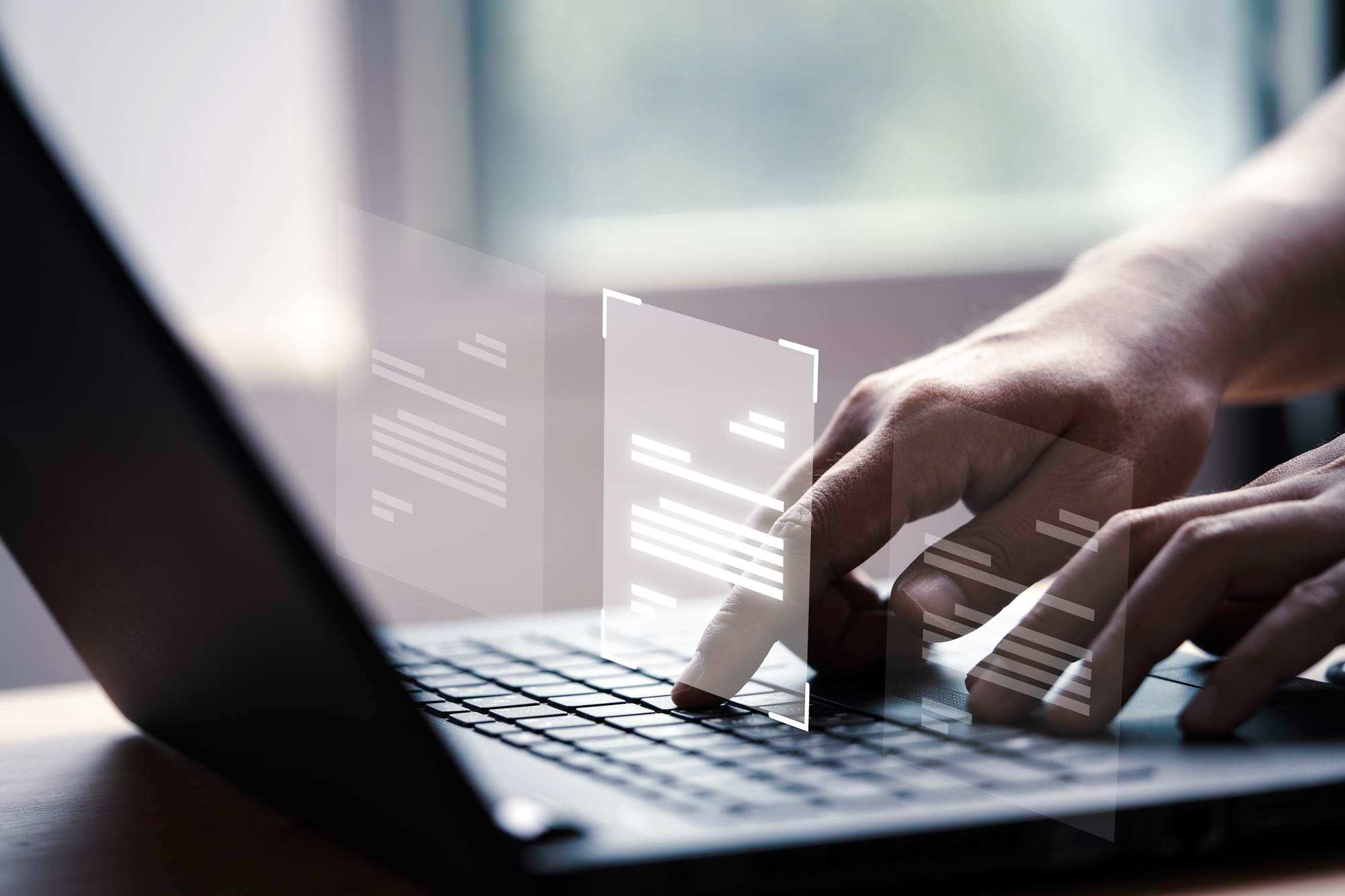 Why Should You Use a Digital Management System in Your Organisation?
There are many reasons why you should consider implementing a DMS in your company. Here are some of the main benefits of going digital:
Improved organisation and centralisation of documents
A DMS allows you to store and organise all your documents within a centralised workspace, instead of having documents scattered across different departments, physical file cabinets and personal computers.  This makes it easier for team members to access and collaborate from anywhere, helping you save time on low-impact tasks across all teams.  Employees no longer need to waste time searching for important documents, as they can be easily found and accessed through an HRIS.
As we mentioned before, DMS also allows team members to work on documents asynchronously, meaning they can access and work in different time zones. This is especially useful for people teams that work with colleagues from all over the world. It enables team members to access and work on documents from anywhere, at any time. A DMS also allows you to collaborate in real-time, improving communication and speeding up decision-making.
With a Document Management System, you can also set permissions and access levels for different team members so that only authorised team members can view certain information and assign tasks effectively. 
Increased efficiency
By automating many of the manual tasks associated with managing paper-based documents, such as filing, retrieving and archiving, a DMS can help to save time and increase efficiency.
In fact, according to a study by the Association for Information and Image Management, organisations using a DMS can save up to 30 minutes per employee per day on document-related tasks, resulting in a productivity boost.
Moreover, DMS can help to increase efficiency by streamlining workflows and automating approvals. For example, you can set up document approval workflows, which automatically route documents to the appropriate team members for review and approval. This can greatly speed up the approval process, saving time and increasing efficiency.
But how exactly can DMS help you become more efficient?
Well, the key is that a Document Management System can automate tasks such as indexing, categorising and storing documents, saving hours of work that would otherwise be spent on repetitive tasks such as manual data entry and filing.
Document security
Security is one of the primary concerns of most organisations, and one of the main reasons why business owners are going paperless. DMS provides an added layer of security by controlling access to documents and check who has viewed or edited them. This guarantees that sensitive information is kept confidential and only accessible to the right people.
On the other hand, it can help you to mitigate risk by providing access controls and tracking features that make it easy to detect and respond to breaches.
According to the UK's Information Commissioner's Office (ICO), human error is the major cause of cyberattacks, with 90% of data breaches attributed to it in the last few years. So going digital is also a powerful option for companies worried about security.

Compliance with legal and regulatory requirements
As the business world becomes increasingly regulated, organisations must ensure they comply with all legal and regulatory requirements. Document management systems can help with this by providing an auditable trail of all document-related activities.
One of the main advantages of document digitalisation is that it allows you to easily track and monitor who has accessed, edited or shared sensitive documents. This is especially important for teams that handle personal data, employee time tracking or financial records.
In addition, DMS can help you to stay compliant with regulations such as the General Data Protection Regulation (GDPR). These regulations require companies to take specific steps to protect personal data and ensure the security of information. As regulations change over time, it's key to have a system in place to stay updated and adjust any policy that is not right. 
DMS can also help you to abide by industry-specific regulations. For example, in the healthcare industry, there are strict regulations regarding the handling and storage of patient records. DMS can help healthcare organisations to comply with these regulations by providing secure storage and tracking.
Better collaboration and communication
Today, collaboration is one of the most fundamental pillars in UK organisations. But in many cases, it's still an obstacle for people working on remote and hybrid teams. Industry research reveals that online employees spend 27% of their time collaborating, but 16% of people have difficulties with collaboration and communication in the workplace.
Why does this happen?
Very often, the online tools managers choose to work with are not suitable for the tasks that team members need to carry out.  Lack of communication can worsen this further.  For example, when Excel spreadsheets are used for daily tasks and team collaboration, mistakes and miscommunication within workflows can easily occur. 
In this context, DMS can streamline workflows and help managers stay updated on which tasks are in progress along with the responsibilities of team members and deadlines. This improves the speed and efficiency of decision-making and eliminates the need for time-consuming email chains and endless meetings.
There's no doubt that a robust DMS promotes teamwork and transparent collaboration. By enabling remote and on-site team members to work on documents simultaneously, you can track tasks assigned and review the work done by every employee. This is especially useful to analyse the individual performance of each employee and understand which processes should you improve.
Go Paperless and Digitalise Your Documents With Factorial 
With Factorial, you can improve your document management workflow in several ways. Our DMS offers a variety of features for digitising HR documents, ultimately improving workflow and productivity in the workplace. Here are some use cases:
Onboarding
Onboarding is an essential part of the hiring process but can be a cumbersome task for both employees and HR managers. With Factorial Document Management System, onboarding becomes a breeze.
Our platform allows you to centralise all the necessary documents and share them with your team and applicants. This tool is integrated with an Applicant Tracking System that allows you to build a careers page to attract more candidates and improve your recruiting process.
But the best part is the entire employee lifecycle stays in Factorial HRIS, including all the documents you need to hire new talent. This means you can manage candidates through the hiring process and beyond, all from one place.
Factorial also helps to improve the candidate experience and simplify the application process. With automated email workflows and customisable email templates, it ensures that all candidates, whether they are disqualified or successful new hires, receive a response to their applications.
Contracts and payslips 
Managing contracts and payslips can be a complex and time-consuming task for HR managers. But Factorial offers a payroll solution that centralises all the regular tasks.
With Factorial's DMS, you can save time and minimise mistakes by automating communication, setting fixed documents that only need confirmation or using auto-calculation. HR administrators can then distribute payslips with the click of a button! Employees, whenever they need, can view these without the need for approval alongside their contracts. 
Having your payroll data stored digitally also allows you to gain insights through reports displaying information about company costs, evolution of salaries and employer-paid benefits.

Digital signatures
Digital signatures are a secure and convenient way to sign documents electronically. Our HRIS offers this feature through Signaturit, a legal tech company accredited as a Qualified Trust Service Provider (QTSP).
Under the European Union's eIDAS Regulation, Signaturit offers advanced electronic signatures, which provide a higher level of protection than simple electronic signatures. 
Factorial's digital signature feature makes it easy to request signatures for any document. Administrators can request e-signatures from one or multiple persons. As the e-signature status is available in the lists and the document viewer, you can check whether a document has been signed or not. Automated email notifications then keep you informed about the whole process so you can stay on top of document workflows and ensure they are adhering to timelines. 
This tool allows for a paperless transition and reduces the likelihood of legal disputes. With advanced electronic signatures that are legally compliant and easy to use, you can rest assured that your documents are secure and legally binding.
Document management workflow
When running a business, it can be hard to keep all your team members updated and to manage documents effectively. This is why Factorial has developed a complete solution to improve your document management workflow and save time.
You can easily take control of all of the documents you need to manage, their updates, additional attachments and more.
Say goodbye to the days of looping in unending document requests. Now, you can easily reject and request new documents without leaving your workspace. You can even set custom workflows with actions to perform after a document is accepted or rejected.
More than 7000 companies are using Factorial's Document Management System to take their teams to the next level. Join the digital revolution and start managing your documents in our HRIS today.