Waiting for documents to go through the signing process used to be a frustrating bottleneck that saw a simple process take vast amounts of time and effort from everyone involved. Thanks to electronic signatures, that's a thing of the past.
In this article, we'll tell you everything you need to know about digital signatures and the solutions they provide.
What is an e-signature?
An electronic signature, or e-signature, is a digital representation of someone's handwritten signature.
They come in many forms, including scanned images of physical signatures, biometric signatures created using touchscreen devices, secure digital signatures that use cryptographic techniques, and text-based signatures.
Why Are They Used?
E-signatures symbolise consent or agreement on electronic documents and are legally recognised. Because they're so convenient and easy to use, e-signatures have become vital for business and personal use.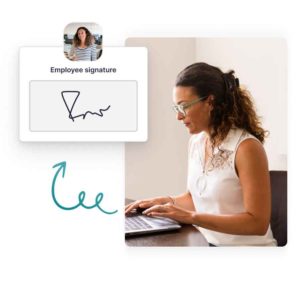 Electronic signatures have been legally binding in the UK since 2000, when the Electronic Communication Act was introduced. Digital signatures are also legally recognised in many other countries, and as such, they're widely used across various industries and in many corporate scenarios.
They simplify and speed up the document signing process, offering plenty of advantages and boosting efficiency and convenience while saving money and improving security.
Sign documents anytime, anywhere – Electronic signature software makes things happen more efficiently! They streamline any document signing process because you don't have to sign them in person, and once they're signed, they can also be submitted electronically.They're significant time and effort savers, and their flexibility facilitates the existence of remote workers and allows businesses to function efficiently with dispersed teams and customers, enabling global collaboration.
Save money and resources – Electronic signatures don't need paper, printing, or physical postage, which might seem like a little but can add up over time, especially for businesses that use a lot of legal documents. There are also fewer expenses related to document storage, mailing, and manual administrative tasks.Traditional document signing also requires significant amounts of paper, energy, and chemicals, contributing to carbon emissions and making electronic signatures less environmentally impactful.
Improve Security: E-signature solutions often include advanced security features like encryption, audit trails, and authentication. This ensures the integrity of the signed documents and provides a higher security level than physical signatures.
Legal Validity: E-signatures are legally recognised in many countries and meet the regulatory and compliance requirements for legally binding signatures. This means their validity can be proven easily, giving businesses and individuals confidence in their use.
How Can E-signatures be Used?
Document Signing: E-signatures are primarily used to sign digital documents, including contracts, agreements, and legal forms. Signers can apply their electronic signature to indicate their consent or approval.
Online Forms: They can also be integrated into online forms and applications, allowing users to complete and submit forms electronically. This is commonly seen in online job applications, registration forms, and surveys.
Consent and Authorisation: Electronic signatures are often used to obtain consent or authorisation for things like medical procedures and financial transactions.
Legally Binding Documents: Advanced electronic signature solutions exist for legally binding documents like wills, property purchases, and financial documents.
Who Uses Electronic Signatures?
We know e-signatures have become a versatile and efficient method for signing documents, reducing the need for physical paperwork, improving workflow efficiency, and providing a secure way to complete various transactions and agreements – but who's using them?
HR Teams: Using electronic signature solutions has been pivotal in making life easier for HR teams. Here are some examples:

Recruitment – The digital signature feature is widely used in applications for reference consent.
Employee Onboarding – In employee management, e-signatures streamline the onboarding process for HR teams. New hires can electronically sign employment contracts, non-disclosure agreements, and other necessary documentation, all of which can be kept on electronic records.
Performance Management – They are also used for appraisals and in disciplinary circumstances.
Remote Workers – E-signatures are particularly useful for remote workers when they need to sign employment agreements, freelance contracts, and other work-related documents without being physically present.
Payroll – Some businesses require employees to sign off their timesheets using electronic signatures, particularly with shift work.

Businesses: Businesses of all sizes and industries have significantly benefitted from using e-signatures on contracts, agreements, and other document-related processes.
Legal Professionals: A secure electronic signature is necessary for many legal documents, such as wills, trusts, and power of attorney forms, to ensure these documents are legally binding and compliant.
Financial Services: Banks and financial institutions use e-signatures to open accounts, apply for loans, and authorise electronic transactions. Being able to sign documents online, instead of waiting for handwritten signatures, expedites the customer onboarding process and reduces paperwork.
Property Transactions: Using a digital signature can simplify property transactions by allowing buyers, sellers, renters and estate agents to sign contracts, agreements, and disclosures electronically.
Government and Public Services: Electronic signatures are used by government agencies for permits, licenses, public records, electronic forms and other official documents.
Healthcare and Medical Records: Digital signatures are also widely used in the healthcare industry for patient consent forms, medical records, and insurance documents. They improve compliance and reduce paperwork in the healthcare sector.
Educational Institutions: Educational institutions use e-signatures for student enrollment, student loan applications, and administrative documents. They can also be used by course providers when authenticating a digital certificate.
Factorial's qualified electronic signature tool is a one-stop solution for e-signatures.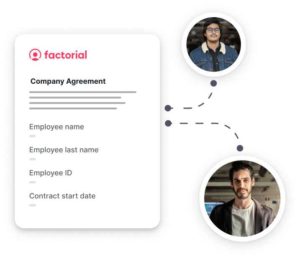 With our electronic signature solution, you can request employee signatures and digitally sign contracts, timesheets, and other documents while maintaining legal compliance and security. Requesting e-signatures within workflows is a game-changer, allowing you to seamlessly assign records to employees within our document-signing software and transition to a more efficient and paperless workflow.
What sets Factorial apart is our commitment to security and compliance, offering legally binding e-signatures that can both protect your documents and prevent errors. With over 8,000 clients currently utilising Factorial's tool, we've seen 1,563,805 signature requests sent using our electronic process, with 50% of documents signed in less than three days.