OKR software stands for Objectives and Key Results. It is software designed to connect teams and individuals to company goals and objectives, setting out a measurable roadmap to help achieve them.
It's a tried and tested methodology that starts with strategy development and then tracking objectives to achieve it. Perhaps most importantly, it shows employees how their efforts contribute to the process while keeping teams and individuals aligned with company goals.
What does OKR Software do?
Simply speaking, OKR software is like a digital GPS for companies. It helps link the big-picture goals with the actual steps needed to get there. It's all about answering those crucial questions: Where are we headed? How can we track our journey to success?
Benefits of having OKR Software
When it's implemented well, OKR software can do amazing things. Here are some of the benefits of using it:
Better Alignment:

OKR software helps everyone work together towards the same goals.

Clear Focus:

It keeps teams and individuals on track by showing what needs to be done so you can concentrate on what's most important.

Accountability:

It ensures everyone is responsible for their part in achieving company objectives.

Smart Decision-Making:

With data and insights, you can make smarter decisions and use resources wisely.

Happier Teams:

When people see how their work contributes, it boosts morale and

job satisfaction

.
How do I choose the best OKR Software?
Choosing the best OKR software for your business needs research, but there are some key questions you can ask yourself during the process. These are our top considerations:
Work out what you need from your software.

Evaluate the pros and cons.

Read what other people are saying about it.

Have a budget in mind.
But don't worry; we've reviewed ten of the best OKR software available to help you make an informed decision.
1.
Factorial ⭐️⭐️⭐️⭐️⭐️
Overview
Factorial is the HR software that both employees and HR managers love. It's an all-in-one solution that centralises the management of time, talent, and documents by simplifying processes and saving time for small and medium-sized businesses.
Factorial's OKR software allows you to align the objectives across your teams, fostering a unified path for the entire workforce. It lets you create different types of goals, including quantitative and qualitative objectives and can be tailored to teams or individuals. With Factorial, you can even provide employees with real-time visibility into their goals and progress, as well as implement variable remuneration objectives. Plus, it supports OKR and KPI methodologies, helping your team reach their objectives and performance metrics effortlessly.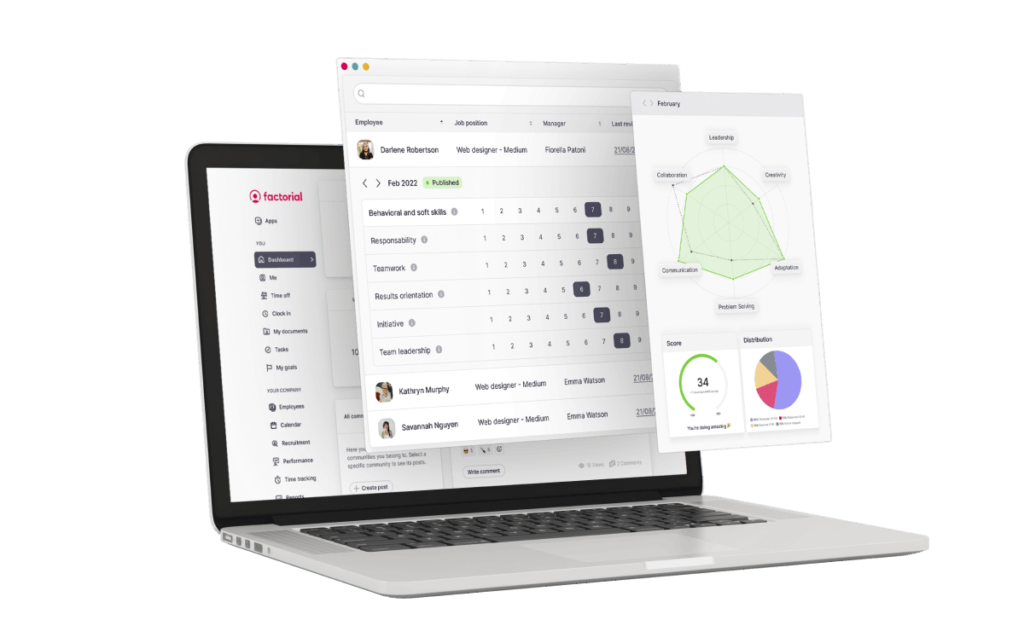 Pros
✅ Comprehensive HR Management: Factorial consistently impresses with its extensive HR management features, making it a valuable tool for HR managers handling various responsibilities.
✅ User-Friendly Interface: Users appreciate its simple, easy-to-use design, making the software easy to navigate and use.
✅ Integration Capabilities: Factorial integrates with a range of other software like Outlook and Slack, while also providing cross-functionality with its own suite of tools, including performance reviews, time tracking, employee surveys, and training.
Cons
❌ Not Suitable for Individuals: Factorial's comprehensive suite of HR management tools is aimed at businesses rather than individuals.
User satisfaction and reviews
Users have had very positive experiences with Factorial, highlighting its intuitive interface and ease of use. They find Factorial highly efficient in streamlining HR tasks, simplifying the employee lifecycle, and improving communication. The dashboard, integration capabilities, and user-friendliness are also big positives. While some users wish for more integration options, the overall consensus is overwhelmingly positive, with minimal complaints about Factorial's software solutions.
Pricing
Price varies depending on which customisable bundle you choose. You can find them all here.
2.  Monday.com ⭐️⭐️⭐️⭐️
Overview
Monday.com is a versatile digital workspace that adapts to your team's unique needs, recognised as one of the top Global Software companies in 2023. It's like your team's trusty sidekick, automating tasks and keeping everyone on the same page with alerts and project flows. With specialised tools for different tasks, it's easy to fine-tune your workflow, whether managing projects or boosting sales. Monday.com has over 180,000 global customers who rely on its software to streamline work, collaborate effectively, and meet their deadlines hassle-free.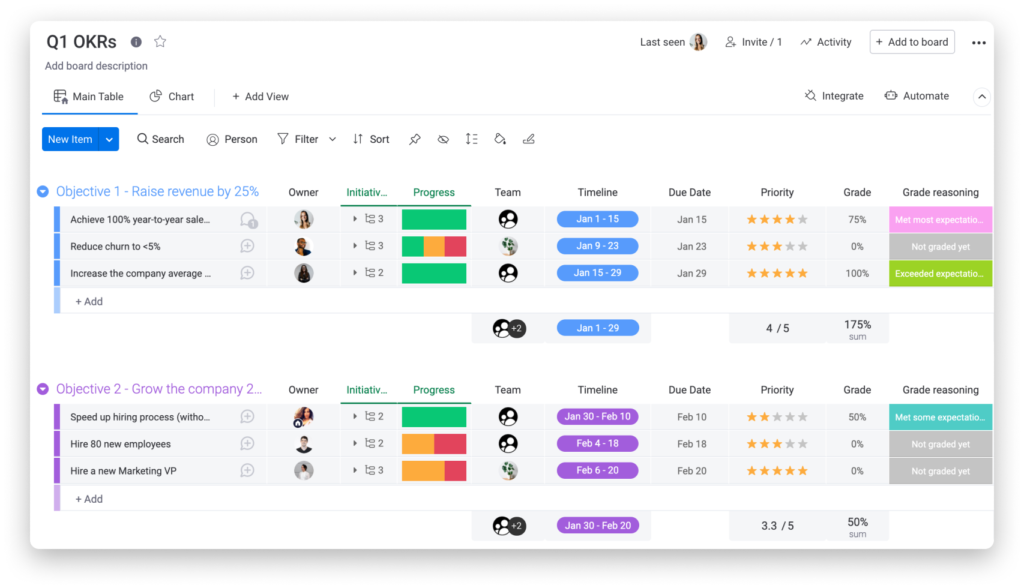 Pros
✅ User-Friendly Experience: The platform offers a positive experience for users with its easy-to-use interface with vibrant and engaging visualisation potential.
✅ Empowers Business Efficiency: The software supports overall business goals by enabling productivity in business operations, providing flexibility, functionality, and excellent service.
✅ Project Organisation and Progress Tracking: On a more individual basis, users appreciate the platform's effectiveness in organising projects and its ease of use in tracking project progress, enhancing overall productivity.
Cons
❌ Confusing Task Layout: Some users find the task layout confusing, making it difficult to follow the chain of events within each task.
❌ Limited Report Customisation: The platform lacks flexibility in customising reports, missing some crucial metrics or fields users need.
❌ Frustration with Feature Gaps: The platform's lack of necessary features can be frustrating, decreasing productivity and satisfaction.
User satisfaction and reviews
Users find Monday.com a highly effective productivity and project management software tool for tracking progress and managing multiple projects. Its minimalist design, intuitive menus, and real-time workload information create a pleasant user experience; however, the platform may have challenges in terms of initial setup complexity, limited automation features, and integration gaps, especially in certain industries like Social Media management, which need specific templates and integrations.
Pricing
Free version

Basic: $8 (3 seats per month)

Standard: $10 (3 seats per month)

Pro: $16 (3 seats per month)

Enterprise: Contact the team
3. Peoplebox ⭐️⭐️⭐️⭐️
Overview
Peoplebox is a comprehensive platform that unifies strategy execution and performance management for high-growth organisations. It combines critical functions like OKRs, performance reviews, and employee engagement into one streamlined platform while deeply integrating with various work tools for real-time alignment. It empowers fast-growing companies to achieve their goals efficiently and build a high-performance culture. 
Pros
✅ Seamless Integration: Peoplebox's ability to integrate with popular tools like Slack, MS Teams, and HRIS systems is a key benefit, streamlining workflow and data management.
✅ User-Friendly Interface: The simple and intuitive UI/UX facilitate easy team and company analytics, performance tracking, and integration with other tools.
✅ Team-Friendly Features: The tool stands out for its beginner-friendly approach, suggesting topics for one-on-one meetings and fostering connections through features like "coffee connect," enhancing employee engagement and communication.
Cons
❌ Complex Goal Management: Handling company-wide goals created by employees can be difficult to reorganise.
❌ Review Writing: The review writing function could be improved with more dropdown options to enhance its capabilities.
❌ Sign-In Frustration: Peoplebox seems to have ongoing sign-in problems that frustrate users.
User satisfaction and reviews
Users appreciate the platform's intuitiveness and ease of use for goal setting and tracking. They find PeopleBox particularly useful for remote teams and fostering engagement. However, some users wish for more customisation options for measurement on specific platforms. Additionally, while PeopleBox is generally well-received, there are concerns about a lack of flexibility in feedback, missing features like team meeting agendas and a mobile app and occasional latency when navigating between screens.
Pricing
Professional: $7 (1 user per month)

Premium: $15 (1 user per month)

Enterprise: Contact the team
4. Lattice ⭐️⭐️⭐️⭐️
Overview
Lattice is an all-in-one People Management Platform that empowers organisations to cultivate engaged, high-performing employees and a winning culture. With its integrated suite of tools, from continuous performance management to engagement surveys, compensation oversight, and career development resources, Lattice provides invaluable people analytics for HR and teams to drive impactful business outcomes.
Lattice Compensation simplifies and enhances the compensation review process, promoting transparency and fairness. Trusted by over 5,000 customers worldwide, including prominent names like Slack, Cruise, and Reddit, Lattice has earned recognition as a Great Place to Work and a spot on the Inc. 500 Fastest-Growing Private Companies list for three consecutive years.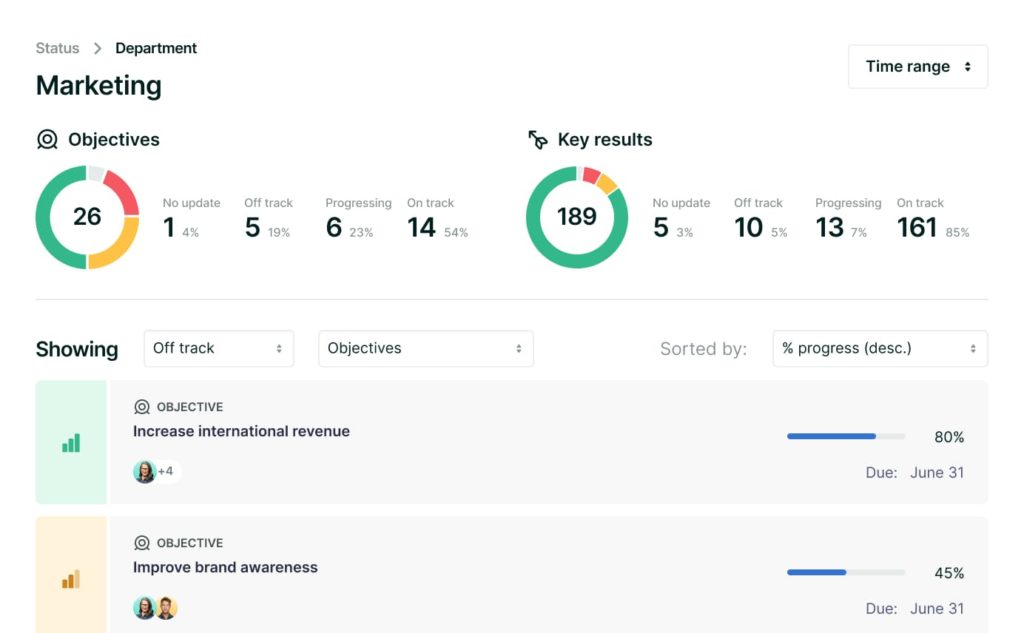 Pros
✅ User-Friendly Interface: Users appreciate the platform's user-friendly interface, featuring fun and engaging elements like "office party" and suggested 1:1 questions.
✅ Productive 1-1s: The ability to record 1-1 meetings is valuable for enhancing productivity and collaboration.
✅ Performance Management Tools: The platform provides practical tools for conducting performance reviews and delivering team feedback, improving overall company operations.
Cons
❌ Lack of Actionable Insights: Users struggle to identify actionable steps from feedback, hindering their ability to make meaningful improvements.
❌ Limited Features: The platform lacks some features, making it difficult for Lattice to stand out among similar software options.
User satisfaction and reviews
Users' overall experience with Lattice has been excellent, simplifying and automating goal tracking and performance reviews. They find it approachable yet flexible, allowing for customised use and module applications. However, there's room for improvement in dual management functionality and post-onboarding optimisation support.
Pricing
Performance Management: $8 (1 user per month)

OKR & Goals: $8 (1 user per month)

Performance Management and OKRs & Goals Bundle: $11 (1 user per month)

Enterprise: Contact the team
5. ClickUp ⭐️⭐️⭐️⭐️
Overview
ClickUp functions as a space where teams can work together to plan, organise, and collaborate effortlessly using various tools like tasks, document sharing, chat, goal setting, collaborative whiteboards, and more. With easy customisation options, ClickUp helps teams of all sizes and types to boost their productivity. By eliminating work silos and replacing rigid, overlapping tools, ClickUp wants to save its customers a remarkable one day each week!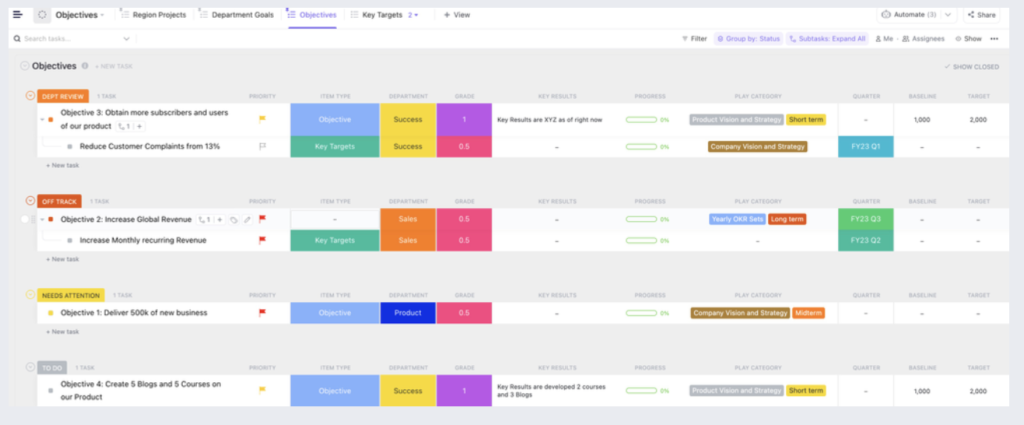 Pros
✅ User-Friendly SaaS Collaboration: The platform's ease of use, SaaS convenience, and integration with Microsoft Teams make collaboration effortless.
✅ Scalable for Small Teams: The free version works well for small teams and has the potential to accommodate growth.
✅ Seamless Automation and Migration: It is easy to set up automations, and the platform offers a smooth migration experience when switching from other tools, streamlining workflow processes and adoption.
Cons
❌ System Glitches: Some users encounter delays and occasional loss of newly added tasks, affecting workflow efficiency. Users also faced problems with email replies not functioning correctly.
❌ Poor Design: The platform's grey colour scheme, small fonts, and dark mode can be challenging to read.
User satisfaction and reviews
Users love Click Up to organise assignments and notes, especially group projects. It's user-friendly and great for managing various projects in one place. Some have mentioned that automation options and template transfers between departments could enhance the experience. The only minor drawback is the need for frequent page reloads.
Pricing
Unlimited:$7

Business: $12

Business Plus: $19
6. Asana ⭐️⭐️⭐️⭐️
Overview
Asana is a work management platform that scales from everyday tasks to big cross-functional projects. It's a go-to tool to turn goals into actionable plans and unite teams across the globe. With over 135,000 paying customers worldwide, Asana is the trusted choice for managing everything from company objectives to product launches and marketing campaigns. It's designed for confident and efficient work execution, no matter where your team is located, and millions of users back it in 190 countries.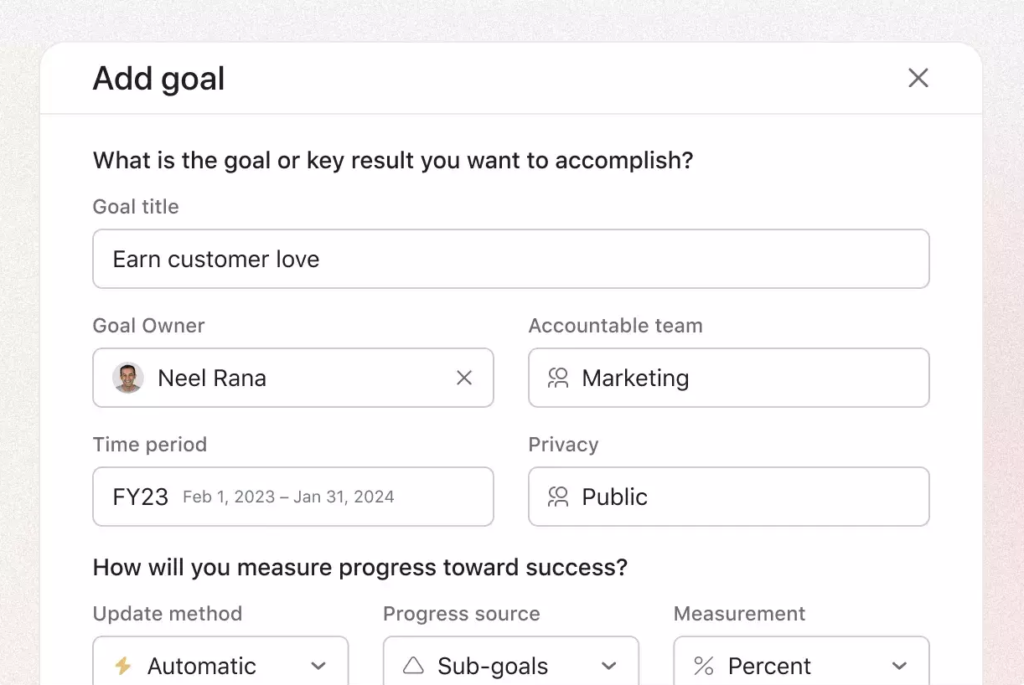 Pros
✅ Effective Collaboration: The platform facilitates collaboration among colleagues, aiding progress tracking and communication.
✅ Efficient Project Management: Its clean interface and dashboard help efficiently manage projects, reducing costs and improving overall productivity.
✅ Continuous Improvement and Integration: The platform's intuitive design, frequent updates, and wide range of integrated features make it a valuable choice for project management, accommodating various methodologies. 
Cons
❌ Project Visibility: The layout can make it difficult to determine project visibility and who has access to certain information within different projects.
❌ Limited Recurrent Task Functions: The platform lacks comprehensive functions for managing recurrent tasks, which can be challenging for users with varied routines.
User satisfaction and reviews
Asana is fantastic software with generous free plans and fair commercial pricing, but users are often put off by the high learning curve for non-project management users. While it offers a depth of features and sound integration, some users have said that simplifying some views and improving reporting would have been helpful.
Pricing
Premium: From $10.99

Business: $24.99

Enterprise: Contact the team
7. Profit.co ⭐️⭐️⭐️⭐️
Overview
Profit's OKR software has been designed to revolutionise strategy execution through a dynamic Plan-Execute-Engage-Learn cycle, promoting swift iteration every quarter. It empowers organisations to seamlessly plan and align OKRs, track progress through check-ins, and enhance employee engagement collaboratively. 
A structured reflection process fosters organisational learning, and Profit is customisable for businesses of any size. It incorporates strategy tracking, task management, employee engagement, development, real-time reports, and integrations with popular business apps, including Slack and Salesforce, to help enable seamless adoption and progress monitoring. It's beneficial for facilitating outcome-focused 1-on-1 meetings.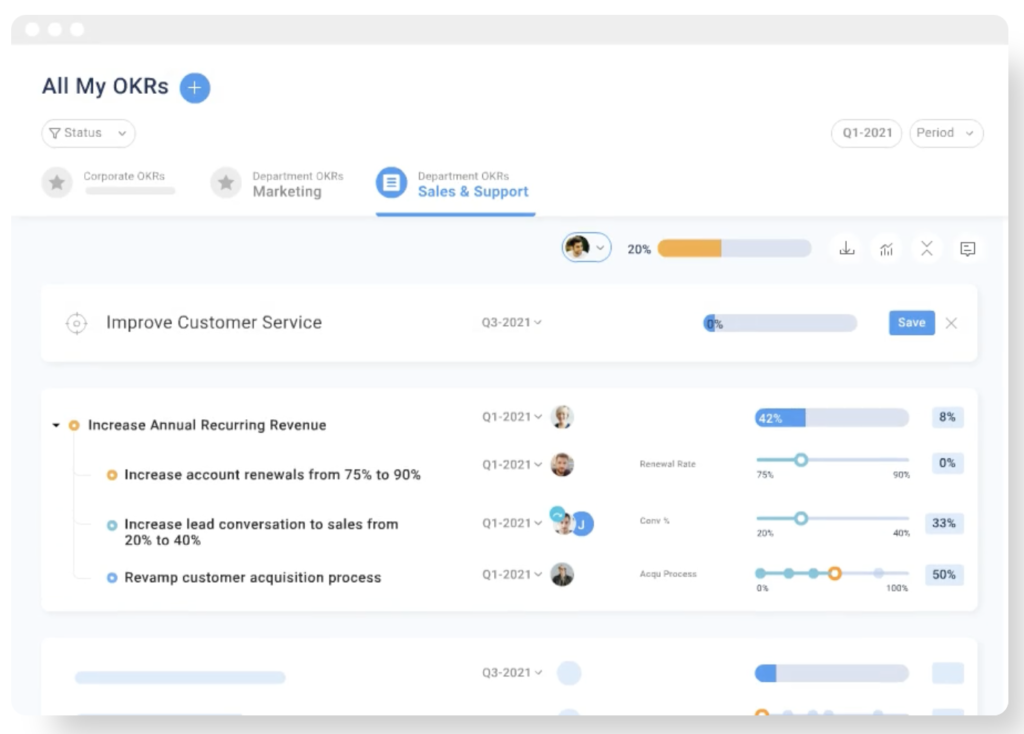 Pros
✅ Effective Onboarding and Support: The platform's onboarding process and customer support help align each organisation and track quarterly goals.
✅ Seamless Integration: Integration with MS Teams and other tools contributed to users' efficient task management and team communication.
✅ Excellent Support Resources: Profit's online help and training resources are particularly helpful.
Cons
❌ Confusing User Interface: The initial user interface can be confusing due to excessive on-screen details.
❌ Overwhelming Customisation: The platform's abundance of customisable features has led to difficulties for some users.
❌ Limited Functionality: Some functions don't currently exist in the platform, for example, the ability to check in for missed weeks.
User satisfaction and reviews
Users enjoy Profit for its feature-rich and highly customisable interface, making it excellent for OKR management, particularly for milestone-based Key Results. Its excellent customer service goes the extra mile, too. Although there were initial bugs, many users feel the app has improved a lot and is now stable.
Pricing
Free version

Growth: From $7 (per user per month)

Enterprise: Contact the team
8. Quantive ⭐️⭐️⭐️⭐️
Overview
Quantive Results, formerly known as Gtmhub, is a strategy execution platform designed for businesses to achieve lasting agility and a competitive edge. It offers complete transparency and alignment on strategic initiatives, proactively identifies risks, enhances operational efficiency, boosts employee engagement and satisfaction, and delivers real-time progress on strategic goals. With Quantive Results, you'll experience quicker decision-making, a shorter feedback loop, and seamless execution of your inspiring strategy based on the OKR management methodology.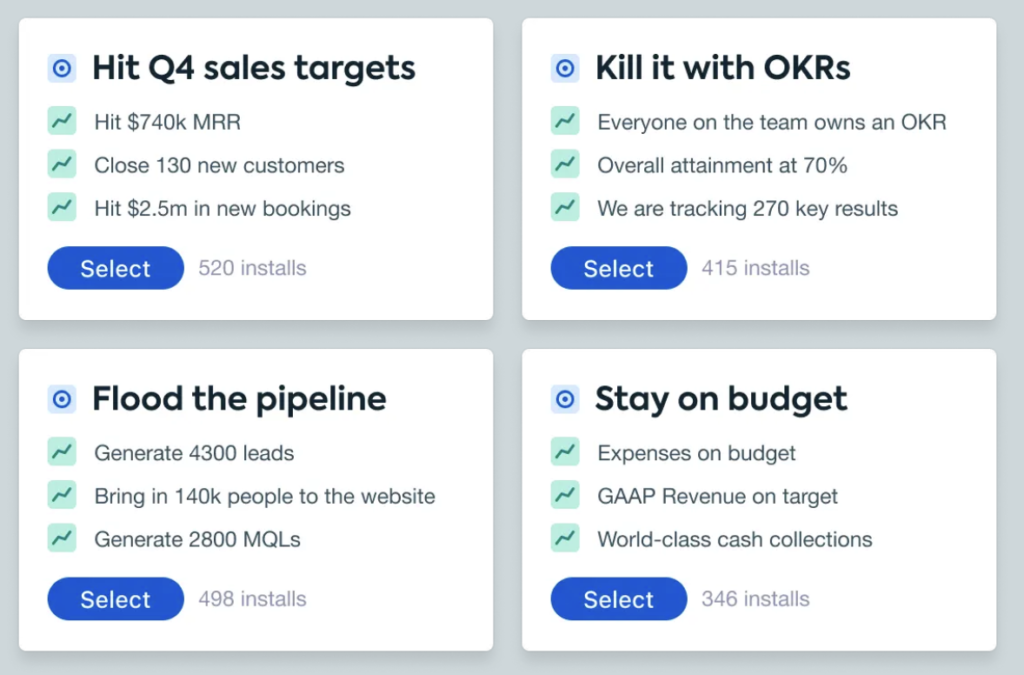 Pros
✅ Strong Support and Induction: There's an excellent induction for all users and ongoing support from the Quantive team.
✅ Effective ScaleUp and OKR Support: The platform effectively supports ScaleUp and OKR processes, with valuable features like 'Weekly Reflections' to encourage engagement.
Cons
❌ Manual Input and Lack of Batch Actions: Users find the platform labour-intensive due to the need for manual input and the absence of batch modification features.
❌ Unintuitive Interface: The platform has been described as impractical and unintuitive. This could be down to an overwhelming number of functions that potentially confuse – although some users also feel it lacks premium features.
User satisfaction and reviews
Overall, the feedback on these platforms is positive, highlighting the ease of use and flexibility. Users appreciate the visibility and accountability they provide for setting and tracking goals. However, some concerns about missing functionalities, ongoing improvements, and initial usability challenges exist. The support teams and account managers are very responsive and provide helpful assistance.
Pricing
Essentials: Free

Scale: $18.00 per user per month

Enterprise: Contact directly
9. Culture Amp ⭐️⭐️⭐️⭐️
Overview
Culture Amp is the global leader in employee experience, transforming how millions of employees at thousands of companies shape a better world of work. Its all-in-one platform is user-friendly and empowers organisations of all sizes to boost employee engagement, build high-performing teams, foster talent retention, and drive employee development.
Powered by cutting-edge research and technology, Culture Amp provides data-driven people strategies, benefiting employees and driving business success. Additionally, its science-backed goal management platform ensures alignment, transparency, and collaboration, simplifying the creation, tracking, and updating of OKRs for both individuals and teams, all contributing to achieving big-picture business results.
Pros
✅ Valuable Insights: The platform provides enlightening insights into employee preferences, aiding in benefit plan adjustments.
✅ Cost-Effective Survey Platform: Culture Amp is a not-for-profit organisation that makes the platform affordable while offering great service.
✅ User-Friendly with Great UI: The platform is easy to use with an excellent user interface and added functionality, including survey design and data management. 
Cons
❌ Oversimplified Reports: The reports are overly simplified, limiting their capabilities for more complex analysis.
User satisfaction and reviews
Users find Culture Amp a robust tool with a good UX/UI, offering continuous product improvements and excellent support. The Academy provides valuable resources on engagement and feedback. However, some users wish for more robust admin functionality, particularly adapting to organisational changes. The platform is also great for promoting open communication and equality in feedback.
Pricing
Perform: From $11 per user per month 

Develop: From $4 per user per month 

Engage: From $5 per user per month 

The employee experience platform: From $16 per user per month 
10. Weekdone ⭐️⭐️⭐️⭐️
Overview
Weekdone is a tool for business leaders and teams looking to align everyone towards a unified company vision. It's been a trusted market leader and innovator in OKR software since 2013 and is used by thousands of customers. With Weekdone, you can set structured goals, track weekly progress, and provide personalised feedback. 
Its user-friendly interface ensures that OKRs are always visible and top-of-mind, facilitating seamless team communication. Plus, it offers seamless integrations with tools like MS Teams, Slack, Jira, and Asana, making it easy to manage your OKRs. There is also personalised OKR coaching from experts included in all paid plans.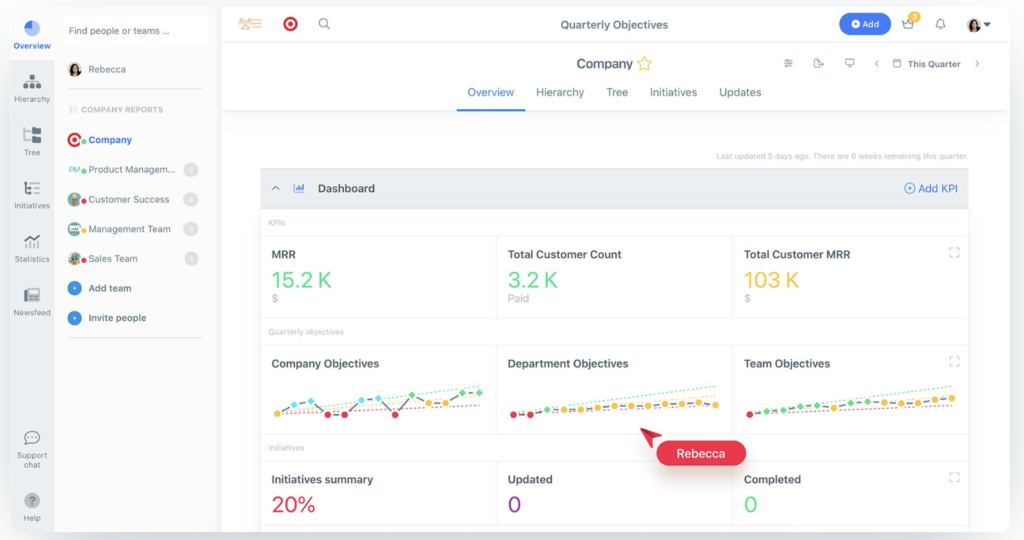 Pros
✅ 24/7 Project Management: The platform enables round-the-clock project work, which is crucial for meeting case-specific needs and strict deadlines.
✅ Goal Tracking and Progress: Weekdone is particularly good for helping teams visualise future plans and track progress toward achieving them.
✅ Task Alignment and Collaboration: It's effective in aligning personal and work tasks, making notes for later use, and tracking team project progress, all within an easy-to-use interface.
Cons
❌ Time-Consuming Setup and Integration: The platform can be challenging and time-consuming to set up and integrate the platform with their teams.
❌ Confusing Navigation and Limited Use: The team dashboards can be difficult to navigate, and because the platform is primarily used for OKRs, this sometimes limits its versatility.
User satisfaction and reviews
Users love Weekdone's focus on the OKR method for goal progression, especially in start-up environments, where it serves as a valuable alternative to formal HR objectives management processes. The platform is often praised for its ease of use when setting up weekly plans and facilitating team discussions. While many users also appreciate the platform's integration with Asana, the setup can be confusing.
Pricing
Free version

Free: $0 for up to 3 users

Unlimited: From $80 for 10 users a month