HR is rooted in people and culture. As both of these are constantly evolving, HR needs to keep on top of changes in trends and the demands of the workforce to stay competitive.
In this article, we'll explore our expected trends in human resources for 2023 and look at what we think will shape the next 12 months in the HR industry.
Human Resources Technology and Analytics
With HR technology now affordable and accessible even to small businesses, everyone can reap the benefits of automating and streamlining those time-consuming processes. Hiring, onboarding, performance management, time management, and career progression across the entire employee life cycle can all be managed more efficiently while giving HR teams more time to focus proactively on business performance and objectives.
All of this technology comes with another benefit, too – data. Big data can help HR professionals deeply understand their people and make smarter, more informed decisions on growth opportunities, hiring, employee engagement, and skills gaps; you name it. The potential for creating value through analytics is infinite, and we expect this to be one of the key HR trends this year.

Learning and Development
About 50% of our current work activities are technically automatable by adapting currently demonstrated technologies. By 2030, 1 billion jobs (30% of the world's workforce) will be transformed by automation and AI. This means our work will be fundamentally different from what it is today – even if our whole profession hasn't been forced to change.
Learning and development trends will start to reflect this. Upskilling, reskilling, and right-skilling are all taking centre stage as organisations try to address the growing skills gap created by technology adoption and disruption.
Ironically, artificial intelligence and technology will help us bridge the skills gaps with learning on-demand, individualised learning, and artificial mentoring, all helping to improve learning outcomes.
Diversity, Equity & Inclusion
Expect more from DE&I trends in 2023. Businesses are beginning to understand that DE&I brings a strategic and financial advantage and that it is a priority for people when deciding where to work. We think we'll see a continued trend toward hiring 'Diversity Professionals' to help companies meet their diversity goals, as well as increased transparency and accountability in achieving them.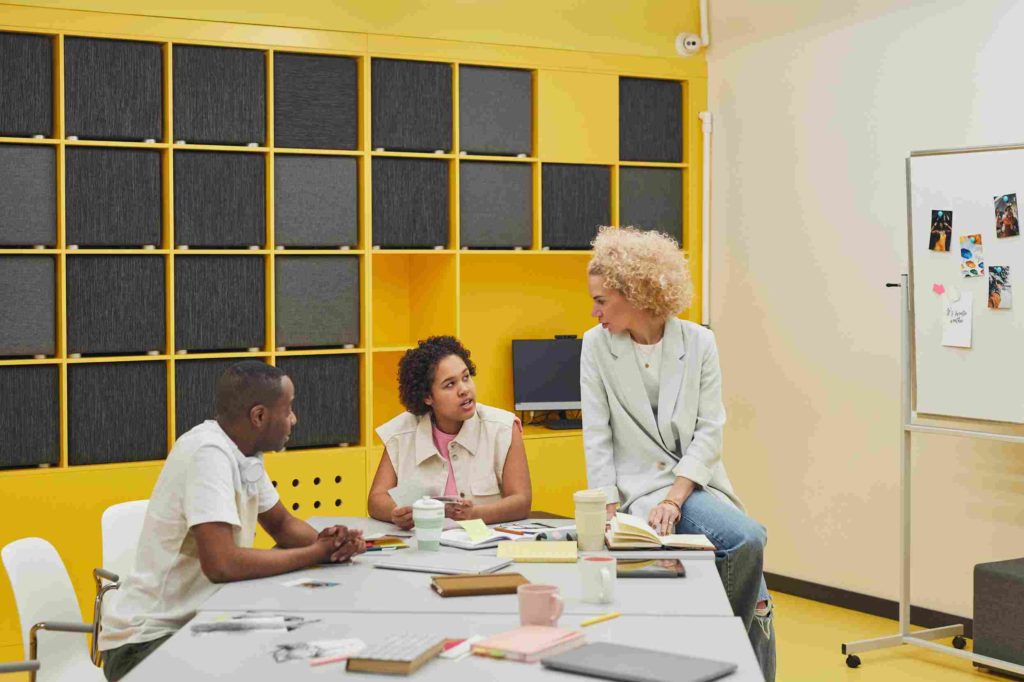 Improved Treatment of People with Disabilities
According to government figures, 14.6 million people in the UK are disabled, including 21% of working-age adults, making it the largest minority group. Shockingly, a study conducted by recruitment company PageGroup found that 22% of business leaders say they are unlikely to hire candidates with known disabilities, which might explain why only half of the disabled population are in work.
With other trends like flexible working here to stay and renewed government focus on getting the disabled population back into work, 2023 could be a watershed moment for the group.
Greater Diversity of Age Groups
Our current workforce is more generationally diverse than it ever has been. There are currently as many as five working generations:
The Silent Generation (1928 – 1945)
The Baby Boomers (1946 – 1964
Generation X (1965 – 1980)
Millennials or Generation Y (1981 – 1996)
Generation Z (1997 onwards).
The government is also trying to get older generations out of retirement and back into work, which will present its own challenges for HR professionals. There is a huge disparity between the wants and needs of these generations, and HR departments need to be mindful of their different values and ensure that policies are inclusive of everyone.
Skills-Based Recruitment
Recent research has shown that skills-based hiring is up 63%. This represents a shift from employers towards adopting a more rounded approach to hiring that includes experience and traditional academic qualifications – and not disqualifying candidates because of a lack of them.
This trend has far-reaching implications for businesses and individuals. It vastly broadens the talent pool and removes salary and progression barriers for more than half of the UK workforce without a post-secondary education.

Employee Experience, Health, and Wellbeing
The last few years have been turbulent. While we half-expected and half-hoped the emotional toll of the pandemic would wear off with the vaccination, 2022 proved to be another stressful year, with well over half of employees stressed at work every day.
This year we expect a renewed focus on employee wellbeing, with employers leaning into health and wellness and improving the employee experience by boosting employee benefits. Here are some examples of what businesses are offering to show they value employee mental health:
·         Gym memberships
·         Health food in the office
·         Mental health coverage
·         Remote working
·         Flexible schedules
·         Time off before and after busy periods
·         Therapy
·         Regular social events
·         Employee Assistance Programs
·         Conflict resolution
·         Relaxation techniques
·         Unlimited holidays.
Flexibility in the Workplace
Flexible working has gone beyond choosing whether to work from home or not – it's about when as well as where. What it really boils down to is trust and whether employers trust their employees to get their work down outside the watchful eye of a manager in a traditional 9-5 office setting.
These are the two trends we're expecting to make the most noise this year:
Hybrid Working
There is a stalemate between employers and employees when it comes to remote working vs. returning to the office. Employees want flexibility and the option to work from home, and many business leaders want them back in the office.
Until now, a hot job market has meant the balance has been in the employees' favour with the option to leave for new, more flexible pastures if their current situation doesn't allow it. But as we move into 2023 and the threat of recession has somewhat cooled the market, we'll have to see which side will take the edge this year.

Four-Day Weeks
The world's biggest four-day week trial came to an end in December 2022, with more than 90% of participating businesses opting to continue and 18 organisations adopting it permanently. There was also a 65% reduction in sick days and 71% of employees reported reduced levels of burnout.
With the evidence pointing towards better physical and mental health and an improved employee experience, in 2023, the timing might finally be right for the widescale adoption of the four-day week from business and HR leaders.
ESG Reporting to Talent Acquisition
Environment, Social, and Governance policies intertwine with talent management continuously. Earlier, we mentioned employee expectations around health and wellbeing and the willingness to leave positions if their workplace values or culture do not align with theirs. But employees are also happy to trade a portion of their salary in exchange for greater purpose and meaning at work.
This means that it's not just investors, stakeholders, boards of directors, and consumers looking out for accountability and progress regarding ESG goals, but current and prospective employees are too. ESG performance must be accurately reported and published to remain competitive in the job market.
Leveraging AI Responsibly
The introduction of Artificial Intelligence will see massive changes across the whole world of work and the HR industry. We're already seeing a greater reliance on AI tools for recruitment, but we must ensure we use these advances responsibly. Governments are already scrutinising the use of AI in HR, and ethical responsibility will likely be mandated before too long.
As of 1st January 2023, New York City requires by law that AI recruiting tools disclose their hiring metrics and undergo an annual bias test. We expect to see more of this kind of legislation in the future, and although the onus will likely be put on vendors to get ahead of it, it will be an important factor for HR leaders to consider too.
Transparency
We know that transparency fosters increased employee engagement, strengthens company culture, helps employees feel valued, and encourages creativity.
Here are two HR trends toward greater transparency we expect to see in 2023.
Salary
It's traditionally been an unwritten rule that salaries are never discussed – until now. Our youngest working generation is apparently responsible for the shift away from this, with 42% of Gen Z workers sharing their salary information with colleagues.
Encouraging employees to start talking about salaries more openly will help to further address pay disparity and champion pay equity, particularly among minority groups and women.
Career Trajectory
As well as salary, there is also a growing trend toward transparency for talent mobility. Employees are looking for internal growth opportunities and clear career paths, and when they don't have that visibility, they're more likely not to be interested in taking their career further within that company. Visibility is directly linked to job satisfaction, with 47% of employees surveyed as part of a talent mobility study saying that they would be more satisfied at work if they had more opportunities to explore careers internally.