We all appreciate how important it is for employees that their employers get payroll right. People need to be paid the right amount at the right time to be able to manage their financial commitments. In many ways, getting payroll right is the bedrock of an excellent work-life balance. If you want happy and engaged employees with the associated higher productivity, it pays – no pun intended – to ensure there are no payroll issues.
As paying their people is a universal obligation for companies, it's no surprise that there are plenty of payroll software options available to help you in your quest to manage your payroll and avoid those mistakes that can cause real problems in the workplace. We've scoured the market to bring you six of the best payroll software options in 2023. Read on to learn what you can expect from payroll software and the pros and cons of the different options.
What is Payroll Software? 
Payroll software is a digital system that allows you to manage, streamline and automate the process of paying employees accurately and on time. It can be integrated into a wider HR management system or it can be a standalone digital programme.
What does Payroll Software do? 
Many different types of payroll software exist, offering varying degrees of functionality. Not every provider can do everything on this list, but payroll software can generally do the following:
Calculate salaries, including tax deductions, insurance and pension payments

Tell the accounts department or book-keepers what to pay each employee

Generate and send pay slips

Manage employee data such as bank account details, contracts

Create reports such as salary statements and leave summaries

Ensure companies are complying with legislation such as minimum wage, overtime and privacy regulations

Send information to relevant authorities such as HMRC 
What are the Benefits of Having Payroll Software? 
The benefits of using payroll software include:
Happy and engaged employees:

Software ensures people get paid on time and with the right amount, which makes them feel valued and supported.

A more streamlined process:

Software saves time and can reduce the number of payroll staff needed.

Reduces the number of errors:

As part of the more streamlined process, an automated system usually results in fewer errors.

Helps with compliance and regulations

: Within the software, details and prompts for anything you need to do to comply with legislation are automatically provided, meaning you don't have to rely on one person to remember.

Improves data access and security:

Everything is in one place, which makes it quicker and easier to access and change details as required, and security is guaranteed by the provider, giving you peace of mind that your data is safe.

Quick access to information on salaries and costs:

Robust financial health depends on knowing what you are spending your money on and when, and a payroll software system can provide reports quickly and regularly.

Allows the focus to be on strategy and growth:

Using payroll software frees up employees' time and will enable them to turn their attention to areas that need creative and innovative thought.
How do I Choose the Best Payroll Software?
When you sit down to choose the best payroll software for your company, you need to think about what you want it to do now and what you might want it to do in the future. It may be worth investing in a more expensive option to save yourself money in the longer run when your business grows, and your needs become more complex.
Consider the following questions when choosing a payroll software provider:
Is the interface intuitive to use and easy to follow? 
It might be worth asking someone currently involved in payroll to road-test the software you are considering. A free trial is recommended because it allows you to see if all the features you are being sold live up to their promise.
Does it integrate with other systems?
The payroll software you use needs to work with any other programmes you already use, including those that cover core HR functions, accounting or book-keeping software, sick and annual leave and benefits. Thinking about how you will use the software to ensure money reaches your employee's accounts at the right time is a key part of the process.
Does it automatically update?
If you change an employee's details, contracts or benefits, the system must automatically update to reflect these changes in the next pay packet. Equally, the system should be connected to how you record annual and sick leave so that paychecks reflect any necessary adjustments.
Does it allow you to create and manage contracts?
As payroll uses information from your employee's contracts, the system you use needs to be integrated with and reflect any updates that are made to contracts. Otherwise, you can not guarantee that your payroll reports will be accurate.
Does the software reflect current legislation, and does it guarantee to update with any changes?
Anyone working in payroll knows that compliance with the different laws, regulations and government initiatives such as cycle-to-work schemes can be difficult. And no one wants a fine when they accidentally get something wrong. The payroll software you chose needs to be up-to-date with current legislation but, equally importantly, needs to guarantee to keep on top of any changes.
As well as tax requirements, compliance is essential when it comes to: 
National Minimum Wage Legislation and how benefits impact what an employee takes home

Flexible compensation plans, which can be affected when a government introduces changes to taxes

General Data Protection Regulation (GDPR)
Is the package wholly secure and safe?
The payroll provider you choose will be responsible for holding a vast amount of confidential data about your business and your employees. It is vitally important that you are confident that their systems are robust and secure.
Can you access the software easily?
While it is easy to assume that all software is easy to access, this is only sometimes true. Think about if you want to access the system from your phone, via an app, or on the move, and make sure you ask the providers what would happen under different scenarios – including their crisis response if there is a technical issue on payday. Security is especially important if people are going to be accessing the platform from many different devices.
Can you have a free trial?
A free trial allows you to use the software before committing financially. Often, it's not until you start using a system that you work out precisely what you need it to do and how easy it is to use. It's also worth checking how much integration is needed to run a free trial. If a set-up process is cumbersome and time-consuming, there may also be logistical hurdles to reversing out of using a system on trial in a timely fashion.
1: Factorial ⭐⭐⭐⭐⭐
Explicitly designed to help growing smaller and medium-sized businesses, Factorial combines a consultant's personal, hands-on approach with secure, powerful technology to create their popular HR management system. Factorial is a user-friendly and reliable HR platform with optional payroll software included. It provides an intuitive interface that users find easy to use. 
Part of their comprehensive HR management system, which helps you manage the employee lifecycle from start to finish, Factorial's payroll app has many useful features. These include centralising and automating payroll and expenses, and flexibility for additional compensation such as bonuses and creating insight reports. Within Factorial's holistic HR management system, you can also manage absences and time-tracking, control the performance management process and securely store documents.
Pros
✅Free demo and 14-day trial
✅Transparent pricing model
✅Easy to use, including an intuitive interface, a dashboard for managers and a simple method for providing permissions
✅Provides access to a network of certified book-keepers
✅Improves efficiency with an estimated 80% reduction in costs
✅Automatically updates the whole system when you have to change employee details
✅Integrates additional compensation such as bonuses and reimbursement of expenses with payroll
✅Employees can easily access their payslips and contracts
✅Creates insight reports to allow regular and accurate analysis of costs 
Cons
❌Payroll software comes as part of a more extensive HR management system
❌Need extra technical support to integrate with systems outside of Factorial
❌Customisation opportunities limited
Pricing
Finance hub starts at £35/month (billed annually): 10 users included.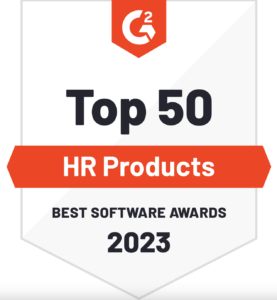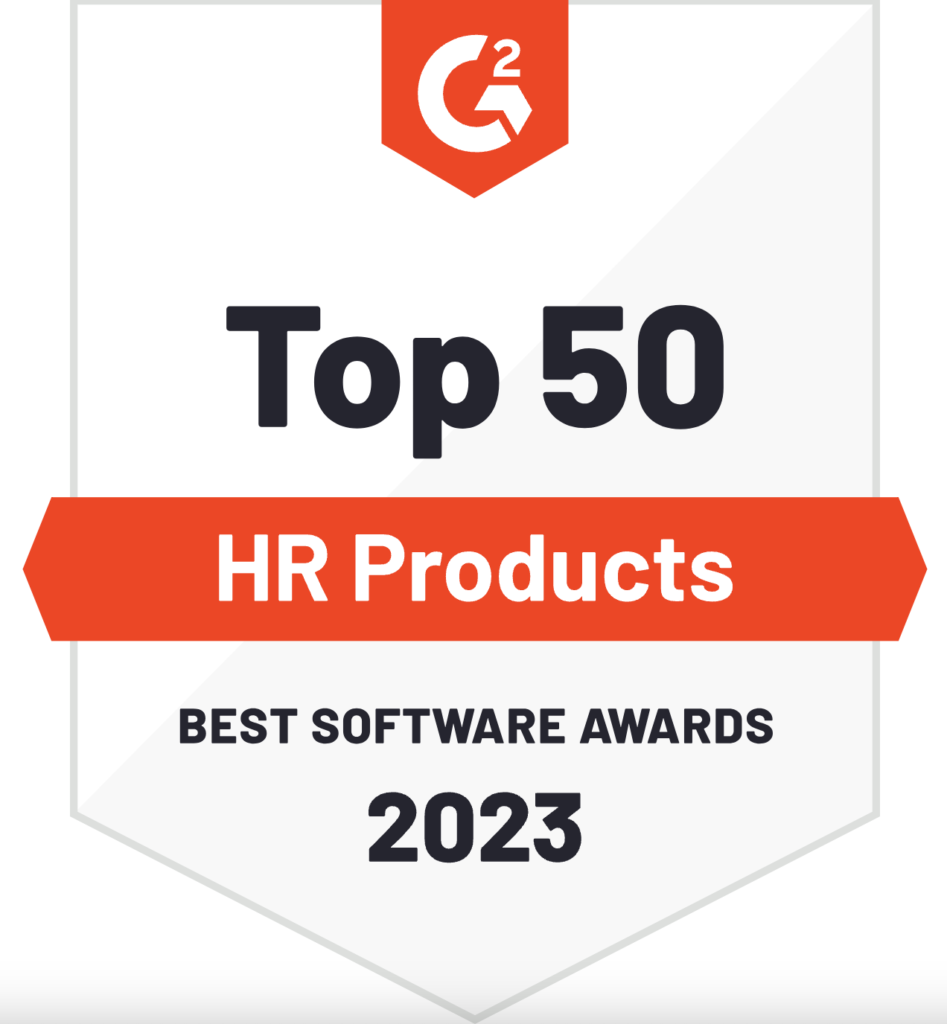 2: BreatheHR ⭐⭐⭐⭐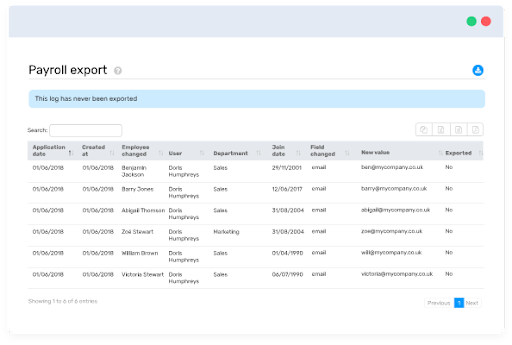 Now owned by the ELMO Group, BreatheHR launched its HR software in 2012, intending to help HR executives by saving them time on the many time-consuming processes involved in their roles. Like Factorial, BreatheHR offers an automated HR management system which centralises data and streamlines processes such as absence management and performance management across the lifecycle of an employee. BreatheHR helps companies with up to 200 employees.
As part of their HR system, they have a payroll app allowing you to create and export files to send to your bookkeeper. On top of their Core HR Software, they offer add-ons for e-learning and rota, time and attendance at an additional cost.
Pros
✅14-day free trial
✅Easy to use and navigate
✅Competitively priced
✅Documentation all in one place
Cons
❌Tracking and integrating expenses is an add-on module
❌No phone number for customer service
❌Cumbersome to set up new employees
❌No version control on documents
Pricing
Core HR software plans start from £13 per month for 1 to 10 users 
3: Personio ⭐⭐⭐⭐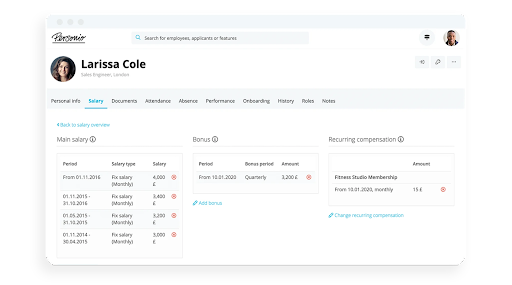 With seven offices across Europe, Personio prides itself on understanding the regional needs of HR executives across the continent and providing a platform that has been designed with Europe's strict requirements for data security. Their comprehensive software covers HR systems, talent management and payroll for companies from 50 to 2,000 employees.
The payroll software has both a preliminary payroll option and one which works with the German-based DATEV tax consultants. If you use the preliminary payroll option, the system automatically transfers any changes to personal details. It also includes any relevant information on time tracking and performance management data in the salary reports. 
Pros
✅Connects to 100+ well-known apps at no extra charge
✅Comprehensive onboarding and good customer service
✅Easy-to-navigate system
Cons
❌Cannot add additional payments like bonuses or expenses
❌Setting up different permissions can be confusing
❌No transparent pricing structure
❌The dashboard can be harder to navigate on smaller screens
Pricing
Contact the Personio sales team to arrange a demo and get a quote.
4: BambooHR ⭐⭐⭐⭐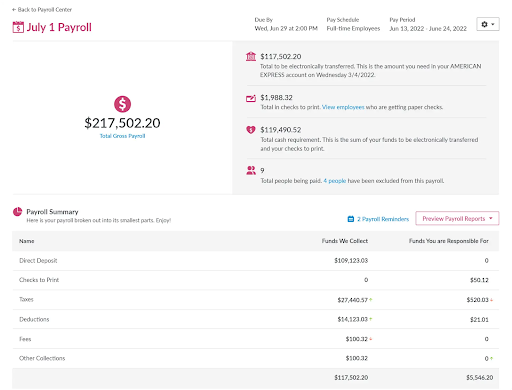 BambooHR's mission is to set people free to do great work. The BambooHR platform is designed for smaller and medium-sized businesses. It includes everything you need for the life cycle of an employee, from recruiting and onboarding to personal details, absence management, payroll and performance management. BambooHR prides itself on providing excellent customer support and always listening to client feedback.
The payroll software within their personalised, cloud-based, secure HR platform ensures that information on time-tracking, absences and benefits flows directly into the payroll reports to minimise the number of mistakes. In the UK, BambooHR provides integrations within their system for Pento, the UK's first automated payroll solution, and payroll experts PayFit. 
Pros
✅Intuitive and easy to use for employees and managers
✅Mobile app available
✅Users report a positive experience onboarding the BambooHR system
✅Users report good customer service
Cons
❌Payroll software is not part of their core system in the UK
❌Integrating with accounting software can be difficult
❌It doesn't include software for handling expenses
❌Some users consider BambooHR expensive compared to other similar platforms
Pricing 
Contact the BambooHR sales team to arrange a demo and get a quote.
5: HiBob ⭐⭐⭐⭐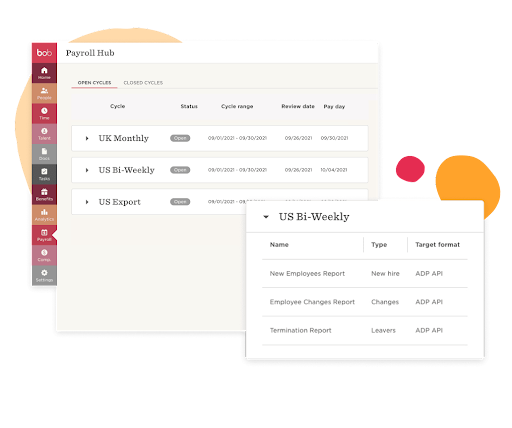 HiBob's platform aims to streamline all aspects of people management and modernise the experience for every employee with the ultimate goal of driving engagement, culture and productivity. The platform includes a people directory and document storage, onboarding, time and attendance, payroll and compensation, performance management, workforce planning and a section called Your Voice for anonymous reporting. HiBob has a social media look and feel, making it accessible and easy to use.
The payroll system includes a centralised dashboard that automatically updates, allows you to coordinate different payroll cycles, integrates with leading payroll providers such as Xero UK or connects with other payroll systems via Payroll Connect.
Pros
✅Mobile app available
✅Easy-to-use interface
✅Handles different pay cycles and currencies
✅Includes functionality for whistle-blowing with a safe, anonymous tool 
Cons
❌Permissions structure can be limiting for bigger companies
❌Some organisations report technical issues and security concerns during onboarding
❌Customer service can be inconsistent: it can be hard to speak to someone when you need help
❌Many of the features are considered additional, so incur an extra cost
Pricing
Contact the HiBob sales team to arrange a demo and get a quote.
6: BrightHR ⭐⭐⭐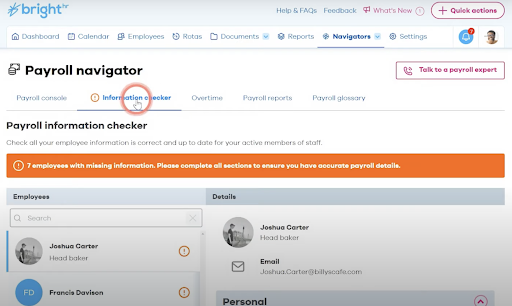 BrightHR is a UK-based HR and health & safety software platform supporting over 75,000 small and medium-sized businesses worldwide. Their easy-to-use software provides organisations with end-to-end support for people management, including recruitment, rota-planning, absence management and payroll reports. BrightHR also has mobile apps which help you create digital clock-in systems and track expenses, as well as an employee assistance programme called Bright Wellbeing & Counselling and Bright Advice to get support on difficult HR issues.
BrightHR's payroll software is called Payroll Navigator and stores all your employees' payroll details, including absences, annual leave and timesheets, in one place so it's easy to access what you need. It also makes it easy to download reports to provide to HMRC.
Pros
✅Unlimited cloud storage
✅User-friendly interface
✅Include the free e-learning tool BrightLearn
✅Users report an excellent onboarding experience
Cons
❌The mobile app is not as user-friendly as the website
❌Many apps involved can take up space, especially for staff using mobile devices
❌Doesn't provide a seamless link to some of the main payroll providers so there can be a duplication of work
❌Records are kept in the system for three months only
Pricing
Contact the Bright sales team to arrange a demo and get a personalised quote.
7: NaturalHR ⭐⭐⭐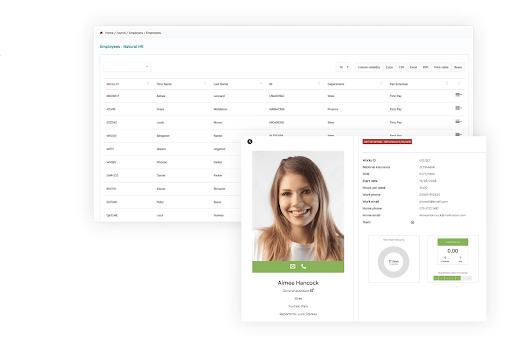 NaturalHR started in 2010 in response to an internal requirement for an online employee management system that was reliable, low-cost and based in the UK. Their all-in-one HR and payroll software includes document management, absence and time-tracking tools, performance management, training and recruitment.
The payroll software allows teams to manage salary changes and bonuses easily, ensure compliance with HMRC, generate payslips and build up records of gross pay.
Pros
✅HR and payroll are included in one system
✅Compliance with HMRC guaranteed
✅Can create customised reports
✅Produces P45 and P60 documentation 
Cons
❌It doesn't incorporate expenses
❌Some users find the reporting less intuitive than it could be
❌Integration with other platforms can be hard to implement
❌Limited customisation options
Pricing
Contact the NaturalHR sales team to arrange a demo and get a quote.
8: Rippling ⭐⭐⭐⭐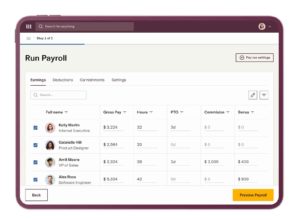 Based in the US, Rippling has recently expanded to provide its service to companies with their headquarters in the UK. Their system combines HR, IT and Finance, including app and device management, finance software and other tools you expect from an HRIS, such as onboarding support and leave and performance management processes.
Their payroll software integrates with their time, leave and expenses management systems and covers minimum wage and overtime. According to Rippling, their design allows you to create custom policies that sync payroll with expenses and leave data for each employee to create a payroll report in 90 seconds.
Pros
✅ Intuitive interface
✅ Mobile app
✅ Includes expense management
✅ 100% error-free guarantee
Cons
❌ Difficult to generate reports
❌ Some users find the other applications less user-friendly than the payroll app
❌ International companies have found issues using this US-based software
❌ Mixed customer service: users report not being able to talk to a human and lengthy set-up times
Pricing 
Software plans start from £7 per month per user.
9: MoorePay ⭐⭐⭐⭐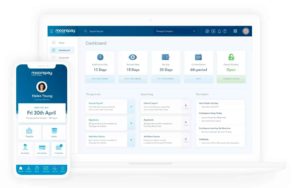 MoorePay has been helping businesses manage their payroll since 1966, whether through looking after payroll for clients or assisting clients to manage it themselves with in-house systems. Their years of experience now combine with robust new technology in a cloud-based payroll software platform. 
MoorePay's payroll software includes timesheets and expenses, reporting and analytics, help for new starters and a payroll dashboard. Their programme is recognised by HMRC and accredited by the CIPP's Payroll Assurance Scheme, and is completely up-to-date with UK legislation.
Pros
✅User-friendly
✅Customisation is straight-forward
✅Helpful customer service
✅Keeps up-to-date with UK employment law
Cons
❌Pricing is not transparent
❌No free trial
❌Some users experience regular glitches and employees have issues with the app freezing
❌Lack of flexibility
Pricing 
No pricing plans online. Contact Moore Pay to get a quote.
10: Remote ⭐⭐⭐⭐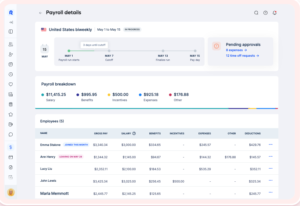 Remote's focus is on helping companies manage and pay staff and contractors all around the world. Wherever your team are based, Remote's software will look after your payroll for that team member, including local taxes, benefit and compliance.
With Remote's software, you can avoid working with multiple payroll providers as you can use Remote to pay everyone from one place. They also provide access to in-house local payroll experts for any questions and to help you keep on top of any regulatory changes.
Pros
✅Good customer service
✅Users report an excellent service in terms of international knowledge and experience
✅Easy to face interface
Cons
❌High price
❌Works better for remote employees than for contractors
❌Users report that the app does not have all the features that the desktop site does
Pricing 
Remote's global payroll software starts at $50 per employee per month. Talk to one of their sales agents to get more details.
11: Telleroo  ⭐⭐⭐⭐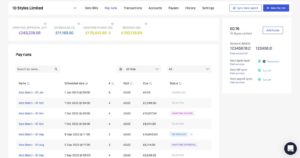 Rather than providing payroll software, Telleroo's mission is to de-risk the many bulk payments businesses make regularly, including payroll. They do this by syncing their software with payroll and payment apps and creating ring-fenced e-money accounts. Funds are then paid into these accounts to make payments, creating a more secure and seamless way to pay.
Using Telleroo allows companies to make payments faster and more securely, cutting out the manual processes that can often cause issues. There is also an alert system to ensure you are alerted if any details change, which impacts the payments you are due to make.
Pros
✅ Very easy to use
✅ Good customer service
✅ Integrates easily with other software such as Xero and Payfit
✅ All payee data and history are fully searchable
Cons
❌ Doesn't create payroll reports
❌ Users report that Tellero doesn't pick up amended payrolls automatically
❌ Unable to make foreign currency payments
❌ Reporting is not as easy and intuitive as it could be
Pricing 
Telleroo's 'start-up' package is £35 per month for unlimited users and 50 monthly payments. 
12: Papaya Global ⭐⭐⭐⭐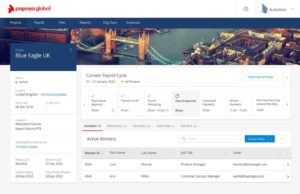 Founded in 2016, Papaya prides itself on being the first global payroll provider to create a native payroll system that helps companies pay people in multiple locations worldwide. Their cloud-based platform offers a payroll payments system which reflects the tax systems of specific countries, and their global workforce wallet allows you to make deposits wherever you need. 
Papaya's system also allows companies to upgrade their existing payroll software quickly and easily without changing the existing networks of local partners. 
Pros
✅Dedicated payroll specialist available
✅Easy to use
✅Responsive to feedback 
Cons
❌Invoices could be more detailed and specific
❌Higher pricing than some competitors
❌No free trial 
Pricing 
Core HR software plans start from £13 per month for 1 to 10 users. 
13: Intuit Quickbooks ⭐⭐⭐⭐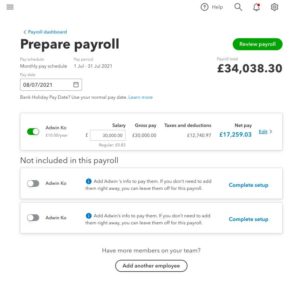 Intuit QuickBooks focuses on helping small businesses organise and manage their finances. Their software supports accountants, sole traders and limited companies with everything from invoices and cash-flow insights to payroll, tax requirements and annual accounts.
To help with payroll, Intuit QuickBooks have two different options. Their Core Payroll package generates payslips, pays employees and calculates statutory pay. In addition, their Advanced Payroll includes an employee portal, automatic pension submissions and timesheets.
Pros
✅Works seamlessly with QuickBooks Online
✅Easy to use and navigate
✅Free trial for one month
✅Good customer service
Cons
❌Just focussed on payroll and doesn't provide other HR support
❌Some users find the terminology used confusing
❌System can be slow and have regular glitches
❌Limited customisation options
Pricing 
The packages that include payroll software start from £14 per month, with cheaper introductory deals for the first six months.