In the modern-day workforce, companies are taking a more serious approach to training and development. Since the pandemic, it has become a priority for companies to adopt a solid L&D strategy, promoting employee growth and working towards the development of a highly-skilled workforce.
HR teams are training their employees to help them develop more technical, social, and emotional skills. What is the purpose of training and development? Why it's so important to companies today? and how do you train and develop your employees for a future-ready workforce? We'll provide the answers to these questions.
Related video: Learning and Development: What is it? and Why is it important in the Workplace? In this video, we explain the top learning and development styles and how to identify the one that's right for you and your team. 
What is Training and Development? 
Training and development programs are educational activities organised by an employer for the benefit of their employee. These training programs are designed to continuously provide employees with the relevant skills and knowledge to better perform their job roles.
What Is the Purpose of Workplace Training?
HR and People Development teams use Employee Training and Development to support their workforce in acquiring industry knowledge and expertise required to grow professionally. Companies who invest in these L&D methods understand that it's more profitable to invest in developing the skills of their existing workforce than sourcing new talent.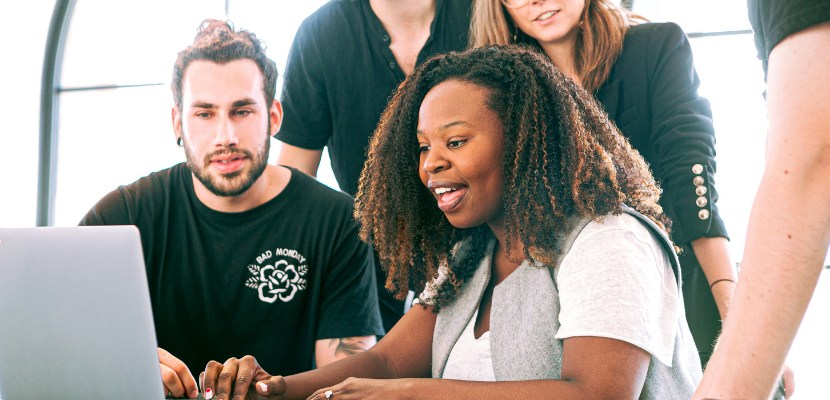 The Importance of Training and Development in the Workplace
There are a number of reasons why training and development have become so popular over recent years.
Here are a selection of the benefits:
Skill gaps. One of the biggest reasons L&D is now so popular is that many companies are facing growing skills gaps. These gaps have emerged as an effect of emerging technologies and working models that have shifted the demand for skills. Reskilling can help you retrain your existing employees in these skills in order to meet your long-term organizational goals and keep up with an evolving industry.
Growth opportunities. By promoting workplace training and development, you will be showing current and future employees that you care about their professional progression. This can help you attract and retain the right top talent to take your business to the next level.
Engagement. Employees with access to training and development programs are likely to feel more motivated and satisfied within their company. Training the workforce also helps employees expand their knowledge to other departments. This helps to create connections between departments based on empathy rather than an "us versus them" competitive mentality.
Creativity, productivity, and morale. The more confidence a workforce has in its skills and abilities, the more productive, creative, and innovative it will be. New skills also boost morale as your employees feel more valued and heard.
What Are Examples of Effective Employee Training Methods?
There are many types of employee training and development methods to choose from, including:
Instructor-led training: This can take place either in-person or virtual. There may be one or more instructors, who are responsible for teaching skills or sharing knowledge with an employee or group of employees. This may be done through lectures, presentations, demonstrations, and discussions.
On-the-job training (OTJ): requires workers to learn the job in the actual work environment. This method of training is based on the principle of "learning by doing", enabling employees to learn new skills while in the flow of work.
Coaching or Mentoring: These are both collaborative processes that help to enhance the performance of the individual, team, and organisation as a whole. Coaching is an interactive process that involves all levels of the business. Mentors often act as role models for their mentees and provide guidance to help them reach their goals and progress professionally.
Blended Learning: This refers to a training program that includes a variety of the training types referenced above. The blended learning approach often includes a combination of in-person training and online learning.

How to Implement an Effective Training and Development Program
There are numerous reasons why you might want to adopt a training and development strategy. There are also countless strategies you can use to upskill your employees. Whatever strategy you choose, you should always stick to the following key steps for creating a training program in your workplace.
Identify Skills Gap: The first step in developing a training program is to identify what's missing or what needs to be improved. This can be identified through 360 performance reviews and evaluations.
Select the Right Training Methods: As we mentioned, when implementing an employee training program, the method in which you choose to deliver your training is extremely important and varies on the training topic.
Monitor and Evaluate the Plan: The training and development program should be continuously monitored to determine if it was effective and successfully met your training objectives.
Make It Part of Your Company Culture: Employee Learning and development goes much further than a few classes here and there, it's an important part of the modern-day workforce and should become a key part of your company culture.

With workplace training, you can develop and motivate your existing workforce so that you can get the best from them. This will help you retain them as loyal and productive members of staff, and help you remain competitive. Reskilling is also a great way to keep you fresh and relevant in an ever-changing market. What's more, training, upskilling, and reskilling are far more cost-effective than recruiting and hiring externally, so it will boost your bottom line in the short and long term.