When we are at work, it's natural that we focus on what we need to get done in the time available to do it. However, it's essential not to neglect the other side of the coin: the time in our working lives when we are not actually engaged in the job we are being paid to do. Whether it is annual leave, taking a sick day or having time off for parenting, compassionate or medical reasons, these absences from work are important for that ever-elusive work-life balance.   
If you want to get the best out of your employees, you need to manage their absences as effectively as you manage their presence in the workplace. Being flexible, having a workplace culture that supports life outside work and providing clear policies to cover absence and leave all contribute to good absence management. Managing absence in the workplace takes skill and focus, and using a digital programme to help with the administration involved can free up time for managers and senior leaders to focus on the elements that matter – such as supporting employees, understanding trends in absence and ensuring policies are legally compliant.
What is Absence Management Software? 
Also known as leave management software, absence management software is a digital programme that allows companies to manage the processes involved in approving and tracking when employees are not working. Absence management includes paid or unpaid holiday, sick leave or other types of absences such as parental, compassionate or medical leave. 
What does Absence Management Software do? 
Absence management software can have many functions, including:
Processing and approving leave requests

Real-time tracking of leave

Compliance with legal requirements 

Generating reports to help with identifying trends and issues 
What are the Benefits of Absence Management Software? 
Keeping track of each employee's holiday allowance, approving (or rejecting) requests for leave, understanding the impact that holiday will have on the rest of the team and making sure that all relevant parties know that individual will be out on a particular day is a complicated process with many steps and plenty of room for errors. 
Using a digital programme to streamline the work involved in managing absence has many benefits:
Helps staff well-being

: when it is easy to see how much annual leave you have, to request holiday days and have them approved quickly, employees can feel that their work-life balance is respected and their personal life is valued. The knock-on effect can be an improvement in their well-being and engagement in the business. 

Reduces the chance of errors

: there is less manual inputting with a digital programme, which means there are likely to be fewer mistakes.

Saves time:

submitting and approving leave can be done with one click of a button rather than a series of emails back and forth.

Improves visibility over the whole workforce:

calendars can be set to show who is on leave and updated automatically.

Better communication:

when employees can see who is working and who is not, this improves planning and collaboration, helping teams to be more efficient and creative. =

Easier to meet legal obligations:

the software automatically tracks whether people have taken the right amount of leave and can help automate more complicated leave arrangements such as parental and carer's leave and part-time working.

Helps with decision-making

: the software can run reports and identify trends and issues that senior leadership may otherwise not be aware of, allowing management to deal with concerns more quickly than they might otherwise.
How do I Choose the Best Absence Management Software?
Once you have decided to invest in absence management software, it is a good idea to sit down with your colleagues and brainstorm precisely what you need it to do. Although it's hard to see into the future, if you plan to expand your business, think ahead to what you might need then. It can be helpful to talk to other leaders who have experienced growth to understand some challenges that can arise as you expand.
The following questions can be a helpful place to start thinking about what you need from an absence management programme:
Does the software have an easy-to-use interface?
It might seem obvious, but some systems are easier to use than others. Given that one of the main benefits of using software to manage absences is inputting information easily and quickly, the software must be intuitive for everyone to use. It is as vital that both employees and those approving and managing leave requests can access the programme and use it without any problems. Making it easy to ask for leave and see how much holiday you have taken sends a signal to employees that their time off is valued, making them feel appreciated and more engaged.
Can you customise the software to reflect your company's leave policies?

Having an absence policy that is clear and specific to the needs of your business is a good idea, as it reduces areas of potential conflict between managers and employees. Your policy is also a communication tool for explaining how, as a company, you view absence and the impact it can have. The system you chose needs to reflect the policies you have put in place, so check that you can customise it. 
Can the software integrate with other systems you have?
In many cases, absence management software is part of a broader human resources information system (HRIS), so integration with other systems is not an issue. However, it always pays to check if the software can be integrated with any external systems you are still using. For example, some HRIS create payroll reports, which are then sent to bookkeepers to pay employees. As leave can influence payroll, checking that systems can talk to each other is essential to avoid adding manual stages to a process you aim to make as automatic as possible.
Is the leave management software cloud-based?
Again, it is possible to assume that all programmes are cloud-based, and it's safe to say that most are, but it always pays to check. You want employees and managers to be able to use the programme wherever they are, especially if they are reporting in sick for the day. It doesn't mean having a mobile app is essential, although you might feel it is for your business. It does mean that everyone needs to be able to access the system wherever they are based.
Is the leave management software compliant with current legislation?
A legal framework protects employees' rights to leave while at work, which covers holidays, sick pay and other aspects such as parental, compassionate, and medical leave. Any absence management system needs to be up-to-date with the current requirements, and it also needs to guarantee to update with any changes.
Does the software automatically update?
As well as the absence management software updating with changes to legal requirements, it also needs to update if you change a contract or personal information. The beauty of these systems is that they should do this – one of the main ways to save you time and money – but always check for any loopholes. For example, if you customise the programme for your specific leave policies, ask how legislative updates will work.
Is the software completely secure?
The absence management software you choose will be responsible for processing and storing confidential data about your employees. All software programmes will promise your data is secure, but it pays to spend some time asking the difficult questions about how they guarantee this and what happens if there is a data breach or the systems go down. 
Is a free trial available?
A free trial is a good idea, allowing you to road-test the new system without committing. As absence management software will be used by the whole workforce, having a trial can be even more helpful for this type of software than for others. If you find people needing help to use the software to manage their leave requests, there are probably better choices for your company.
1: Factorial ⭐⭐⭐⭐⭐
Factorial's human resources information system (HRIS) is intuitive, easy to use, and designed for smaller and medium-sized businesses. Their technology is robust and secure, and the system puts communication at its heart to ensure that employees and managers can work collaboratively. By helping the whole team work together, Factorial's approach can improve employee well-being and engagement, leading to gains in productivity.
The employee holiday and absence management software is part of their comprehensive HR system, so requests for leave can automatically be integrated with contract information and payroll for the month if necessary. With their leave management system, you can manage requests from your mobile or desktop, generate reports for individuals, projects or divisions, and customise the programme to reflect the company's absence policy.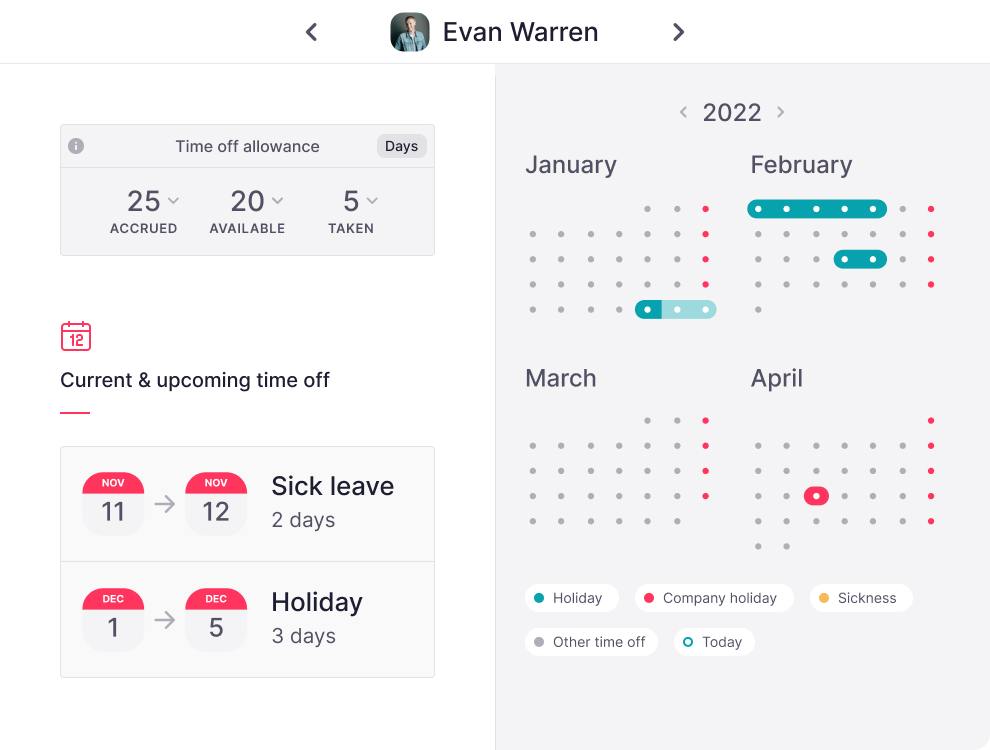 Pros
✅ Free demo and 14-day trial
✅ Transparent pricing model
✅ Mobile app as well as desktop
✅ Can easily customise the programme to reflect your own absence policies
✅ Employees can keep track of their own holiday allowance
✅ Easy to link external calendars with the software
✅ Centralised absence database 
Cons
❌ Some users report lags when using the mobile app
❌ Difficult to edit leave requests once approved
❌ Limited integration with third-party software
Pricing 
Finance hub starts at £35/month (billed annually): 10 users included.
2: BreatheHR ⭐⭐⭐⭐
BreatheHR has a mission to reduce the administration involved in people management and free up time for the more critical aspects of working with people. They work with companies and charities of up to 200 people in over 13,000 organisations in the UK.
To help you manage absence, BreatheHR's Core Plan has a staff holiday planner and a sickness monitoring system included. The holiday planner provides individual employees with their own dashboard and an updated calendar for department heads for planning purposes. The sickness monitoring system generates reports which allow leaders to spot trends and manage issues as required.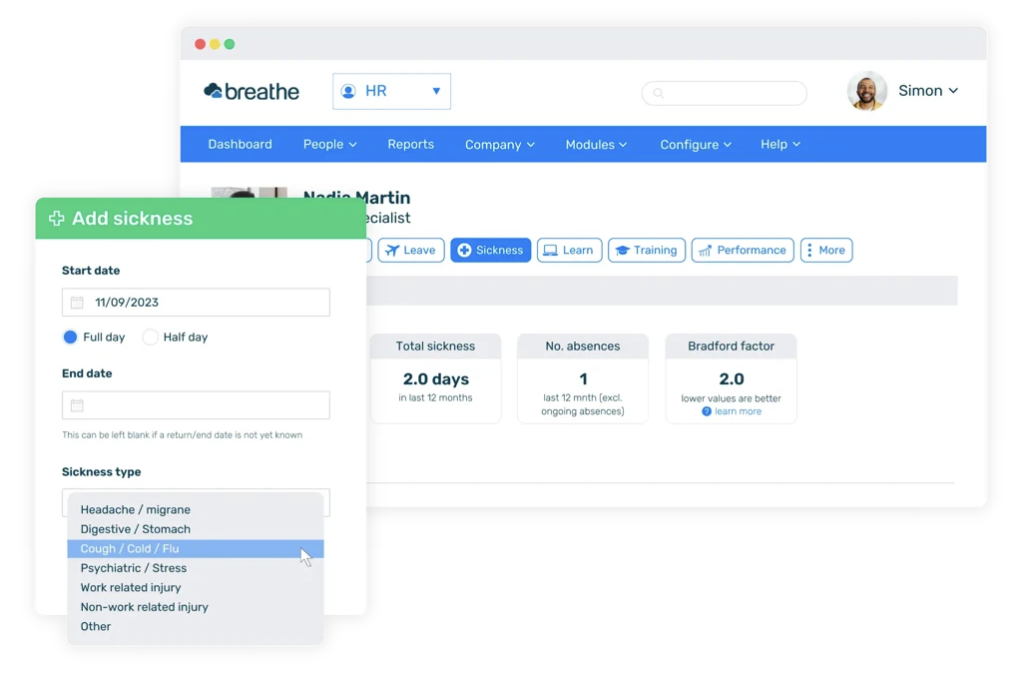 Pros
✅ 14-day free trial
✅ Easy to navigate dashboard
✅ Mobile app 
Cons
❌ Limited integration with other systems, such as Slack
❌ No phone number for customer service
❌ Users report that there is no automated notification for non-HR users of other staff absences
Pricing 
The Core HR plan costs £18 monthly for 1 to 10 users. 
3: BambooHR ⭐⭐⭐⭐
Based in the US, BambooHR works with medium-sized businesses to streamline critical functions and tasks throughout the life cycle of an employee. Their system is structured into 'essentials' and 'advantage' and covers recruitment and onboarding, time tracking and leave management, performance management and payroll. BambooHR aims to ensure the administrative processes behind people management run smoothly, giving leaders the confidence to focus on more strategic work.
BambooHR's time management software is part of their essentials package. It provides employees with an easy-to-use overview of their leave records, sends automatic notifications when leave is approved and generates reports on upcoming leave and absence trends.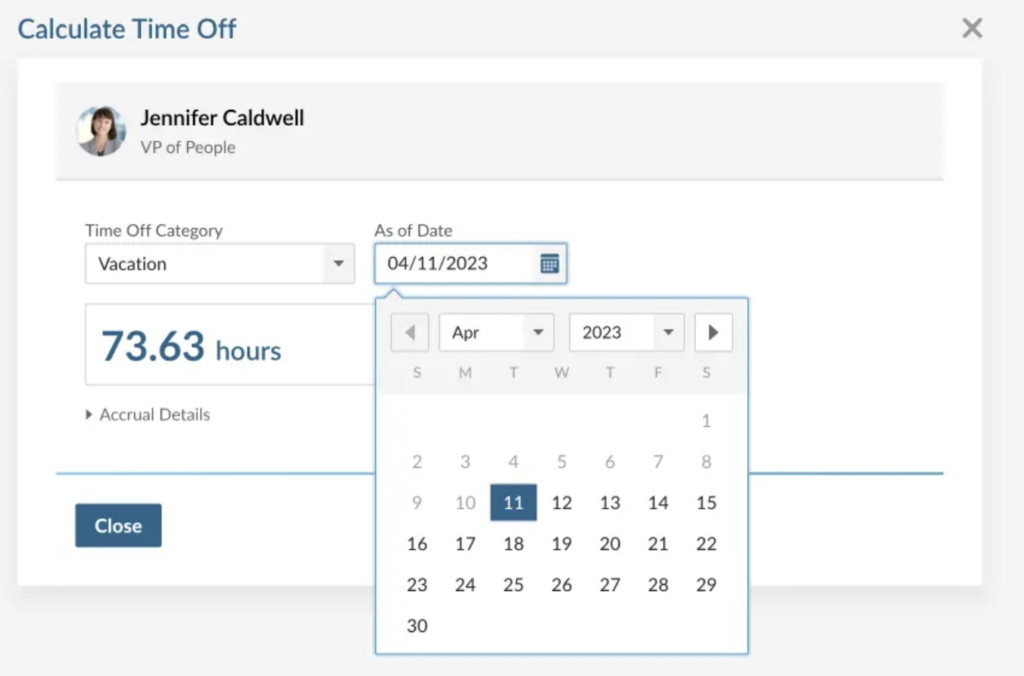 Pros
✅ Mobile app available
✅ Free trial
✅ Easy to customise for individual departments
✅ Also includes an employee wellbeing tool to help understand absence trends
Cons
❌ Users report issues with payroll integration, which can impact leave management
❌ Can be considered expensive compared to other platforms
❌ Some of the language and approach can feel less relevant for a UK-based workforce
Pricing 
Contact the BambooHR sales team to arrange a demo and get a quote.
4: BrightHR ⭐⭐⭐
UK-based BrightHR works with up to 90,000 businesses to streamline their HR and health and safety processes and support employee wellbeing and training. They provide intuitive software for all aspects of people management, including recruitment, rota-planning, absence management and payroll reports. 
Their HR software includes a staff holiday planner and a reporting tool for sick leave and lateness. The holiday planner ensures that employees take their legal entitlements and flags any clashes in requests for leave. Within the sickness reporting tool, employees can take photos of hospital letters and self-certification forms and upload them directly, avoiding the need to find a scanner.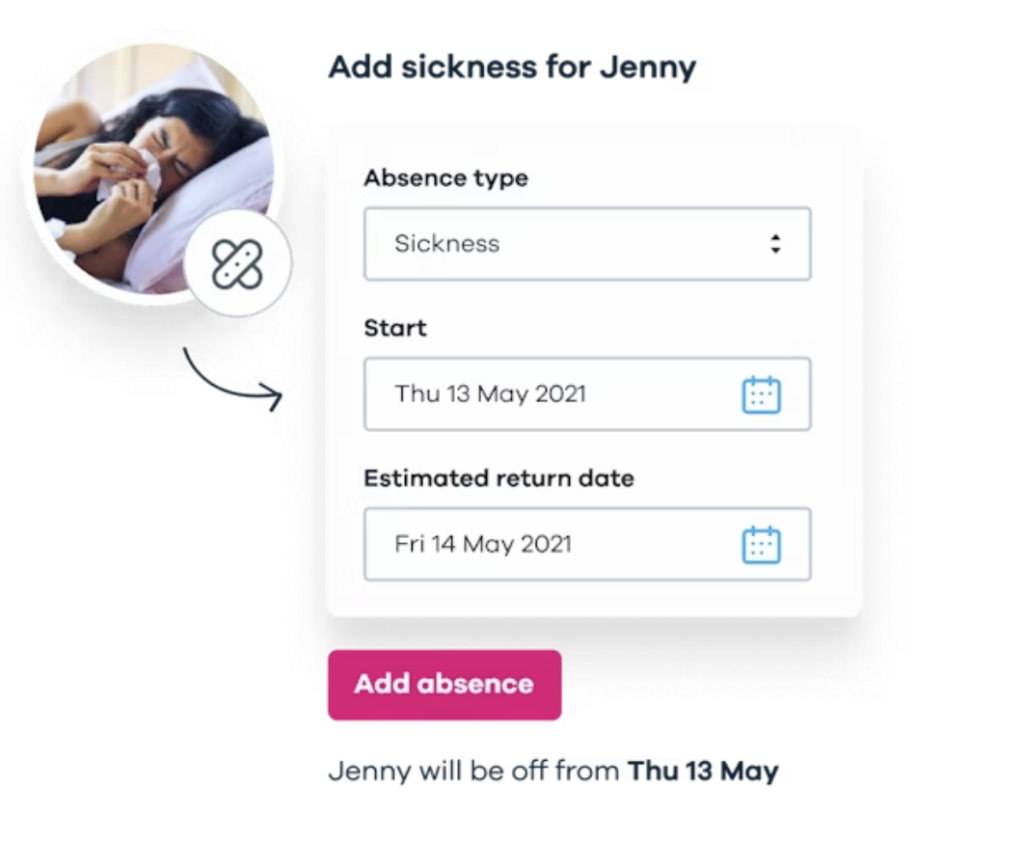 Pros
✅ Available on mobile
✅ Includes employee assistance programme, Bright Wellbeing & Counselling
✅ Allows you to quickly see who is available for cover if someone is off sick
Cons
❌ Users don't always find the interface as intuitive as they had hoped
❌ Customisation can be limited
❌ Users report it is hard to change employee details once already amended
Pricing
Contact the BrightHR sales team to arrange a demo and get a personalised quote.
5: CharlieHR ⭐⭐⭐
CharlieHR is a London-based company that provides a software system which aims to give HR executives and managers more headspace and the right data to make the best decisions in terms of the workforce. Their system covers onboarding recruits, managing time off and performance, monitoring employee engagement and providing perks and benefits.
CharlieHR's absence management software includes a function to delegate approval, can be customised for specific policies and part-time workers, and allows managers to spot and manage clashes ahead of time. It also keeps track of absences and can help you spot trends and issues that need addressing.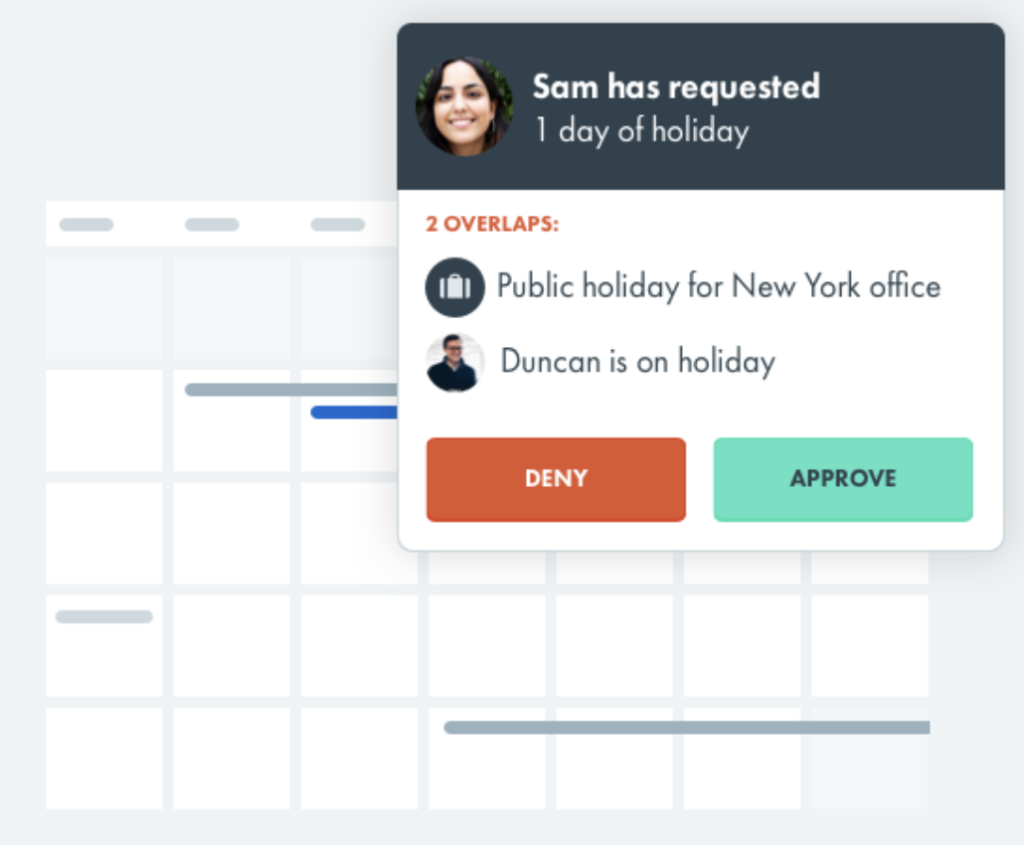 Pros
✅ User-friendly
✅ Community to share experiences and learn from others
✅ Users report excellent customer service
Cons
❌ Users can find the system clunky when searching for specific information
❌ Customisation can be limited
❌ Reporting tools are not as easy to use as other platforms
Pricing
Plans start from £4.00 per user per month for up to 10 users. 
6: HiBob ⭐⭐⭐
HiBob's platform streamlines people management to drive company engagement, culture and productivity. It uses a social media look and feel to ensure its system is accessible and able to be used by all. The HiBob platform covers onboarding, leave and attendance, payroll and performance management. There is a people directory, document storage and a tool for whistleblowing or sharing feedback anonymously called Your Voice.
Within the time off section of their programme, you can quickly submit and approve leave requests with push notifications in Slack, MS Teams or HiBob itself. You can also customise policies for different employees and track time off easily with the automatically updated calendar.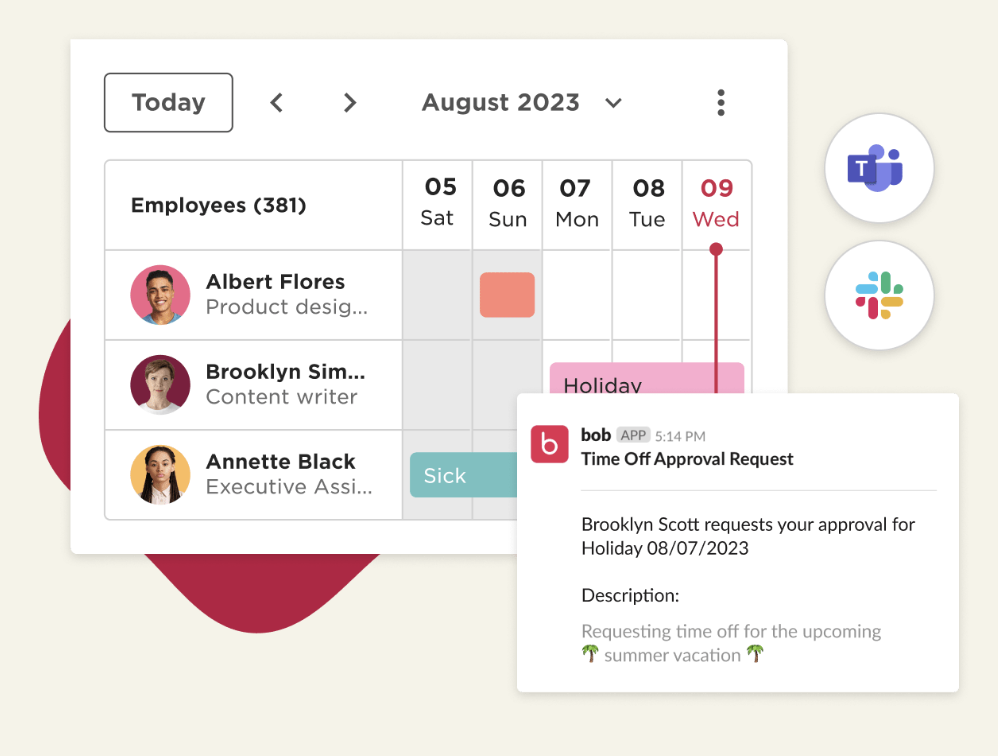 Pros
✅ Mobile app available
✅ Easy-to-use interface
✅ Customised reports available so you can track absence trends
Cons
❌ Users report some issues integrating with other systems
❌ Some organisations report technical issues and security concerns during onboarding
❌ Difficult to access the admin tools on the mobile app 
Pricing
Contact the HiBob sales team to arrange a demo and get a quote.
7: NaturalHR  ⭐⭐⭐
Established in the UK in 2010, NaturalHR's mission is to provide a flexible HRIS and help their clients get the most out of their reliable, flexible and low cost system from day one. They offer an all-in-one system that includes payroll as well as absence management, time tracking, documentation storage, recruitment, training and performance management.
Their absence management tool allows companies to keep track and monitor absence, generate Bradford factor scores of all employees, automatically calculate leave summaries for individual employess and run reports on absences to identify trends.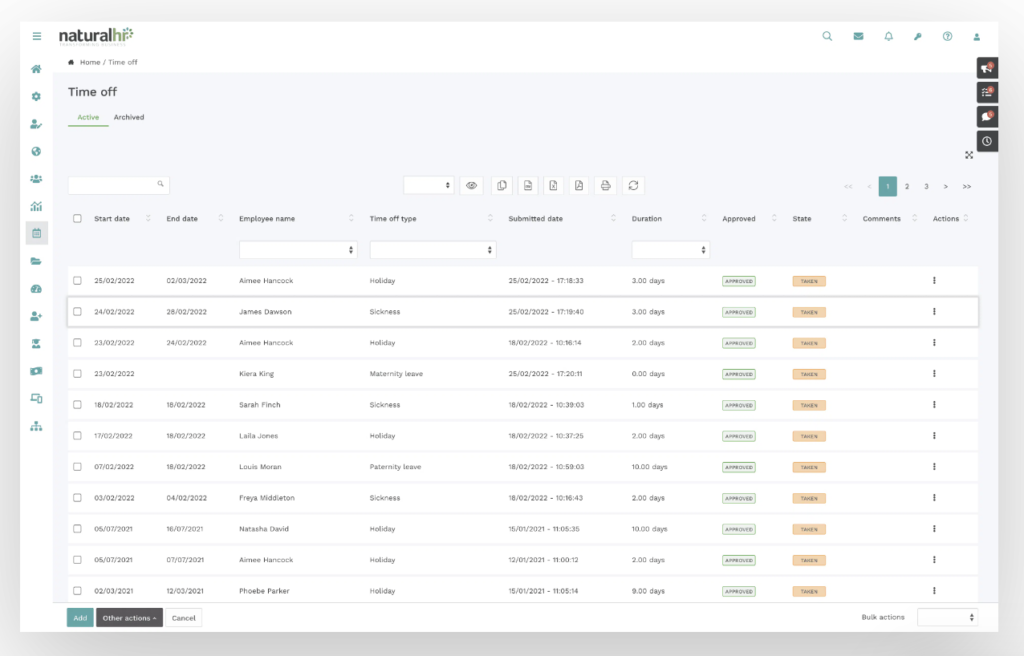 Pros
✅ Intuitive return to work forms
✅ Engaging and easy-to-use interface
✅ Reporting tools allow you to see trends in absences
✅ Users report good customer support
Cons
❌ Some users find the reporting less intuitive than it could be
❌ Can be difficult integrating with other platforms
❌ Limited customisation options
❌ No free trial
Pricing
Contact the NaturalHR sales team to arrange a demo and get a quote.
8: Humaans.io  ⭐⭐⭐
Humaans is new to the HRIS space, being established in 2020. Their goal is to automate the whole life cycle of an employee and create simple workflows from current comple manual processes. They want to do this by a ground-up approach so their system becomes the foundation layer on which the rest of the company's tech stack can be built.
Their core HR system includes documentation management, absence tracking, workflow builder and an employee database. The absence tracking allows you to capture half days, working from home or remotely and supports 14 different types of leave with the additional capacity to add extra fields if you need. There is also the flexibility to create different start dates for holiday cycles, carry over days and accommodate unlimited leave.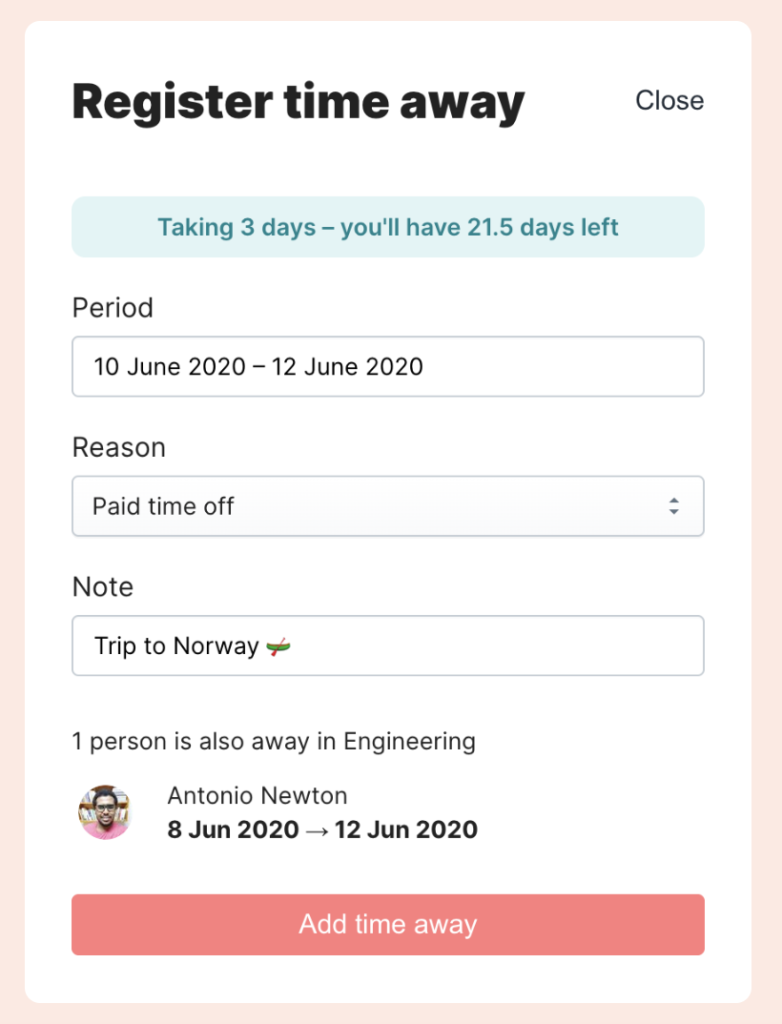 Pros
✅ Integrates with Slack and calendars
✅ Free 14-day trial
✅ Mobile app to emplopyess can submit leave requests whenever they want
✅ Reporting set up to include a focus on DE&I 
Cons
❌ Users note it would be good to be able to create customised templates for reports
❌ As a relatively new platform, users feel that some areas are still being developed.
❌ Provides a summary for payroll rather than directly talking to accounts
Pricing
Plans covering an employee directory, document management, absence tracking, selected integrations and rewards market place start from £5 per person per month.
9: Personio  ⭐⭐⭐
Personio provides a comprehensive software for human resources that covers HR management, talent management and payroll. They work with companies of between 10 to 2000 employees and have offices in seven cities in Europe. Personio's aim is to make HR processes as transparent and efficient as possible so there is more time to focus on the people themselves.
The absence management software allows managers to process leave requests quickly, easy access to calendars detailing who is on leave and calculates individual employees leave requirements. It also run reports so you can track any trends in absences and take action.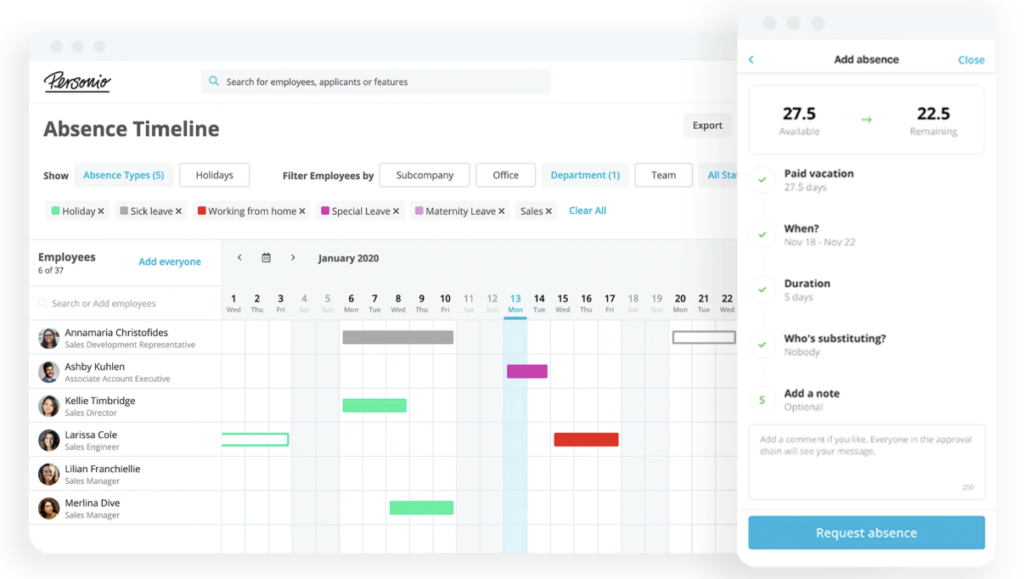 Pros
✅ Easy to use interface
✅ Claims to save 80% of time on leavel approvals
✅ Reports can be used to track wellbeing
✅ Includes anonymous communication channel for employees
Cons
❌ Some users find the dashboard clunky on smaller screens
❌ Currently does not include a policy for unlimited annual leave
❌ Limited customisation options 
Pricing
Contact the Personio sales team to arrange a demo and get a quote.
10: Timetastic  ⭐⭐⭐
For nearly ten years, Timetastic have been helping businesses manage their absences with their dedicated software that focusses purely on absence management. Their software is available as an app on mobile and desktop, and allows companies to manage holiday requests, identify sickness trends and keep track of annual allowances.
Timetastic offer two different packages. The Core Plan includes shared calendars, holiday allowance approvals and records, and a mobile and desktop app. With Timetastic Pro, you can also get absence reports and insights, integration with other platforms and enhanced user profiles – plus an alert if employees are in danger of burning out.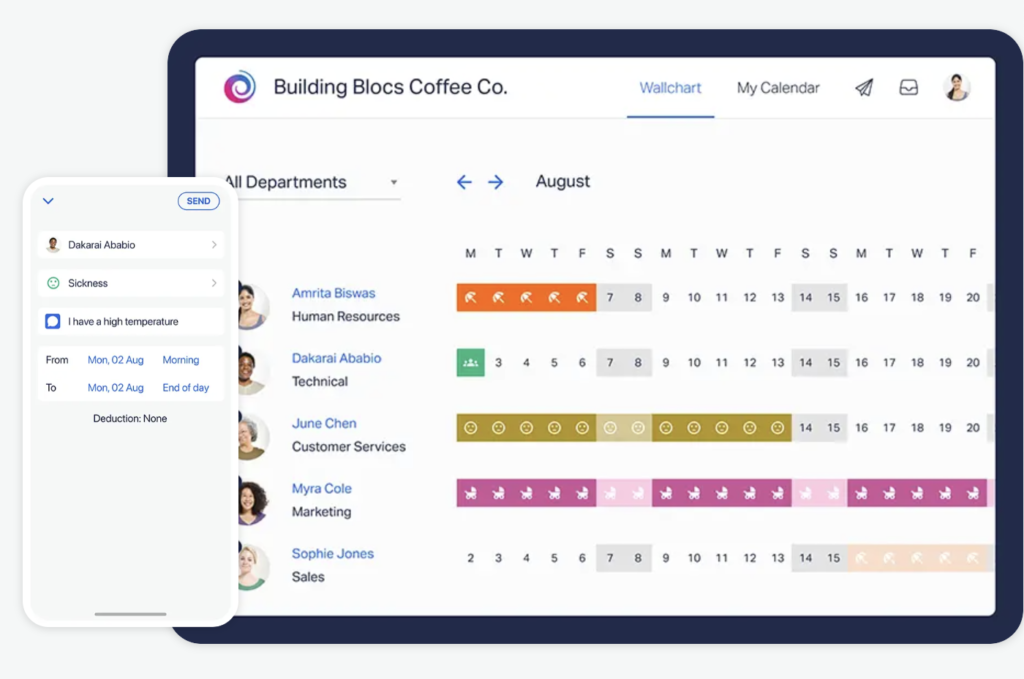 Pros
✅ Intuitive interface
✅ Easily handles employees requests in hours as well as days in terms of when people work and want to take their leave
✅ Mobile app available
✅ One month free trial
Cons
❌ Some users feel there could be more flexibility in the leave system such as not having to resubmit a request when making small changes
❌ Can sometimes take a day to sync leave requests with external calendars such as Google
❌ Limited customisation options
Pricing
The Core Plan starts from £1.20 per user per month; TimetasticPro costs £2 per user per month.