Creating organisation charts for a company is one of the most valued features for HR managers. The main issue is that there aren't many free tools that can create a decent organisation chart online. Furthermore, it's not always easy to keep the chart updated every time a new employee arrives or someone leaves the company.
What is an organisation chart of a company?
An organisational chart is a diagram that visually represents a company's internal structure by demonstrating relationships between individuals, the details of their roles and responsibilities. Organisational charts either broadly interpret the entire company with every stakeholder or you can narrow it down to a specific department or team.
HR Software: create your company organisation chart for free!
The days of spending hours creating organisational templates on word or PowerPoint are over. With Factorial,  you can create a free organisational chart online for your business! Sit back and let us do the work. This feature is available for every business working with Factorial. No design, Word or Powerpoint knowledge is needed… Factorial will automatically create the organisational chart of your company. Super easy and free!

✅If you haven't registered with Factorial yet, sign up for a free trial of 14 days 
Here you can see an example so you have a rough idea of what your company's chart will look like: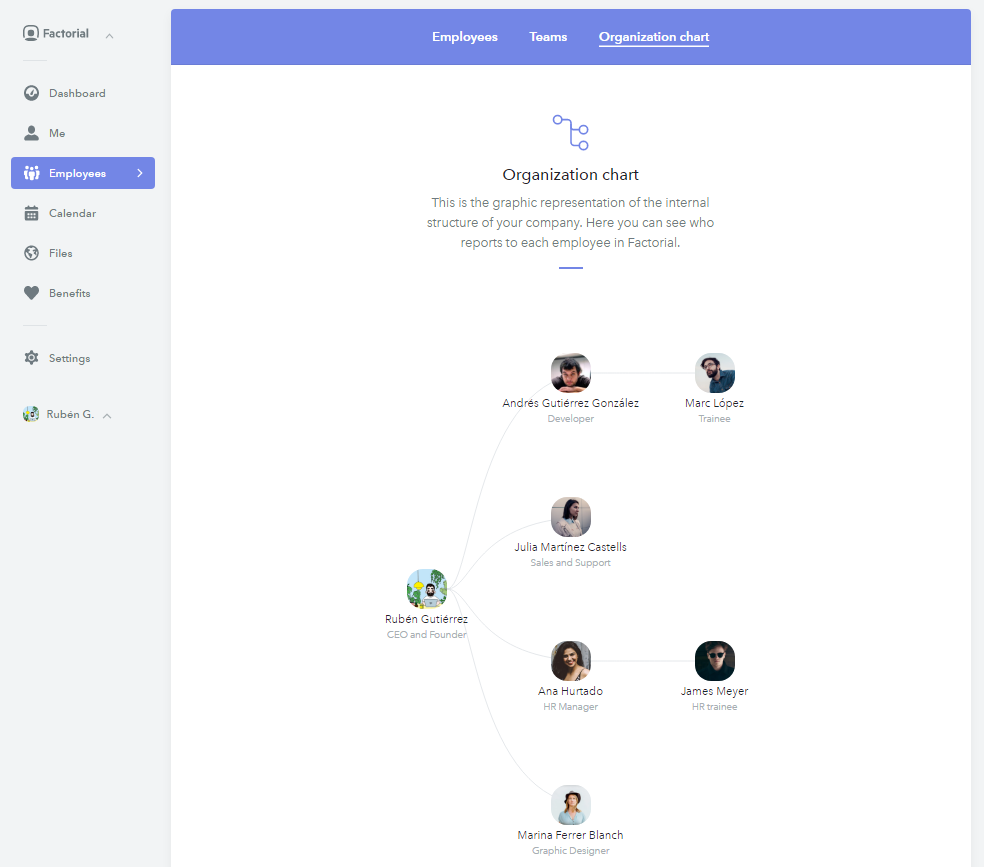 As you can see, there is a photo with everyone's name and job position. This works great in fast-paced environments as it enables your employees to quickly familiarise themselves with new employees. Putting a name to the face is really important for welcoming newcomers and bringing the team closer together! Further, if you are an SME rapidly growing like we are at Factorial, it's important to have a solid organisational structure to maximise productivity and effectiveness. This allows for more guidance and gives an overview of the entire company.
Each employee in the org chart can be clicked on,  so the HR manager can directly access the employee's profile. This is just one of the many features that Factorial offers.
Keep in mind that Factorial is 100% free! Apart from creating the organisational chart of your business automatically, you will be able to send payslips, manage holidays and many other features with no extra cost for the company.
Free organisational chart template
If our software hasn't convinced you, don't worry! We have also created an organisational chart template especially for you, completely free.

Types of organisational structure:
Hierarchy organisation chart structure
The most popular type is a hierarchical organisational structure. Here you will find different levels of the organisation, ranging from top management, which is normally those who have the most responsibility in the business, to the bottom, which of course still have very valuable members! For example, Factorial's organisational chart is based on manager structure. It displays all the different teams and the manager directly responsible for that team.
Matrix organisation chart structure
Different to a traditional hierarchy structure, the matrix organisational structure is set up like a grid or matrix. People with similar skills are grouped together who are completing the same projects. However, perhaps some employees are working on a few projects at once, meaning they have more than one manager or supervisor. The matrix structure outlines a visual representation for workers who may be completing several tasks at once!
Network organisation chart structure
Network structures are less hierarchical and more decentralised. These structures offer greater flexibility as they are based on social networks. This enables you to visualise internal and external relationships between supervisors or top-level management. Sometimes, these structures a more complex. As this could be a potential disadvantage, before using them, make sure you and your employees have a full understanding of what they display.
Register with Factorial today to create the perfect organisational chart for your company: quickly and efficiently