There are a number of factors to consider before you conduct an employee pay review. With the right planning, regular reviews can help you ensure your staff members are all being paid fairly. They can also help you reward high performers and serve as an effective incentive for others. This makes for a happier workforce and increases employee motivation and retention rates.
This article is an in-depth guide to the salary review process. We will discuss what's involved in a pay review, and what factors you need to consider when you design your annual salary review policy. We will break down each step of the process to help you get the most from your reviews for the good of both your employees and the bottom line of your business.
What Is a Pay Review?
A pay review is an appraisal or assessment of an employee's work and performance to determine whether or not their salary should be adjusted. Aside from performance, pay reviews take into account factors including terms of employment, market data, budgetary restraints and individual and business objectives.
They are usually conducted on an annual basis, and further to new employee probationary periods. They can also be held on completion of a successful project, or after an employee has been promoted or has taken on a new role.
Although there is no legal obligation as an employer to conduct an annual salary review or offer a yearly pay rise, most companies choose to offer it as part of their incentive and rewards programme.
The main reason for this is that it motivates employees and helps them feel valued. This increases productivity, helps underperformers reach their goals, and improves overall retention rates.
Aside from making you stand out as a competitive employer, the implementation of a salary review process can also help ensure fairness and transparency at all levels of your company.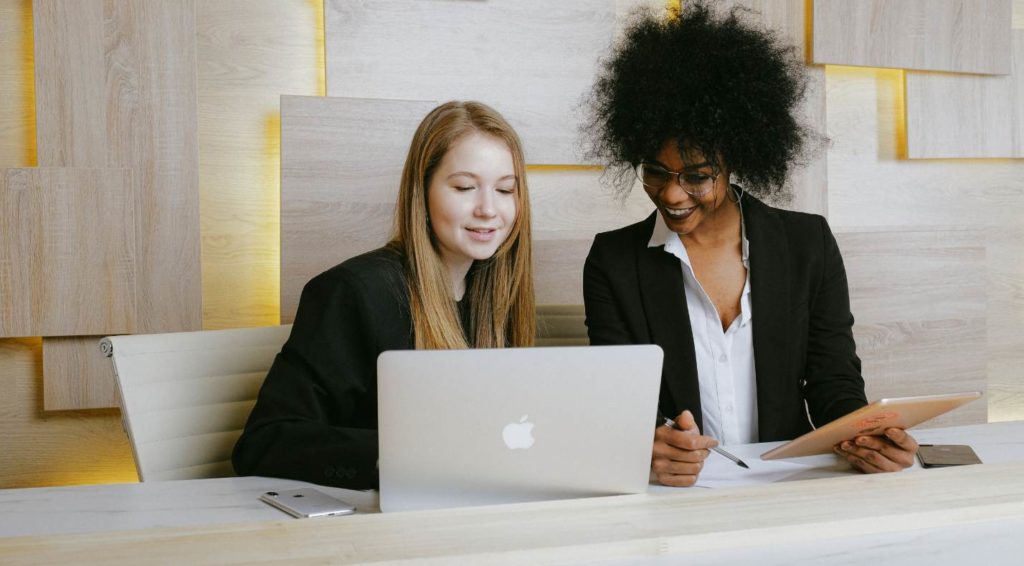 How to Conduct a Pay Review?
Planning is a vital step of the pay review process. The first step is understanding your objectives. What do you want to achieve from your pay review cycle? What expectations do you have? How about your employees? Which tools will you use to evaluate performance and results? Do you have a fixed budget?
Take the time to define your goals and expectations and make sure you communicate the purpose and criteria when planning pay reviews. Plan and document each step of the pay review process and define a clear and consistent annual salary review policy for all employees. This will help avoid any confusion or disappointment.
Consider the following aspects when you decide to conduct your next pay review.
Pay Review Process UK
The first thing you need to do is evaluate your existing pay review process and identify whether there are any gaps or areas for improvement. How often do you hold salary reviews? Are all employees offered regular staff appraisals? Is there a fixed budget for salary adjustments? How are reviews carried out? Have managers received the right training to conduct effective reviews? Which tools and platforms do you use to manage your pay reviews? Will pay increases be across the board or depend on the performance?
Your strategy for rewards and incentives will depend on your business model, budget and objectives. It should also be based on internal payroll data, contractual terms, and external market rates, as we will see shortly.
Check Contract Terms
Before you conduct a pay review with an employee, make sure you are aware of any employment terms and conditions that you may be bound by. Does their employment contract state that they are entitled to any fixed reviews and/or salary increases? Are they subject to a pay freeze? Have they completed their probationary period? Are there any other clauses that could potentially have an impact on the pay review process?
Conduct an audit of all employee contracts so that you are aware of any restrictions or obligations before you calculate what your salary is to review the budget for the year.
Review Job Descriptions
The next step in the pay review process is reviewing and researching job descriptions. Start at an internal level. Do your employee job descriptions match the level of responsibility of each position? Do they reflect their level of anticipated performance? Are employees clear on their roles and responsibilities?
This will help you clarify your expectations for each position and create a clear benchmark for evaluating individual performance. It will also make it easier to collect relevant data when it comes to market research.
Research Market Pay Data
Once you have reviewed and redefined your job descriptions, you need to research their value in the external job market to make sure the salaries you offer are competitive and in line with industry standards. There are useful impartial sources for this data such as Glassdoor and government wage calculators.
You should also conduct an internal audit to help you identify any potential wage disparities within your company that may potentially result in conflict or resentment. Do all managers receive the same salary or are they dependent on performance/level of responsibility? Are salary pay scales objective? Make sure you also take into account any recent promotions or job changes.
Budgets and Deadlines
The next step is to calculate your pay review budget for the year and establish a schedule for appraisals. Your budget will depend on the size of your company, your internal policies and external factors including pay scales and market rates. It should also reflect your financial projections and any potential impact on benefits including holidays and sick pay.
What is your goal here? To offer salary increases in line with inflation rates and the cost of living? To reward overachieving employees and incentivise underachievers? Or to stand out from competitors as an attractive employer? What budget do you need to reach your objectives? Can you achieve your objectives with the budget you have?
Define your budget, communicate it to all managers and stick to it.

The Performance Review
This is arguably one of the most important steps of the pay review process. Before you conduct a salary appraisal, it's important to understand how an employee performs and if their output is in line with expectations and objectives. This way, you reward overperformers and provide an incentive to those that may be underperforming.
The best way to gather this vital data is through an effective continuous performance management system. Continuous performance management (CPM) is an HR tool for tracking, evaluating, and improving employee performance. It is based on the principles of continuous analysis, agile management and real-time feedback. It involves setting standards and expectations for performance and guiding employees to help them meet their goals. Companies that implement a CPM strategy find that it increases employee engagement and performance, and improves communication and retention levels.
Performance management software can help you track employee performance and appraisals. With Factorial's performance management software solution, you can manage every element of your performance review cycles. You can also use it to conduct surveys and collect 360-degree feedback, also vital information when planning your pay reviews.
Self-Evaluation Forms
We just mentioned the importance of employee surveys and self-evaluation forms. They can help you collect valuable feedback from your employees in the run-up to their annual pay review. This feedback can help you understand why employees are performing at the level they are, and if there are any changes you could make to improve overall productivity.
You can also use surveys to determine whether employees are clear on any goals and expectations relating to upcoming reviews. This will help all parties prepare for appraisals and give employees sufficient time to raise any grievances in advance.
What are their salary expectations? Are they happy with what they are earning? Is anything preventing them from performing to the best of their ability? Are there any notable achievements that they want to bring to your attention before their next pay review? The more data you collect, the better prepared you will be for your next round of appraisals.
Aim for Transparency
Make sure each step of your pay review process is clear and transparent. Document all meetings and communications. Keep a record of all audits and market research. Make sure all roles and responsibilities have been communicated to each employee.
Also, make sure employees are completely clear on the pay review process. They should know what to expect and understand the purpose behind it. They should also be clear on what is expected of them in terms of performance and objectives.
Ultimately, employees should feel that the salary review process is fair, objective and transparent. They should also be made aware that any medical issues or caring responsibilities will not affect the outcome of their appraisals. This will help you avoid any potential issues with discrimination (more on this below).
Establish an Employee Rating System
To help you standardise your salary review process and make sure it is fair across the board, it is a good idea to establish an employee rating system. This will help you evaluate an employee's performance against a list of defined objectives. It will also help you identify any strengths and weaknesses they may have which can be discussed at their next appraisal.
Depending on the nature of your business and the positions held in your company, you could, for example, rate customer service levels, responsiveness, and sales results. Ratings such as these can help you quantify an employee's performance, making it easier to measure and compare to expectations. An employee repeatedly receiving ratings of "outstanding" in all areas of their job, for instance, might be automatically flagged for a pay review meeting.
Fair and Non-Discriminatory Pay Reviews
Much like with transparency, it is important to make sure your pay review process is fair and non-discriminatory. Have all employees been fully informed of the process? Are there any issues that might make an employee feel like they have been discriminated against? (for example, performance issues relating to ongoing health matters).
Be clear on expectations and maintain open lines of communication at all times. Establish benchmarks so that employees feel they are being treated fairly across the board. Above all, make sure all decisions are objective and based on data, not opinion.
Final Pay Review Checklist
Once you have conducted your employee pay reviews, make sure you do a final check of your notes before notifying employees of the outcome. Have you taken all the above factors into consideration? Were review meetings conducted in a fair and non-discriminatory manner? Does your pay review scale align with market rates and expectations? Have you documented each step of the process? Make sure everything is clear and in order before you provide employees with feedback and confirm any potential salary adjustments.
Inform and Review
The final step is to provide employees with feedback from their pay review meetings, communicate any salary changes, and notify payroll of any changes. Before doing so, make sure you brief all your managers so that they can explain the reasons behind any salary changes. This will help maintain objectivity and transparency throughout the process. Once you have informed and prepared your managers, all that remains is contacting your employees.
Notify Employees of Outcome
The best way to notify your employees of the outcome of a pay review is with a salary review letter. It is a good idea to design a salary review letter template for your company so that you include all necessary information in each letter you send out. Your template should include:
Details about when the pay review was held and the primary purpose behind it
Confirmation of new salary amount, where applicable
When you will make salary adjustments (next payroll run, for example)
Why you are offering a salary increase (as a result of performance, inflation, etc.)
If you are not offering a pay increase to an employee at this time, what they need to work on in order to improve
Pay Review Process UK in 5 Steps [Infographic]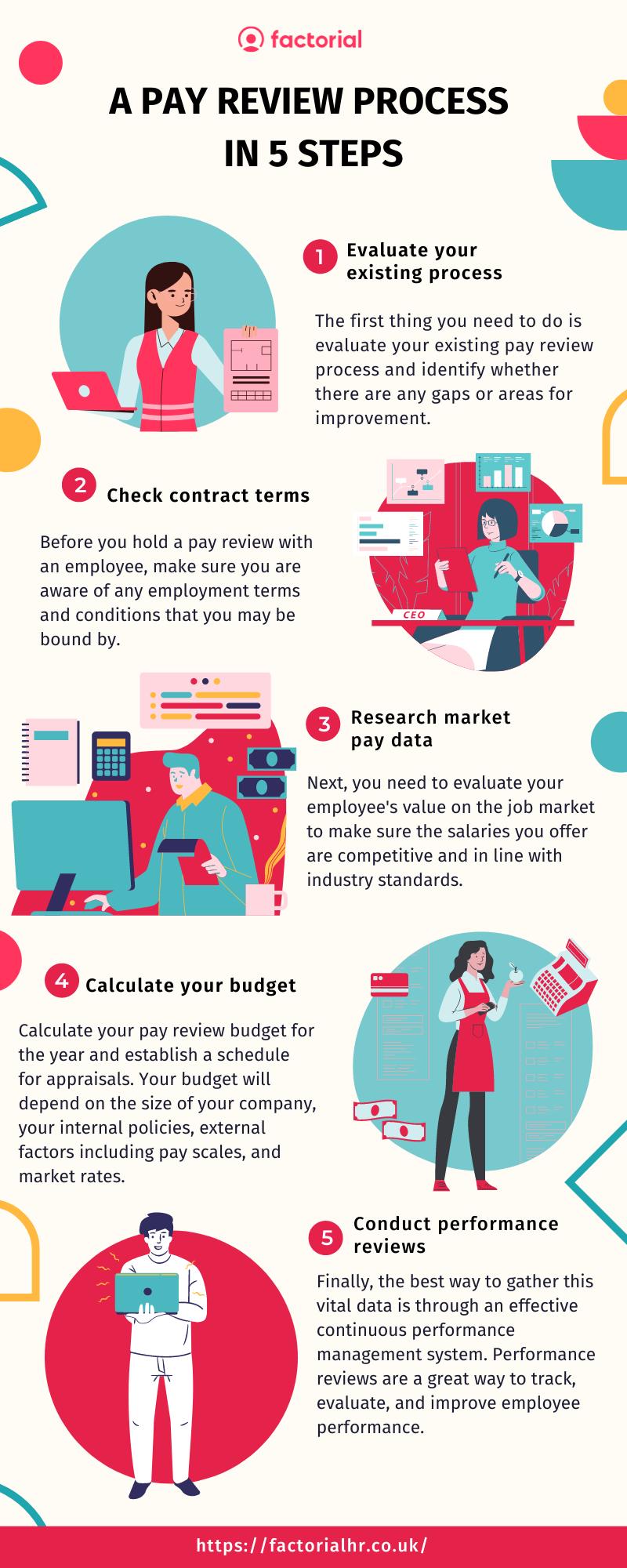 Review Your Pay Review Process
It is always a good idea to conduct a full review of your pay review process before the next cycle. Did things go smoothly? How could you improve the process? Was your system for collecting feedback effectively? Were objectives clear and understood by all employees? Did they feel the salary review process was fair, objective and unbiased? Did you stick to your budget? And most importantly, are your employees happy and productive?
Regular audits and adjustments will help you continuously improve as a company. The key to an effective pay review is simple: transparency, communication, continuous performance management, and clear and consistent practices. If you get all these right then the results will be clearly reflected in the bottom line of your business.