Once the preserve of particular roles and types of organisations, remote working came firmly into the mainstream during the Covid-19 pandemic for reasons we don't need to spell out. Since then, many businesses have continued to appreciate its benefits and research by the ONS in early 2023 found that 40% of working adults had worked at home at some point in the week preceding the survey. Whether it is entirely remote or a mix of both working at home and in the office (known as hybrid), remote working is here to stay.
Having a workforce no longer tied to specific locations naturally changes how businesses work with their key asset, their people. This goes as micro as needing systems to track how people spend their time to a broader level of ways to maintain a company culture when everyone works online, and then to the macro of an effective talent management strategy for an organisation that has changed how it functions.
While remote working may provide businesses with specific challenges, it's undoubtedly a benefit to talent management. But before we outline why remote working can enhance your talent management strategy, let's recap what it is.
A talent management strategy is a long-term programme to ensure that your business has the right people with the right skills in the right positions to achieve its objectives, both now and in the future. A good talent management strategy improves productivity, reduces staff turnover and creates a positive reputation for the business.

The Benefits of Remote Working for Talent Management
1. Enlarges the Talent Pool
First and foremost, remote working means that geographical location does not limit who can work for you, creating a broader and more inclusive pool of people for businesses to find their employees. Greater choice leads to a higher likelihood of getting people into roles with the right skills and experience rather than having to compromise.
2. Improves Diversity, Equity and Inclusion (DE&I)
By offering remote working, companies can open their doors to people who might otherwise not be able to work for them, creating a more diverse workforce. As well as the moral imperative to be more inclusive, it is well-documented how businesses benefit from having different perspectives and viewpoints represented. According to Forbes, DE&I positively impacts creativity and innovation, improves productivity, and helps organisations better understand their customers.
3. Helps Professional Development
Where roles are filled with employees working remotely, it makes it easier to move people around. Not only does this benefit individuals by increasing the number of development opportunities, but it also makes it easier for the company to create succession plans, develop mentoring programmes and generally focus on enhancing the internal talent pool.
4. Makes for Happier Employees
Working remotely doesn't make everyone happy, but it allows people to improve their work-life balance by removing their commute and can often bring flexibility to the working day. More time can improve people's well-being, mental health and job satisfaction, improving productivity and engagement and ultimately benefitting the bottom line.
5. Creates a Culture of Online Learning, Development and Leadership
When teams are interfacing entirely through screens and technology, there's an open door to online resources for employee development. That's not to say those working in offices do not use digital training opportunities, but a company that functions remotely can easily commit to an online learning programme. Not only is it easier to attend training when you don't have to leave the house and you are able to work flexible hours, but it is also possible that you have a better choice of courses that are right for your needs. Organisations with employees regularly involved in CPD are more likely to have people with the right skills to fill the roles they need, as well as happier employees who feel supported and motivated to learn.
6. Provides Companies with Data for Performance Management
Companies that are entirely functioning online may have more detailed insights into how time is spent, what is taking longer than it should and where there may be a skills gap. Information like this can feed into performance management discussions, improving talent management. Again, this doesn't mean companies with a hybrid or in-person set-up do not have this information. However, when an organisation is set up properly for remote working, you need the technological systems to support it, and these systems can then provide a level of insight there may have been missing previously.
7. Demonstrates ESG Credentials
Last but no means least, companies with remote workforces or very few offices often have a lower carbon footprint which can be important for attracting new talent. Environmental and social impact (now commonly abbreviated to ESG with governance as an important third element) can heavily influence a brand's reputation and whether people want to work for you.
Remote Work & the Loop of Talent Management
Another way of looking at how remote working benefits talent management is to look at the talent management cycle and see the impact of having a remote workforce at each stage.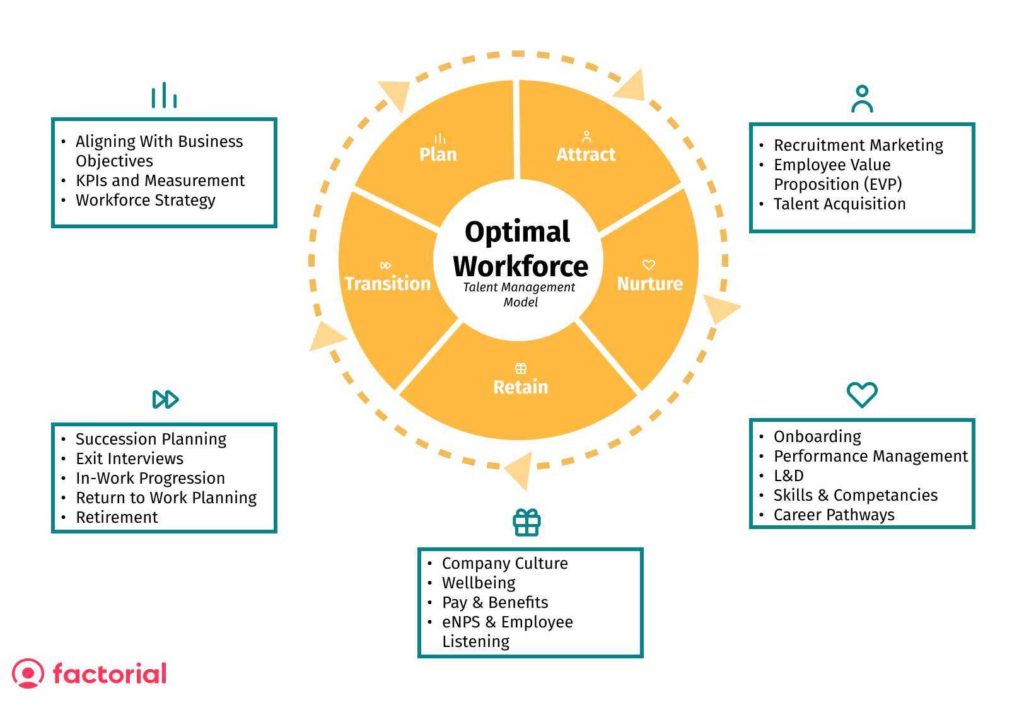 Attracting Talent
As we've seen, remote working allows you to extend the pool you are recruiting from not just geographically but also in terms of being more diverse and inclusive (including older employees and those with disabilities).
It's also worth considering that the social equality and reduced environmental impact of a remote workforce can make a company more attractive to potential employees, especially millennials and Gen Z, predicted to represent 75% of the workforce by 2025.
Employees working in different locations can also increase people's knowledge of your company, making them more likely to notice when you are recruiting and consider working for you.
Identifying Talent
Broadening the talent pool lets you focus on skills-based recruitment and get the right people for a role. Focusing on skills over location allows those recruiters to develop their knowledge of the wider pool for the specific skills required and identify more potential candidates for future roles than might have previously been available.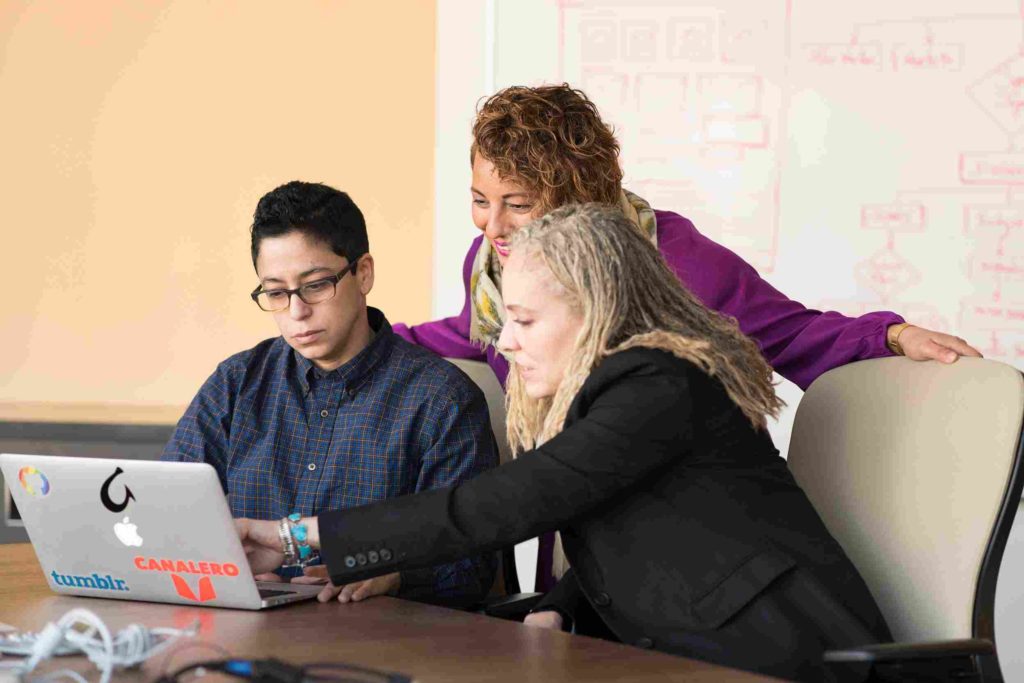 Developing Talent
An organisation's learning and development strategy is critical to effective talent management. As mentioned earlier, remote working can provide more training opportunities and facilitate mentoring programmes, helping people develop their skills. Research has also found that remote or hybrid companies naturally work with fewer hierarchies, which can open doors for internal talent to grow organically.
Engaging Talent
Employee engagement is driven by individuals feeling that the organisation values both their work and their existence as people with a personal life beyond the day job. Remote work options give employees more control over their lives, which can contribute to happier and healthier employees who do better work and are more engaged with their roles.
Retaining Talent
Effective talent management helps companies retain talent as individual employees feel supported and valued by the company. Having a remote working policy can be key to this support, not just because of the potential improvements in the work-life balance but also because of the development opportunities it can provide.
Remote work opportunities also help with succession planning. It becomes easier to move people around the organisation, developing their skills which can put them in a strong position for the next step within the organisation. Mentoring is also much easier to organise when connecting the right two people without worrying about geographical location.
Deploying Talent
Remote working allows companies to open roles to those with the best skills, regardless of where they are. Using the workforce most effectively opens up development opportunities and helps the company be more productive.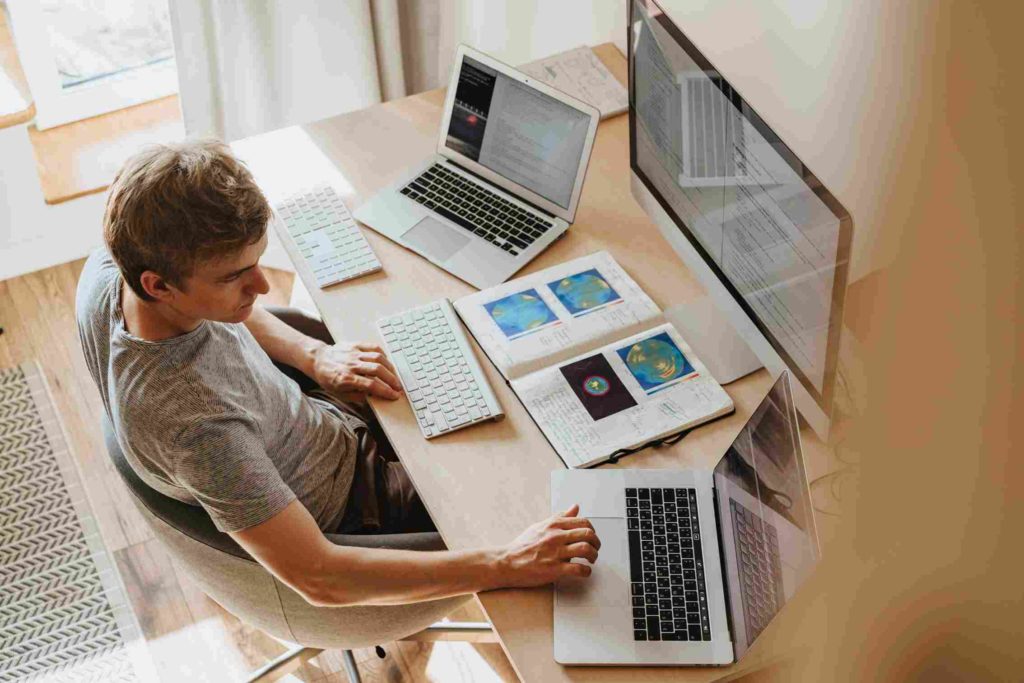 Does Remote Working Create any Issues for Talent Management?
Yes, remote working can cause issues for talent management if companies do not put strong leadership and internal communication at the heart of their business.
Everyone working in different places and at different times can lead to a change in the company culture which can impact talent management. If there is not enough focus on team building within the remote work arrangements, employees can feel isolated and disconnected and work relationships may break down. Naturally, this will impact job satisfaction, employee engagement, talent retention and the company's reputation as an excellent workplace.
Linked to this, employing remote workers means companies must focus on onboarding recruits well so they feel part of the company quickly despite not being in the same location. If this doesn't happen, new talent can soon become disillusioned, which impacts whether they will stay and can jeopardise the talent management strategy.
It's not just onboarding that needs careful attention. Those managing remote employees may need to update their management training. Providing good leadership to people you only see on a screen requires an even stronger emphasis on communication and support than leadership in companies where you can sit alongside your colleagues.
Having the right communication technology is also crucial. Everyone working remotely must be able to use the necessary systems, access handbooks and intranets that help them feel part of the company and work remotely to a high standard. Digital HR software, such as our remote work software, can help companies with no office space implement an effective talent management strategy by ensuring you have the necessary data on performance, reviews and working hours.