Allocating the right staff to the right shifts within the proper legal framework can be a challenging task. And that's before you get requests to swap shifts, start allocating everyone's requests for leave, or think about people falling sick on the day they are supposed to be working. Added to that is the crucial fact that people's shifts influence their pay, so there needs to be a connection between your shift scheduling software, how your employees track their time and your payroll.
Thankfully, the days of struggling with large Excel spreadsheets to allocate employees to their work are long gone. You can now use software that allows you to schedule shifts at the click of a button, anywhere and anytime, and then immediately communicate it to your employees. The number of options can be overwhelming, so we've done the research for you, starting with how to choose the right option for your business and finishing with the pros and cons of some of the most popular options out there.
Contents:
What is Rota Management Software? 
Rota management software, also known as shift management or shift scheduling software, is a digital platform designed to create schedules using information stored in the system for many employees simultaneously. 
What does Rota Management Software do? 
There are different types of rota management software available. Not every system will provide every element on this list, but rota software usually includes: 
An automated scheduling tool

Employee availability tracking

Integration with leave, time tracking and payroll systems

Notifications/communication in real-time with employees 

Reporting tools.
What are the Benefits of Using Rota Management Software? 
If you have ever experienced the feeling of dread when you realise that your spreadsheet wasn't up-to-date and there's a scheduling gap you've missed, you will know the pitfalls of a static scheduling system. When you rely on manual data entry to keep things up-to-date, many opportunities exist for things to go wrong. 
Let's look at how using rota management software can help avoid these issues and the benefits it can bring to companies:
Makes staff well-being a priority: A

llows you to create a well-planned, flexible rota that everyone can access, making the best use of employee's time and ensuring that rest breaks and time off are built into the system.

Optimise staffing levels:

Uses company data on forecasted busy periods, booked leave and individual contracts to ensure the schedules will work for the employees involved and the business requirements

Flexibility

: Can move shifts around at the click of a button and see immediately how the changes impact others

Cost control:

provides a clear overview of costs easily and quickly

Helps with communication:

Updates employees when shifts are allocated, taking away the need for someone to remember to do so

Enhances collaboration: Ma

kes it easier for everyone to see what other people are doing, leading to teams working more efficiently and creatively together

Improves productivity:

Getting employees' schedules right leads to better employee engagement, resulting in higher quality and more effective work, which ultimately benefits the bottom line of a company

Easier to meet legal obligations:

Automatically includes

compliance information

, ensuring companies are meeting Working Time Regulations on hours, rest breaks and overtime without having to double-check 

Confidentiality:

Keeps all the information required for shift planning in a safe, secure location

Monitors employees' breaks while they work and helps to manage fatigue:

Staff can use the software to clock in and clock out, allowing you to keep track of the hours they are working and whether they are getting the proper breaks 
How do I Choose the Best Rota Management Software?
If you are ready to invest in rota management software, it's time to sit down and think about what you need from the system, both in your current business situation and the future. It can be worthwhile to work out the cost of investing in a system that can handle more complex needs than you currently have to save yourself money as your business grows. The following questions are helpful prompts to consider when weighing up the options of rota software.
Does the software have an easy-to-use interface?
If you want your staff to be able to hit the ground running when you transition to the shift management software, the interface needs to be user-friendly. A good idea can be to ask someone new to the role or who works somewhere else to try it and see if they can quickly see how to access their shift details. Take advantage of a free trial if it is on offer because it lets you see if all the features live up to their promise.
Can the software integrate with other systems you have?
For rota management software to be effective in terms of what it delivers for your company, it should talk to your systems for personal details (to know about employee contract details), leave management and payroll. Most shift management software will integrate with other systems, but check precisely the situation with the programme you are considering before committing. 
Is the rota management software cloud-based?
You may be surprised we include this question in 2023, but it always pays to check that you and your employees can check shift plans from their mobile wherever they are. Think through different scenarios that you might have in terms of when and how people need to access the software and ask the provider to talk through how they would be able to respond, including if there is a technical issue.
Is the rota management software compliant with current legislation?
All organisations must manage their employees' shifts carefully to meet the government's current requirements regarding working hours. Yes, there is a legal obligation to do so. But it is also worth remembering that these standards ensure that your employees work in a way that looks after their health and well-being, so there is a moral responsibility, too.
Is the software completely secure?
The provider you choose will be responsible for holding a vast amount of confidential data about your business and your employees. It is vitally important that you are confident that their systems are robust and secure.
Is a free trial available?
Although getting a free trial set-up can be a bit of work, it's worth taking advantage of this if available. Many times, it's not until you start using something that you realise what you need it to be able to do. Also, a trial can show you how much work is required to integrate the systems, which is valuable knowledge before fully committing.
1: Factorial ⭐⭐⭐⭐⭐ 
Factorial prides itself on combining secure and robust technology with an HR consultant's hands-on approach to provide a human resources information system (HRIS) that is intuitive to the needs of smaller and medium-sized businesses. The team at Factorial put communication at the heart of its design, ensuring that employees and managers have greater transparency and control over their working lives.
Their shift management software is part of their all-in-all comprehensive HR system. You can also use the software to manage leave, contract details and payroll, ensuring those details feed into the scheduling programme. The interface is easy to use, and the software uses AI to ensure the scheduling tool allocates resources efficiently and cost-effectively.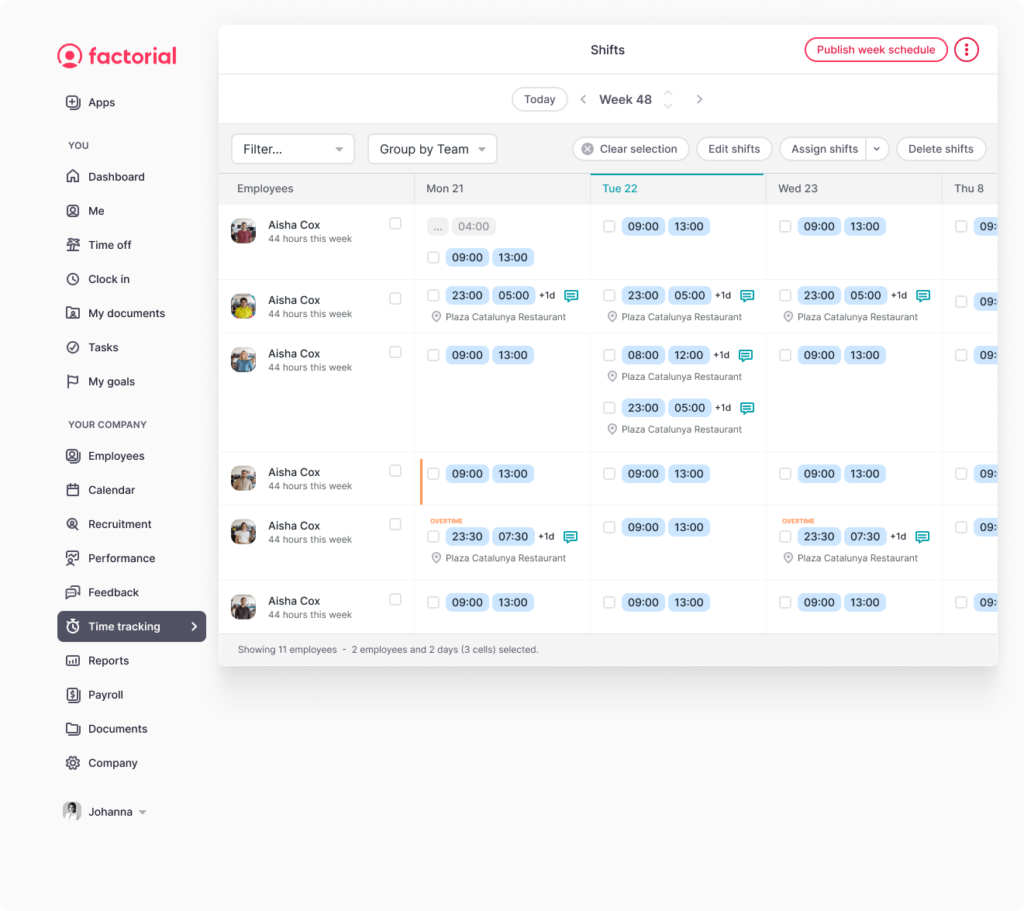 Pros
✅ Trial: Free demo and 14-day trial
✅ Good value for money: Transparent pricing model
✅ Quick: Creates rotas instantly using templates or frequently used schedules
✅ Flexible: Easy to use, including an intuitive interface which allows you to tweak schedules with one click
✅ All-in-one: Integrates seamlessly with leave management tool so that absences and holidays are taken into account
✅ Accurate: Highlights schedule conflicts immediately
✅ User-friendly: Easily accessible for employees so they can access their schedules at any time and get notified instantly of changes 
Cons
❌ Difficult to edit leave requests once approved
❌ Limited integration with third-party software
Don't Just Take Our Word For It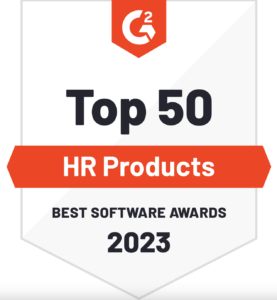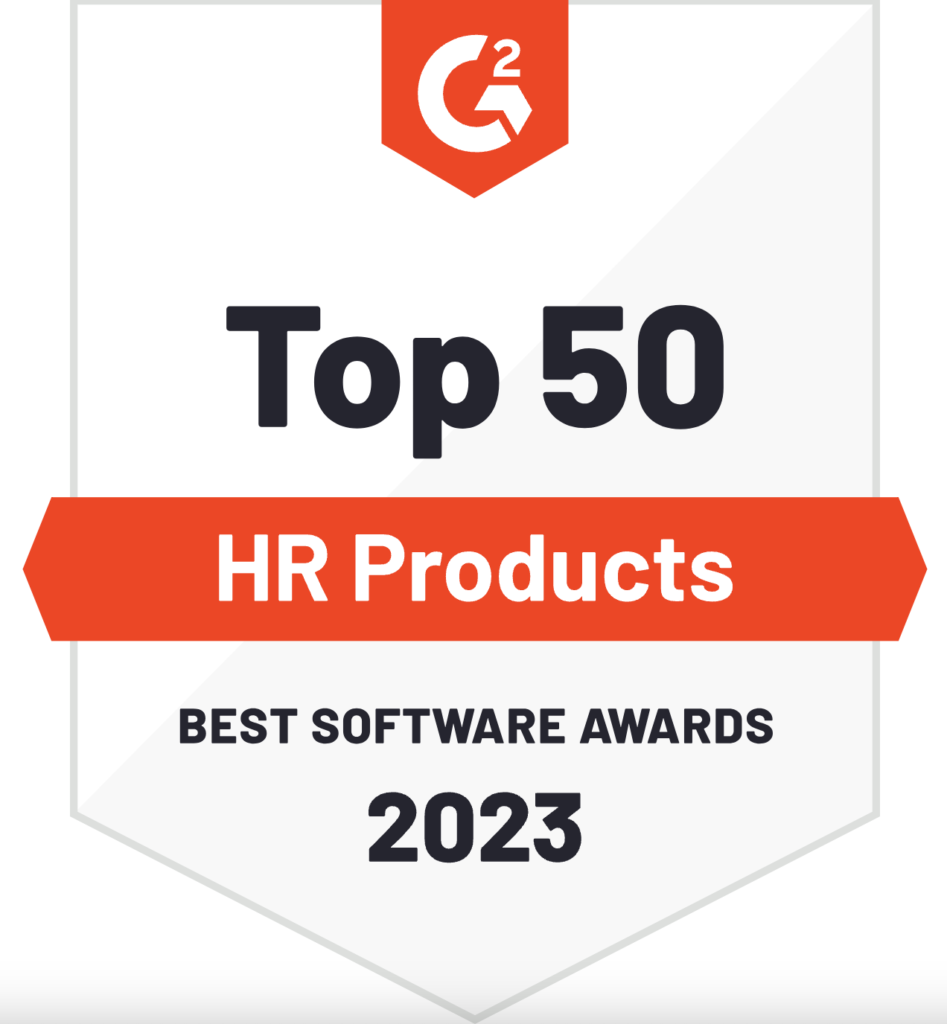 Pricing 
Price depends on which customisable bundle you choose. Find all options here.
2: BreatheHR ⭐⭐⭐⭐
Since 2012, BreatheHR has been providing HR software to companies with up to 200 employees with the mission of reducing the number of time-consuming administrative processes involved in people management. Like Factorial, BreatheHR's automated HR management system allows you to centralise data and manage performance and payroll. 
You can purchase additional modules at an extra cost, including one for expenses, learning, recruitment and scheduling. Their shift management module is called 'Rota, Time & Attendance' and creates rotas for employees, with personalised dashboards to confirm availability and accept shifts.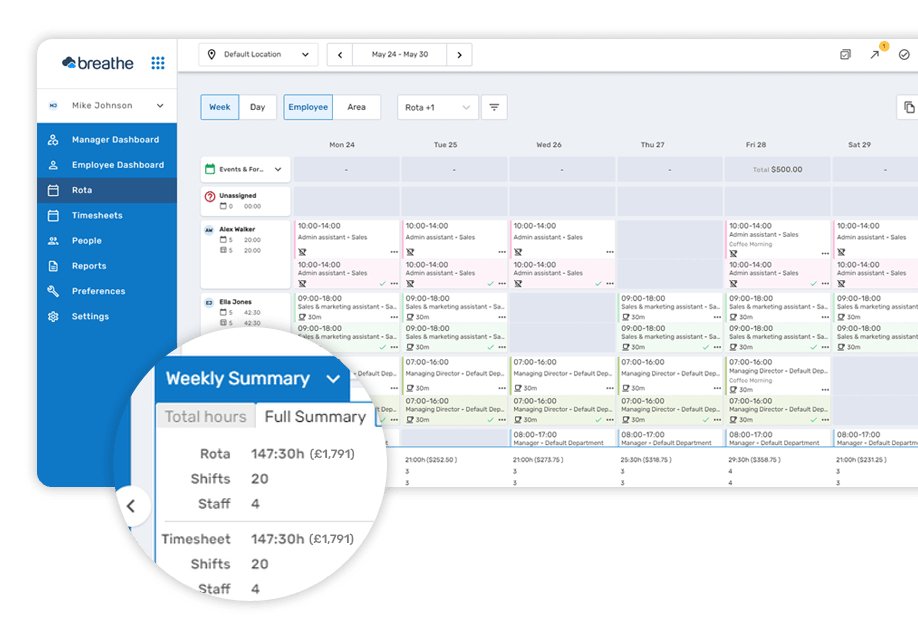 Pros
✅ 14-day free trial
✅ Users find their dashboard easy to navigate
✅ Competitively priced
Cons
❌ Rota, time & attendance is an add-on module to the core HR system
❌ No phone number for customer service
❌ Can take some time for managers to get used to the system
❌ Some users dislike the number of notifications 
Pricing 
The HR software plan that includes the 'Rota, Time & Attendance' module starts from £19 per month for 1 to 10 users. 
3: BambooHR ⭐⭐⭐⭐
The BambooHR platform helps medium-sized businesses handle everything through the life cycle of an employee. It includes recruiting, onboarding, time tracking, leave management, payroll, and performance management. The company's mission is to set people free to do great work. They pride themselves on providing excellent customer support and always listening to client feedback.
BambooHR has a number of integrations available, one of which is for shift scheduling and is called 'MakeShift'. It includes an app and web-based platform or SMS support for users without a smartphone. Employees can use the app to clock their hours, and you can sync work schedules with private calendars easily and quickly. MakeShift uses information about employee availability and their skills, as well as project budgets and other company requirements, so the schedule works for all.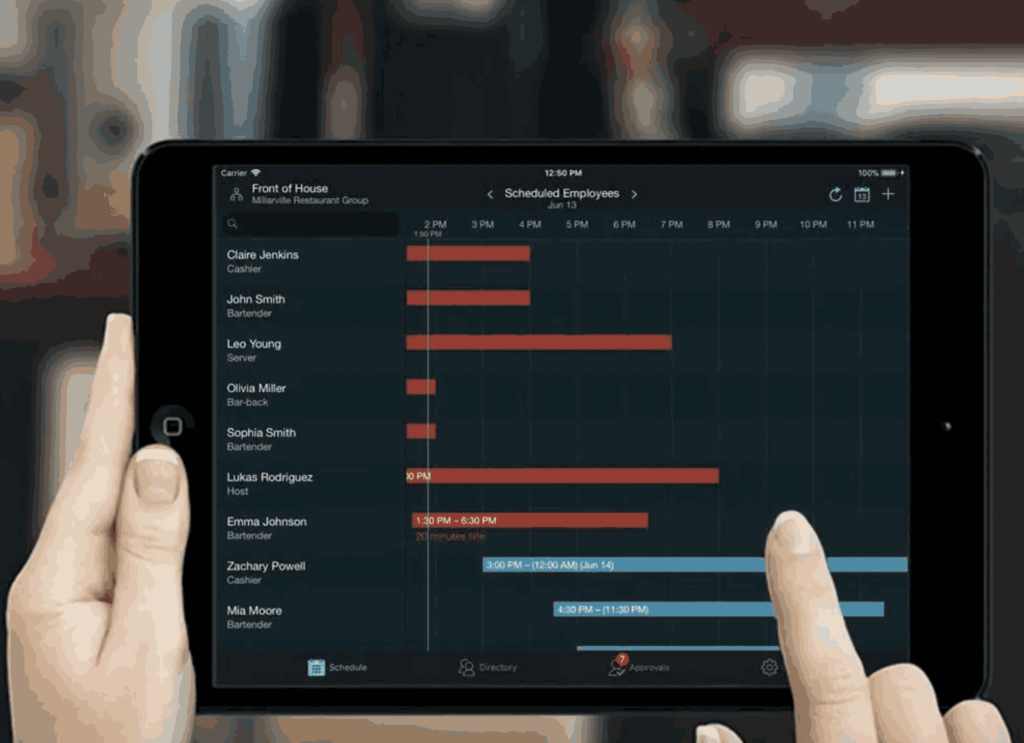 Pros
✅ Mobile app available
✅ Integrates easily with private calendars
✅ Available shift callout feature quickly alerts employees to new shifts 
Cons
❌ Shift capabilities only available through integration (not an internal part of BambooHR)
❌ Limited options to customise
❌ Customer support can be inconsistent
❌ Can be considered expensive compared to other platforms
❌Some users find the reporting function clunky and hard to use
Pricing 
Contact the BambooHR sales team to arrange a demo and get a quote.
4: BrightHR ⭐⭐⭐
UK-based BrightHR provides easy-to-use software for people management, including recruitment, rota-planning, absence management and payroll reports. They support up to 90,000 businesses of varying sizes and can also help with health and safety, employment law, employee wellbeing and training.
They recently updated their rota planning tool to include 'open shifts' to notify employees about new shifts. It also helps you create rotas in a simple table layout, which can then be uploaded when you are ready, and staff notified, with filters to make it easier to find specific people and the capacity to duplicate and print the final version if needed.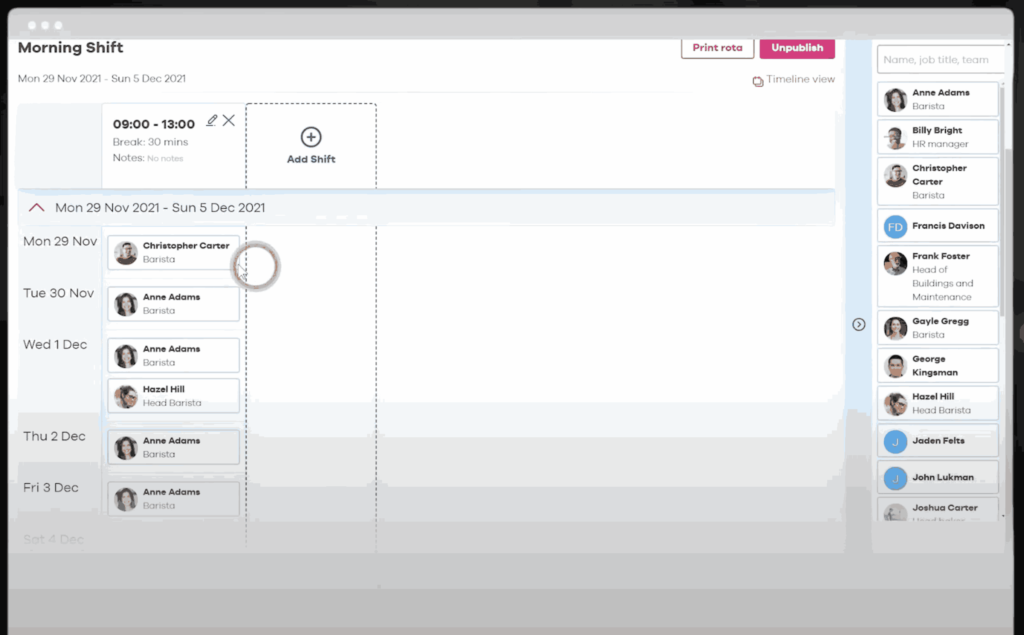 Pros
✅ Free demo
✅ Available on mobile as various apps
✅ Sends an automatic notification to staff when new rotas are published
✅ Employees can clock in using the app on their phone
Cons
❌ The mobile app is not as user-friendly as the website
❌ The many apps involved can take up space, especially for staff using mobile devices
❌ Users find it can take a while to get up to speed with the whole system
❌ Integrating with applications outside BrightHR can be difficult
Pricing
Contact the BrightHR sales team to arrange a demo and get a personalised quote.
5: RotaCloud ⭐⭐⭐
Based in York, RotaCloud is a small independent business with 50 employees. It aims to help organisations of all shapes and sizes create rotas quickly and easily, saving time and ensuring employees have the information they need to do their jobs well.
RotaCloud offers a shift management tool that doesn't come as part of a wider HRIS, but you can still manage holidays, track attendance and view reports within the software. The user-friendly interface makes creating rotas and communicating them immediately to staff easy and quick.
Pros
✅ 30-day feel trial
✅ Easy to amend rotas live so all staff can see
✅ Reporting system is easy to use
✅ Users report excellent customer service
Cons
❌ Pricing structure can be confusing
❌ Users note that you cannot control who picks up available shifts
❌ Can be hard to reinstate returning employees
❌ Lacks flexibility for workforces with different requirements
Pricing
Plans start from £5.00 per employee per year, dependent on staff numbers and features included.
6: Monday ⭐⭐⭐⭐
Monday has been a prominent player in the project management and team collaboration software arena. Founded to streamline workflows and enhance team productivity, Monday's platform caters to businesses of various sizes, including smaller teams and larger enterprises.
It offers a versatile platform that allows users to create customised workflows, manage tasks, and collaborate seamlessly. Its user-friendly interface and visual project boards simplify project tracking and team communication. The software supports integrations with popular tools, promoting a connected and efficient work environment.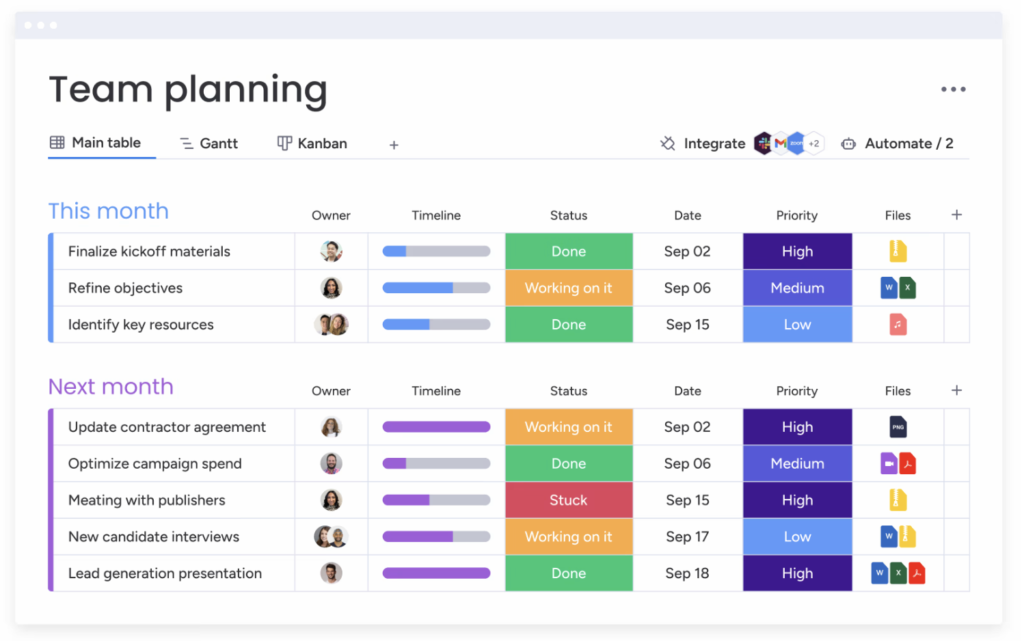 Pros
✅ Dynamic project management with customisable workflows
✅ Intuitive interface with visual project boards
✅ Extensive integration options for third-party applications
✅ Adaptable to the unique needs of different teams
Cons
❌ Some advanced features require additional payment
❌ Learning curve when introduced to the platform
❌ Reporting capabilities in basic plans may be limited
Pricing
Starting from $8 per user per month, Monday offers various plans to accommodate different business needs.
7: Combo ⭐⭐⭐
Simplifying business processes, Combo emerges as a comprehensive solution for small and medium-sized enterprises. It seamlessly integrates project management, CRM, and invoicing into a single platform, offering flexibility without unnecessary hassles.
Combo's user-friendly interface allows businesses to manage projects, communicate with clients and employees, and handle financial aspects efficiently. The modular design allows users to choose specific tools, providing a tailored business management experience and avoiding unnecessary complexities.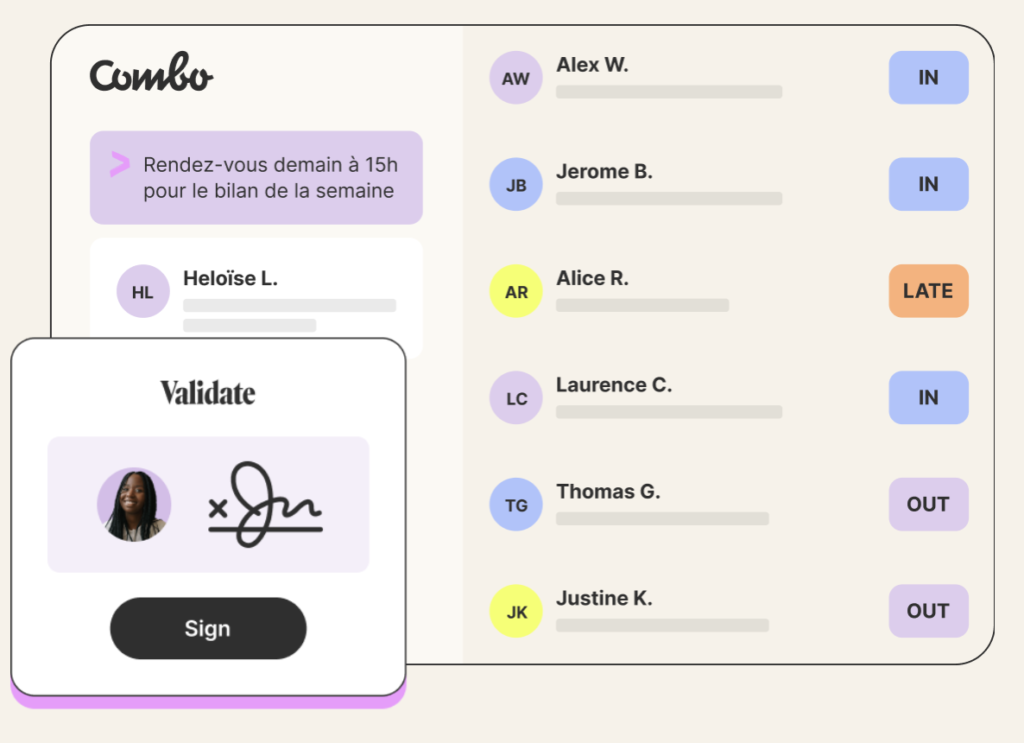 Pros
✅ All-in-one solution for business management
✅ Customisable modules for specific needs
✅ Streamlined user interface for efficient operations
Cons
❌ Limited third-party integrations
❌ Additional modules may be required for advanced features
❌ Pricing could be higher for businesses needing multiple modules
Pricing
Starting from $5 per user per month, Combo's pricing varies based on your specific HR needs.
8: Sesame ⭐⭐⭐
Sesame has been a noteworthy player in the HR and employee management software sector from day one. Focused on providing user-friendly solutions, Sesame's platform is also tailored for small and medium-sized businesses seeking efficient HR processes.
Sesame's features include talent management, attendance tracking, and performance evaluation. The platform aims to simplify HR tasks, allowing businesses to focus on their core operations.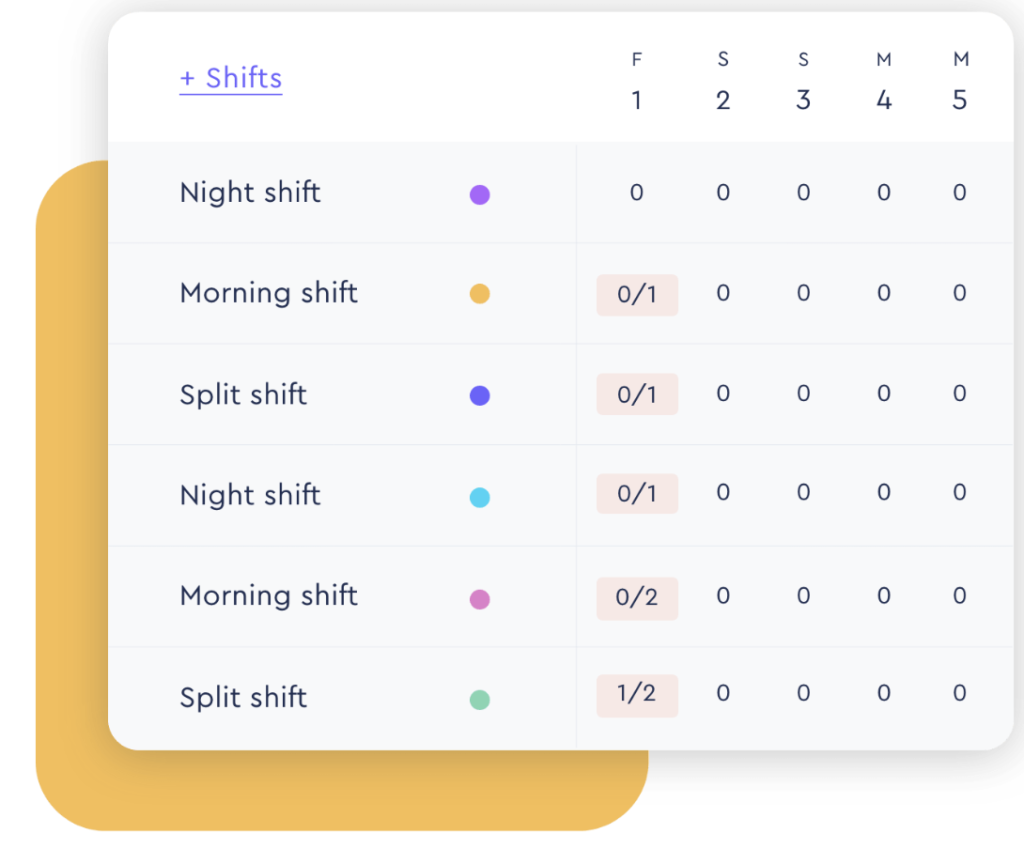 Pros
✅ Streamlined HR processes for small to medium-sized businesses
✅ User-friendly interface for efficient operations
✅ Affordable pricing for businesses with modest needs
Cons
❌ Limited scalability for larger enterprises
❌ Some advanced features may be lacking
❌ Integration options are relatively limited
Pricing
Sesame offers a variety of pricing plans, starting from around $5 per user per month.
9: Deputy ⭐⭐⭐⭐
Deputy has been a leading player in workforce management solutions, catering to businesses of various sizes. Established with the goal of simplifying employee scheduling and time tracking, Deputy's platform addresses the challenges associated with managing staff schedules.
Deputy's features include shift scheduling, time and attendance tracking, and payroll integration. The platform's mobile app facilitates on-the-go management for both employers and employees.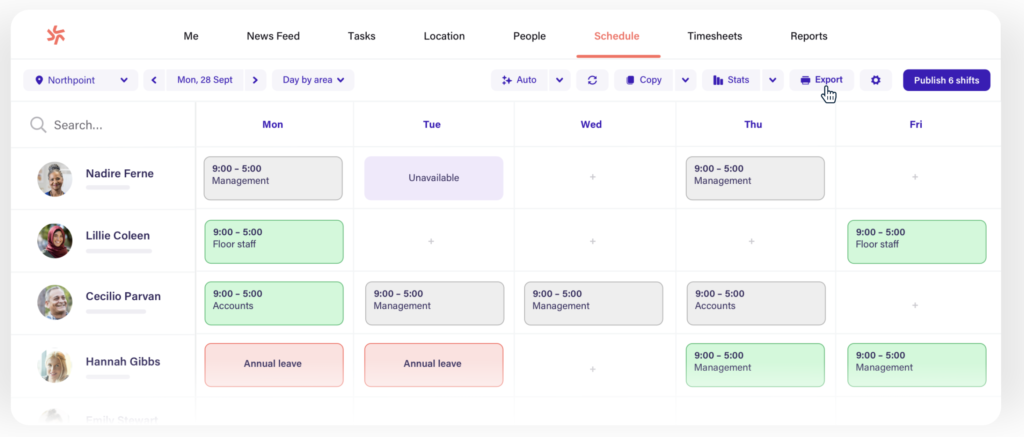 Pros
✅ Efficient employee scheduling with a mobile-friendly interface
✅ Integrations with popular payroll systems
✅ Streamlined time and attendance tracking
Cons
❌ Advanced features may require higher-tier plans
❌ Learning curve for complex scheduling scenarios
❌ Limited customisation options for reports
Pricing
Deputy offers pricing plans starting from $3.50 per user per month, with additional costs for advanced features.
10. Skello ⭐⭐⭐⭐
Skello has carved a niche in the employee scheduling and workforce management domain, offering solutions for many businesses but having tailored services for the hospitality and retail sectors. With that said, since its inception, Skello has focused on simplifying the scheduling process for businesses with dynamic staffing needs.
Skello's platform allows businesses to create and manage employee schedules efficiently, tracking things like employee availability and other important tidbits.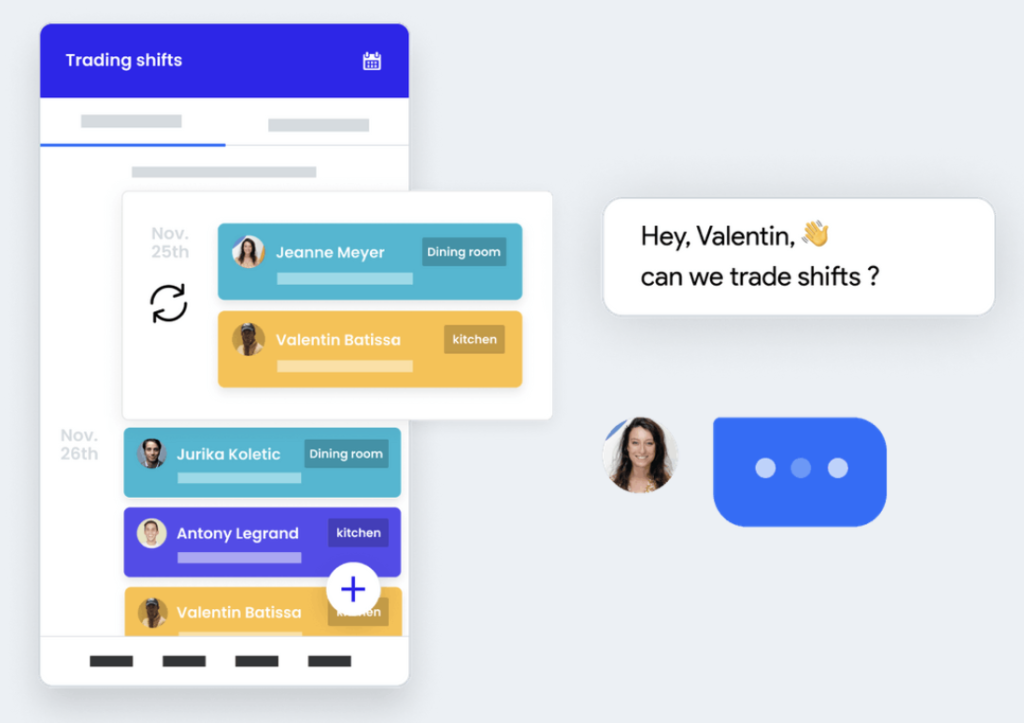 Pros
✅ Specialised employee scheduling for hospitality and retail
✅ User-friendly interface with dynamic scheduling capabilities
✅ Easy labour laws management features
Cons
❌ Industry-specific focus may limit versatility
❌ Advanced features may require additional payment
❌ Limited integrations with other business tools
Pricing
Skello's pricing depends on the size and needs of the business, with customised quotes available upon request.
11. Findmyshift ⭐⭐⭐⭐
Findmyshift has been a reliable choice for businesses seeking robust employee scheduling solutions. Established with the goal of simplifying the scheduling process, this tool caters to a diverse range of industries, including healthcare, retail, and hospitality.
Findmyshift's platform allows businesses to create, share, and manage employee schedules effortlessly. The software includes features such as time tracking, leave management and communication tools.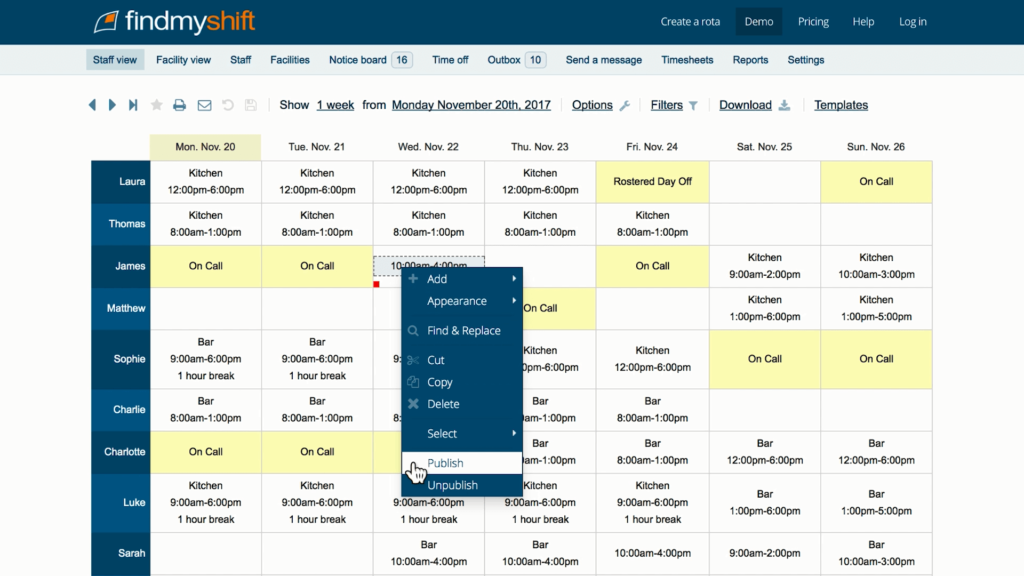 Pros
✅ Flexible employee scheduling for various industries
✅ User-friendly interface for efficient scheduling and leave management
✅ Multi-industry applicability
Cons
❌ Advanced features may be limited in basic plans
❌ Learning curve for certain functions
❌ Limited integration options for users
Pricing
Findmyshift offers a free plan for up to 5 members and $25 per month for up to 20 users, with additional costs for more extensive features and larger teams.