The state of alarm due to COVID-19 started with the closing and confinement of office spaces, through which remote working became heavily imposed. Now companies have initiated workers to return to their offices, and it is the Human Resources department's job to successfully manage employees' shifts through shift management measures. 
This return to work is more complex than it seems because there are many aspects to keep in mind:
All workers cannot return to the office at the same time: who will return to the office and who will continue to work from home?
Companies will have employees working remotely and also working in the office. How will shifts be managed?
If you are responsible for the Human Resources within your company, the two points above are relevant to you. Keep reading to learn more.
Shift management: The incorporation of workers back into the office after the coronavirus crisis
It is clear that few companies will reinstate all their workers back into the office at the same time. In general, the plan to reincorporate employees back into the office after the coronavirus crisis will consist of the following:
Incorporation in stages, the first to return will be those who require to work in their office and those that pose the lowest health risk.
Rotation schemes to alternate small groups of workers on specific days in order to avoid crowds.
Respect the preferences of each employee with regards to returning to the office or continuing to work from home.
Greater flexibility for those that work from home regarding the time slots in which they carry out their work and on their time off they are guaranteed digital disconnection.
In addition to all these initiatives regarding the reinstatement of workers, they are implementing strict health related protocols for when people need to access buildings, enabling people to socially distance between job posts and in common areas.

How to carry out shift management with some employees in the offices and others working from home
When some of your workers are already in the office and others are still working from home, it feels like everything gets really complicated, right? Let's see what factors companies should take into account to successfully manage this situation.
1. Video calls and physical meetings
The workers who have not yet returned to their office may distance themselves and lose their sense of belonging to the company.
So that this does not happen, it is necessary to create opportunities for people to meet both virtually and physically, to share points of view, news, concerns, etc.
2. Use of communication channels
It is essential that an internal communication channel exists for the entire company and that those in the office and those working from home use it.
A channel through which individual communications are sent to an employee, to other departments, and through the entire company.
As we have seen, the new realities that companies face require them to digitalise, and due to this companies need to incorporate shift management software.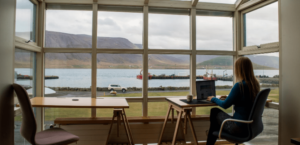 The benefits of using shift management software
The benefits of a company incorporating a shift management program can be summed up through improvements in accessibility, transparency, anomaly detection, time saving, and manual error elimination.
1. Accessibility from any location with an Internet connection
All workers will be able to access shift management software from any location that has an Internet connection, which is why it is so important to have these programs when they have people working in different places.
Furthermore, the software is compatible with computers, mobiles, and tablets.
2. Greater perception of transparency
The use of shift management software contributes to increased transparency, both from the employee to the company and from the company to the employee.
This is because the hours they are working are made very clear so that the remuneration is correct.
3. Detection of anomalies
If the shift management software detects an anomaly, it automatically sends alerts and reminders. For example, it will send a reminder if someone's hours have not been recorded.
It also detects if unjustified absences are occurring. Therefore, if you wanted to fire a worker for this reason you can see the days they were absent from the reports generated by the software.
4. Time saving and manual error elimination
Without shift management software, only paper or Excel sheets can be used to carry out HR tasks. The problem with paper is it requires a lot of storage, both in space and time, it also allows for manual erros. These issues also arise with the use of Excel sheets.
Although Excel sheets are a better option than the use of paper, they present the following problems:
If they store a lot of data they take a lot of time to load and managing the data causes difficulties
They cannot be automated.
They do not integrate with other platforms.
However, these problems do not exist with shift management software.
Factorial's Human Resource software has developed the functionality of shift management
Factorial's software has developed a new functionality, known as shift management. This enables you to manage all kinds of documents, HR reports, absences and holidays, staff recruitment, and payroll issues.
Regarding shift management, Factorial software provides the following options:
It allows employees to check in when they start working. They can also use a QR code to sign in from their mobile phones.
It detects where employees are signing in from.
It issues monthly reports on the hours worked by all the employees.
A shift management program is essential when managing employees working from different places
All companies are aware that their future will be very different from what they have experienced up until now, due to the spread of COVID-19. In some cases companies know what the future holds because it has already been experienced, for example through remote working and videoconference meetings.
Due to this the Human Resources departments and the companies have the opportunity to realise that good shift management software is essential to manage the employees working both in the offices and from home.
Do you want to digitize the Human Resources sector of your company and improve the management of your workers? Factorial gives you the opportunity to test their software for free.