Handling expenses can be time-consuming. Keeping track of what your teams are spending, who needs to give you receipts and who needs to be reimbursed takes up valuable time that your finance team could be spending on more important tasks. That's where business credit cards come in.
Business credit cards, or corporate cards, can take the hassle out of company spending, empowering your employees to take control of their budgets. Prepaid business credit cards are ideal for giving your teams a set amount for allowable expenses, removing the need to reimburse them.
We've reviewed the pick of the best prepaid business credit cards to help you decide which is the best option for your business.
What is a Business Credit Card?
A business credit card works just like a personal credit card, except it's intended for use by a business. Traditional business credit cards give the business credit up to a certain amount that they can use to make purchases, and they must make a minimum payment towards their bill at the end of each month. If the business doesn't pay the bill in full, it will be charged interest on the remaining balance. 
However, a new corporate credit card alternative has entered the market in the last few years. These alternatives are prepaid business credit cards, so the company loads money on the cards for employees to spend on anything business-related. These company cards can be given to any team member who needs to make purchases for the organisation and help companies control their spending. Since many of these cards come with an app for employees and admins, they can save time by allowing employees to upload their receipts as they make purchases.
Benefits of Having a Corporate Credit Card
Save admin time:

Corporate credit cards reduce the time finance teams spend on chasing receipts, tracking department spending and reimbursing employees who have spent on their personal credit cards.

Control spending:

Load a certain amount of money onto an employee's card so they know how much they have to spend on department materials or on meals when they're travelling for business.

Improve security:

Give every employee their own credit card, stopping the need for sharing PINs and card numbers across multiple teams and individuals.

Increase employee satisfaction:

Team members who have to wait to be reimbursed for business expenses can become frustrated and resentful. Using a corporate credit card means employees can make authorised purchases with the company money, ensuring they're never left out of pocket.

Reduce expense fraud:

While it's rare, expense fraud can become a problem in some businesses. Corporate cards reduce the likelihood of employees providing fake receipts for out-of-pocket expenses as everything they've spent will be recorded in their card transactions.

 
1. Factorial ⭐⭐⭐⭐⭐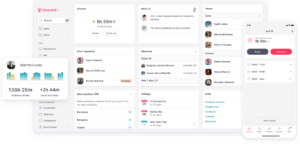 Perfect for businesses that want to keep all HR admin in one place.
Overview
Factorial's HR software helps organisations manage time off requests, employee performance, payroll and more. One of the best things about Factorial is that you can also manage your expenses with their corporate credit cards. 
You can create different virtual cards for each department and set spending limits for each card to control spending, and admins will get app notifications about each payment to help them track spending instantly. Every purchase is tracked in Factorial Expenses so you've got all the information you need in one place, and get financial insights with detailed reports. It's easy to freeze cards when staff are on holiday or cancel them when an employee leaves, so you've got complete visibility and control over your company's finances.
Pros
✅ Easy to add funds to cards
✅ Manage all HR functions in one place
✅ One monthly price for HR and finance
✅ Review expenses on the app
✅ Physical card option 
What Users Say
Users love how simple and easy-to-use Factorial's interface is. It's easy to add funds to each card once you have an IBAN and the integration with the HR Analytics tool works well to give them deeper insights into their company spending. Customers like that they can manage all HR functions and finances in one place, reducing the need for extra subscriptions and further training on other software.  
Factorial Business Credit Card Features
Set limits

Create different virtual cards for different functions or departments, and set a budget for each to control spending.
Top security

Each business credit card has its own unique number and they're never stored on Factorial's servers, so you can make purchases with peace of mind that your company money is safe.
Automate expenses

Get notified about each expense as it comes in, and approve them on the mobile app. Users can upload their own receipts, so there are no more stacks of paper.
Freeze and cancel immediately

If your team member is on holiday, freeze their card while they're away, and when someone leaves the company cancel their card with a click on the app.
Integrates with Apple

Factorial's virtual cards integrate with Apple Wallet so employees can make purchases in store with any Apple device.
Deep reporting

Integrate with the HR Analytics tool to gain insights into spending, giving you more data to construct your budgets and control costs more effectively.
Pricing 
The price depends on the customisable bundle you choose. You can find all pricing plans here.
2. Tide ⭐⭐⭐⭐
A good option for small businesses, but users often report service outages.
Overview
Tide is another business expenses credit card that allows you to add multiple users per account. You can set spending limits for each employee's card and they can scan and upload all their receipts in one go. Reports are available by category and person, so you can see who is spending on what. However, you must open a Tide bank account to load cards – you can't load from another bank account. 
Pros
✅ Integrates with accountancy software
✅ Free account available
✅ Minimises finance admin as most processes are automated
Cons
❌ You can't load with another bank account – it must be a Tide account
❌ Customer support isn't available 24/7
❌ Users report frequent service outages
What Users Say
Customers like Tide for its rewards and cashback features that are available for some users, based on what plan they are on. However, they get frustrated by the fact that only higher-paying customers can contact support by phone. Tide also uses a lot of third-party agents for their banking and app, and lots of reviews mentioned regular service outages and downtime due to problems with these third parties.
Pricing
£5+VAT per card for up to 50 cards. Transaction fees apply on the Tide Business Account which you must open to load the cards.
3. Soldo ⭐⭐⭐⭐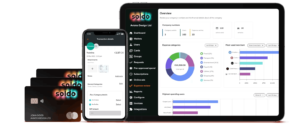 A solid choice for businesses that don't want to have to think about top-ups, but manual top-ups are more tricky.
Overview
Soldo is a prepaid Mastercard business credit card option that allows you to give employees access to company money. Each individual employee can have their own card, or you can give multi-user cards that are tied to specific projects. For businesses that need to spend in different countries, you can choose to have cards in EUR, GBP and USD to keep things simple. A great thing about Soldo is that you can set up automatic card top-ups so your team members are never left having to pay out of their own pocket. However, users complain that you can't make manual top-ups from the app, meaning it's difficult for finance admins to help employees if they're away from their desks.
Pros
✅ Manage all cards in one place
✅ Integrates with Apple and Google Pay
✅ Good support
Cons
❌ Can't load cards from the app
❌ Currency conversions are not the best on the market
❌ Reporting is limited
What Users Say
Customers like that Soldo's support team is super efficient and helpful. They also like that the automatic top-ups mean that they don't have to worry about having to reimburse employees for their own spending if they run out of money on their cards, but they get frustrated that they can't make manual top-ups on the app. Most customers agree that the app is more employee-focused rather than admin-focused, and hope that this will be improved over time. Some users also complained that the web app and mobile app times out quickly – sometimes in as little as 30 seconds of inactivity.
Pricing
From £6 per user per month for a minimum of 3 users, plus £1 per recurring payment per month above the free limit. Also a 1% ATM fee.
4. Pleo ⭐⭐⭐⭐

A great option for automating receipt uploads, but the system often lags.
Overview
Pleo is another popular business credit card option. Just like the other options, you can give your employees their own corporate card to use for their allowable expenses. Control spending per item and per person, and gain insight with real-time reports with categories and your own tags. When your team members make purchases online, Pleo can fetch the receipts from emails – but this doesn't always work. Finance teams can request information for expenses on the app, and it integrates with most accounting software to reduce admin time. 
Pros
✅ Automatically fetches receipts from emails
✅ Integrates with most accounting software
✅ Set spending limits per item and per person
Cons
❌ App sometimes lags
❌ More expensive than bank-issued cards
❌ Cards aren't always accepted everywhere
What Users Say
Customers like that Pleo takes the hassle out of expense management – especially when receipts automatically upload from emails. However, some customers said that the system sometimes lags and the automatic receipt fetching doesn't always work. Users also complained that Pleo cards aren't always accepted, leaving employees to pay out of pocket anyway. And if you have lots of users, Pleo can get pretty expensive – especially if you often need to use ATMs, as they charge £4 each time.
Need to Know
There's a free plan available for up to 3 users, but most businesses will want a paid account that starts at £39 per month for up to 3 users, with additional users from £11.50 per user per month. There's also a £4 ATM fee. The cards offer cashback for eligible customers on paid plans.
5. Spendesk ⭐⭐⭐⭐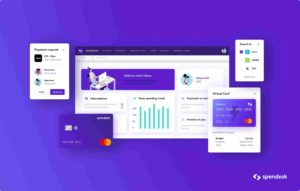 Ideal for larger teams, but virtual cards can be glitchy and the physical cards aren't contactless.
Overview
Spendesk offers unlimited virtual and physical business credit cards, and they even offer single-use virtual cards for control and security. Finance teams can track spending as it happens, and they can assign adjustable spending limits and built-in spending policies to ensure that each individual is only spending the allowable amount on the right things. Plus, team members can request top-ups for managers to approve, meaning employees are never left out of pocket.
Pros
✅ User-friendly interface for uploading receipts and invoices
✅ Team members can request top-ups from the mobile app for managers to approve
✅ Set budgets and rules for spending and where and when cards can be used
Cons
❌ Virtual cards can be glitchy
❌ Expensive for small businesses
❌ Physical cards are not contactless
What Users Say
Customers love Spendesk's user interface and how much it reduces admin work. It integrates well with Xero and other accounting software, making it easy for finance admins to manage budgets. However, users also complain that the virtual cards can be glitchy – we saw one example where a customer had a payment pre-approved only for it to be returned as failed a few minutes later. Plus, managers said that the physical cards take a long time to be dispatched and that it's annoying that they aren't contactless, although some agreed that it's better for security this way.
Pricing
Spendesk's free option includes 4 physical cards and unlimited single-use virtual cards, while their paid plans offer unlimited physical and virtual cards. Each plan includes 100 transactions per month. After that, it's €0.75 per extra transaction or €50 for an extra 100 transactions. You have to contact sales to get pricing for their paid plans.
6. Equals Money ⭐⭐⭐⭐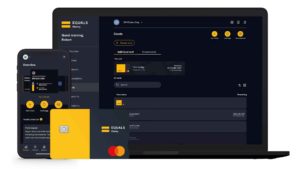 A top option for foreign spending, but UX can be clunky and reporting is minimal.
Overview
Equals Money offers prepaid, debit and credit card options, but we'll focus on the prepaid corporate credit card here. Like the other companies we've reviewed, finance admins can approve fund requests and track each employee's spending in the app. You can customise each card's permissions based on the level of the employee; for example, you may only want managers to be able to set up subscriptions for services or software but you still want executives to be able to use their cards for meal and travel expenses. Plus, you can set up virtual cards for subscriptions, making them easy to track and cancel when necessary. Equals Money has competitive foreign exchange rates, which is ideal if you have to make a lot of purchases in other currencies. 
Pros
✅ Easy to load funds onto cards
✅ Competitive foreign exchange rates
✅ Great customer service
Cons
❌ App often times out
❌ Website UX can be clunky
❌ Reporting could be improved
What Users Say
Customers like that Equals Money gives their finance teams control over staff spending, and say that their customer services team is great. However, they do mention that there are problems with the app and website. The app times out a lot, meaning that you have to sign in multiple times a day, and the filtering and dropdown boxes don't work properly on the web app a lot of the time. Plus, users say that reporting could be better and that it's frustrating that you can't create a statement from a customised date.  
Pricing
Charities and non-profits can use Equals Money for free but with a £10 fee per physical card. SMEs pay £50 per year with up to 100 physical cards at £10 each. Virtual cards are always free. You can also use the cards for free in 20 major countries, but in every location, there's a £1 ATM fee. For heavier users, there's custom pricing available. 
Final Thoughts
Now you've heard about the top business credit cards in the UK, you should find it easier to make a decision. Consider whether you need a business credit card provider like Factorial, which allows you to tie up all your HR functions in one place, or whether a standalone option might be better for you. It's worth remembering that some business credit cards can get pricey, and it might be more cost-effective to use a complete HR software that solves all your HR, payroll and finance needs rather than paying extra for another app.