Career progression planning is essentially a road map for the professional development of your employees. With an effective plan in place, you can help your employees work towards their professional goals within your company.
A report from Gallup found that as many as 59% of millennials are looking for opportunities to learn and grow when applying for a job. In this competitive job market, companies must therefore introduce these types of plans in order to attract talent.
In this article, we will discuss what an equitable career progression plan looks like for HR, the benefits and the best way to structure it.
What is Career Progression?
Career progression is essentially how an employee moves forward in an organisation. It can also be referred to as their "workplace journey". This career advancement may consist of a salary increase or a change in title and responsibilities, (or sometimes all three!) In any case, career progression indicates opportunities for employees and encourages development and growth.
Employees may move through a series of positions throughout their career, and both employer and employee need to have a mutual understanding of the direction and plan.  For this reason, career progression plans are used to map out the course of an employee's career.
Through evaluation and collaboration, HR professionals can work to establish a plan that fulfils the expectations of both parties.

Why is Career Progression important?
Some workers know the exact answer to the interview question "where do you see yourself in 5 years?". But for some workers, the future isn't so clear. In fact, for 60% of UK professionals, career development is an important part of a job offer, and that includes more than just promotions and pay raises.
Employees in 2022 want the following options:
The opportunity to gain more industry knowledge
Developing and expanding their skillset
Feeling satisfied and fulfilled with their career
Benefits of Career Development plans?
Greater ROI from Employees: Through implementing career development strategies within your organisation, you gain a greater ROI from your employees.
Higher Employee Engagement: Employees are more engaged and focused when they see a clear path of career development and progression ahead of them.
Lower Turnover Rate: By focusing on your employee's professional growth, you will benefit from a lower turnover rate.
Reduced Hiring Costs: Career development nurtures internal talent, which can save costs on external hiring.
Related video: The Ultimate Guide to Performance Management: In this video, we share essential tips on how to perfect your performance management strategy.
Ensuring Diversity in Career Progression
Look to the makeup of those who hold higher positions in your company.  Are they representative of a diverse workforce? Are there obstacles that could prevent team members from advancing their career paths?
Statistics indicate that black Americans are not being promoted nor paid according to their proportional educational and experiential skillsets.  Everyone needs to work to eliminate structural barriers that prevent people of colour, women, and LGBTQ employees from equitable career progression. So, how can HR do its part to encourage diversity and inclusion in the workplace?
Uphold DEI in the company's mission- Keep track of the outcomes of the company's DEI initiatives.  In what ways has the company made an effort to encourage career development for underrepresented employees? Show where the company struggles and the intended direction of growth.
Include Employee Input- With all of the company's diversity initiatives, it is essential to include employees throughout the process.  Many team members who experience unconscious bias might feel as though the company's DEI efforts are ineffective. Encourage employees to participate in finding better ways to tackle obstacles and achieve their career goals.
Measure Employee Progress- Use reports and analytics to measure promotion and professional development. Are many underrepresented employees staying in the same position? Do the numbers reflect problems and bias in the workplace?  Use the statistics to target and resolve problematic situations and policies.
Promote Inclusive Policies- Allow employees to breastfeed, eliminate gender-specific dress codes, and allow time off for religious practices.  Exclusive policies can damage employees' psychological safety and ultimately prevent them from career advancement.  Work towards making team members feel protected and supported by the company's principles.
Everyone should be given the opportunity for advancement.  But how can HR managers provide the framework for career progression?  What do HR managers need to do to get started?
Self-assessment for Performance Improvement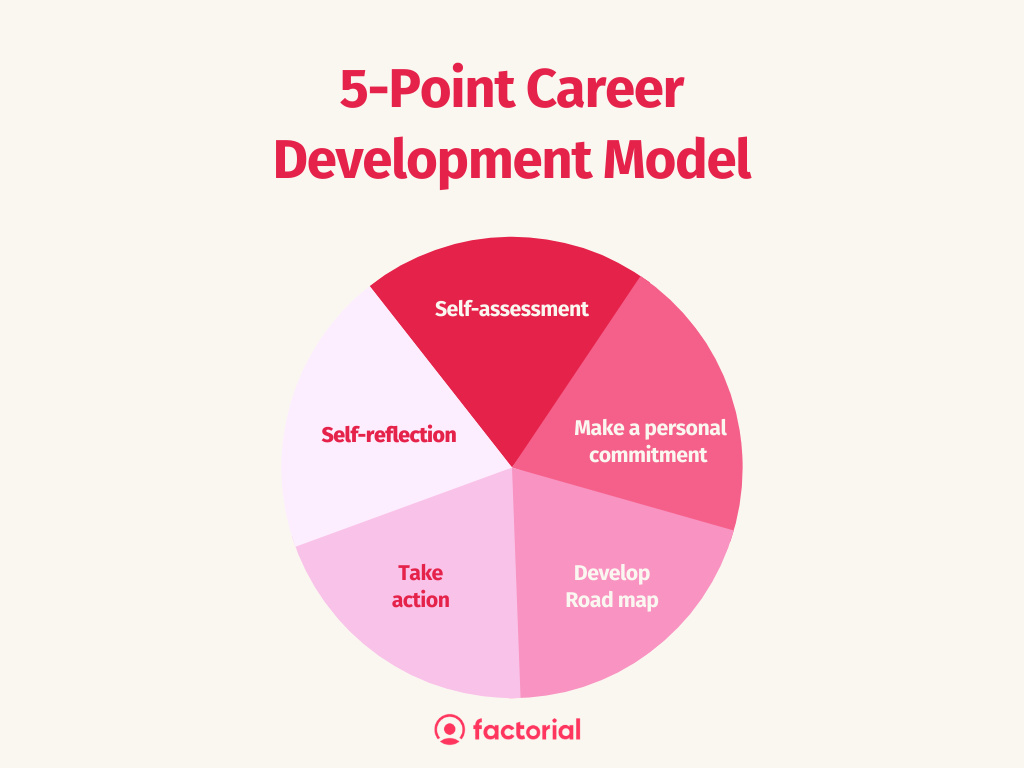 Using this 5-point career development model alongside a self-assessment template can inspire employees to perform better over time. Career Development Models like this give employees an idea of how they can benefit from a self-assessment and work towards their professional growth.
Self-evaluation can be a great starting point for assessing their personal career development and progress. Self-evaluation assessments help your employees to identify where they have gained knowledge and where they are lacking. The self-evaluation is also a way for your employees to document their accomplishments for future review.
After they've completed their self-assessment, employees can look for areas where they're excelling and where they want to improve. We've provided a Self-Assessment Template below.
How to Create a Career Progression Plan
Career progression planning does not have to be complicated.  Here are 5 simple steps to get started.
Step 1 – Employee Self-Assessment
As we mentioned above, a self-assessment is a great place to start for development. This will give you a good idea of how your employee is currently performing. From this initial assessment, you can easily figure out how to support their growth and development.
Step 2 – One-to-One Meeting
Time for that all-important one-to-one meeting, this is a great opportunity to ask your employee how they would like to progress within their career, what they would like to achieve and their overall career ambitions.
Questions to ask:
Where do you see yourself in 5 years?
What are your short-term and long-term goals?
How would you define success in your career?
Which Projects/Responsibilities would you like to be a part of?
Ask thoughtful questions about their career plans and their goals. Then you can work together to develop a top-notch career progression plan.
Stage 3 – Aligning Employer & Employee Needs
It's time to start analysing whether the employee's ambitions and the company's needs align. Ultimately, the development plan needs to work for both the company and the employee.
And even if the needs don't align, there are still ways that you can support the growth and development of their employee, keeping the employee motivated and engaged, but setting them up for a position elsewhere in the future.
Stage 4 – Gather your Resources
Creating a career plan isn't enough, you need to gather the necessary resources in order to support your employee. As an employer, it's important that you provide your employees with the necessary tools and resources to reach these goals.
Here are a variety of ways you can support your employees growth:
Stage 5. Finalise the Plan Together
Before you finalise the plan, arrange a meeting with the employee to discuss the career progression plan in detail. This is a collaborative process, therefore you need to make sure the employee doesn't have any further feedback or suggestions. Once both parties have decided that the plan is good to go, you can pass this on to the HR team. And it's time to get started on their career progression!
How HR Can Manage Career Progression
Through career progression planning, human resources encourage employees to take ownership of their roles and contribute to the organisation. Overall, HR's efforts impact the comfort levels of individual employees and the tone of the company culture. Organisational and interpersonal skills are both necessary for successful career progression planning.
Talent needs to reach its full potential. HR needs to have the proper tools to help them do so. 
The best way to gain insight into your workforce and balance responsibilities are with performance management software.  The software helps human resources professionals easily see and keep track of employee development.  It can help with all of the stages of decision-making and career progression management.
Successful HR professionals put people first and help them to achieve their goals every step of the way.