Finding and attracting the best talent for a company is never an easy task and even more challenging for IT recruitment. Recruiters take on the tiresome task of searching and recruiting IT candidates. This is in fact one of the great challenges that HR managers and professionals face in this competitive job market.
In this article, we will discuss how IT recruitment differs from general recruitment, the skills required to be an IT recruiter and their day-to-day tasks.

Tech candidates are highly sought after and attractive profiles, yet incredibly difficult to find. Given the growing demand in the technology industry, software developers, IT engineers and IT experts have become an extremely valuable resource for any type of business and industry.
In fact, according to an Indeed survey of IT recruiters, 86% of respondents said it was a challenge to find and hire software engineers.
HR managers need to adapt to the IT job market in order to attract and hire top tech talent. In addition to this, companies need to figure out the right strategies for keeping these candidates in the company. Due to how in demand these tech roles are, the turnover is usually high, so keeping them in the company can be an equally difficult task. 
We at Factorial have talked to experts in the selection and management of tech talents and we want to share with you the main problems that IT Recruiters are facing and the techniques that will help you attract and recruit the best IT profiles for your company. Let's start with an analysis of the current situation and define what exactly an IT Recruiter is.
The Current Tech Job Market
The current tech hiring landscape is extremely competitive, and as technological innovation continues to transform industries, the demand for qualified candidates is increasing at a rapid rate. With a talent gap like this, it is therefore difficult for companies to find IT, programmers and software engineers with relevant skills.
Furthermore, the pandemic and its repercussions have completely changed the way talent selection, job interviews and the onboarding process are carried out. In fact, more and more companies are now adopting virtual recruitment and onboarding technologies and are focusing on attracting talent remotely. 
84% of recruiters are actively working to adapt their processes to work remotely.

What Are the Key Responsibilities of an IT Recruiter?
An IT Recruiter is responsible for sourcing candidates to fill tech roles. These can be any roles within the technology, information technology and engineering fields. It is a position that falls within the category of HR Specialist. However, unlike a general recruiter, an IT Recruiter must have a thorough understanding of the IT industry and the desirable skills and experience.   
IT recruiters can be independent contractors who find prospective employees for clients. Alternatively, they may work in-house as part of the larger HR team.
IT Recruiters perform a diverse range of tasks during their quest to find the best talent in the tech world. Some of the most common duties and responsibilities of an IT Recruiter are:
Develop Recruiting Strategies
The HR recruitment sector is constantly evolving. In the age of social media and the growing demand for digital jobs, a solid strategy is vital to finding potential candidates. In fact, a large portion of an IT Recruiter's time is spent figuring out the best ways to reach the best technical talent.
Identify Hiring Sources and Channels
IT recruiters may work on attracting applicants passively, or may actively reach out to prospective employees individually, through social media networking sites such as LinkedIn, Twitter or Facebook. Today's IT Recruiters must maintain a digital presence and be constantly looking for new ways to build their network. 
Create Specific Job Descriptions
This is where written communication skills come in handy. Writing a job description is usually a team effort between the recruiter and other key members of the HR department. Being able to write a quality job description requires a thorough understanding of the position. For an IT Recruiter, this means that extensive technical knowledge of the subject is required to be successful.
Interview and Evaluation of Candidates
Whether you work internally or for an external recruiting agency, interviewing and evaluating candidates is a key part of an IT Recruiter's job. The goal is simple: find the right candidate who is worth introducing to the team manager. This requires conflict management skills, negotiation skills and a good deal of persistence.
Representing the Company at Events
Employer Branding is now more important than ever. The recruiter is practically the "face" of the company at job fairs, university events, exhibitions and conferences. In this case, it is important to be able to speak in front of large audiences, to experiment with new ways of involving and relating to people, to involve visitors by stimulating their intellectual creativity, to get in touch with people looking for work, to know how to prepare workshops, seminars and meetings. on the subject of work.
IT Recruitment: The Necessary Skills of an IT Recruiter
An IT Recruiter must have a good mix of hard and soft skills, i.e. solid technical knowledge and transferable skills. They must be someone with the ability to negotiate, whilst possessing sufficient technical knowledge to build relationships with candidates in their industry. 
We see below the main basic skills that any IT Recruiter should have (hard skills) and the skills that are not essential requirements, but that can give an advantage in the job market (soft skills).
Essential skills
Specific knowledge of the IT and technology sector

Knowledge of ATS software

Proficiency with Microsoft Office

Project

management

skills

Experience with Customer Relationship Management software

Email software (Google Mail or Microsoft Outlook)

Candidate Tracking Software (Applicant Stream)
Transferable skills
Excellent written and verbal communication skills

Negotiation skills

Organisational skills

Analytical skills

Interpersonal skills

Critical thinking skills

Empathic ability
IT Recruitment: Why Is It Difficult to Find Tech Talent?
As we mentioned, the demand in the tech sector is on the rise and ultimately, with the market ever-evolving and changing, the search for tech talent is proving to be a growing problem.
A survey by Indeed revealed that nearly 9 out of 10 IT Recruiters believe it is a challenge to find and hire IT engineers.
Is it because there are few engineers or is it the lack of skills of the recruiters that makes these roles difficult to fill? Why is it difficult to hire in the tech field? Let's see the main reasons together.
1) High Competition from Companies
Part of the difficulty in acquiring tech candidates is due to stiff competition in the industry right now. Almost every company needs developers and software engineers, and all of them offer competitive employee benefits to attract the best talent.
The tech industry is full of thousands of companies offering good working conditions, benefits, competitive salaries, ever-changing job roles, and future career paths. This is why it's easy for candidates to turn down a role and go elsewhere. One of the most appreciated benefits today is the possibility of working remotely and maintaining a healthy balance between work and private life. 
2) The salaries or rather, how much does a programmer earn
In any industry, it is common for employees to be aware of their salary and compare it to that of their colleagues. This adds to the competition when it comes to hiring – many companies tend to offer a higher salary in hopes of beating the competition. It might seem like a great idea to promote a role with a "competitive salary", but in reality, this could be an alarm for candidates: it is usually more beneficial to indicate a fixed salary or a salary range. This could help you stand out from the competitors. A report by Hackajob found that techies are 57% more likely to apply for a position with a specific salary or range. 
3) Corporate culture & Employer Branding
One Tech Republic survey reported that when evaluating a job, IT specialists prioritise opportunities that offer internal growth and development (39%) and a culture that fits their personality (38%). 
This is why it is important to work on Employer Branding, or on the identity of your organisation. This is now the fundamental prerequisite of any self-respecting recruiting strategy. According to LinkedIn, 75% of potential candidates research the company's reputation before applying for a position. Furthermore, almost 70% of candidates would not accept an offer from an employer with a bad reputation.
Building a strong corporate culture is a long process, it won't happen overnight, but it's important to evolve your tech employer brand to stand out from the crowd. Additionally, organisations that invest in Employer Branding are three times more likely to hire high-quality candidates.
4) Long Recruiting Processes
The hiring process takes time, skills, patience and of course money to find the ideal IT expert. The recruiting process in the technology sector almost always takes longer than in other roles. And if it takes longer, this also means that it can cost more in terms of resources and money. 
So always make sure you put your candidates at the forefront of your recruiting strategy when it comes to hiring. And try to test candidates on skills that will then be truly relevant to their future roles. 
5) Lack of Tech Knowledge
Quite often, recruiters don't have enough knowledge on how to recruit IT profiles. The technology sector requires very specific knowledge and knowledge of technical concepts and positions such as front-end, back-end, database, coding, programming languages, etc. Many companies don't have IT recruiters available to handle these particular recruitment processes. 
6) Lack of Skilled Candidates
Despite the growing number of tech graduates in recent years, most recruiters still struggle to find high-quality candidates with the right skills they need. The hardest skills to find are those of roles in big data, analytics, security and legacy systems.
The fact is that in the field of technology you can always find new skills, unique and complex skills that not all technology professionals possess. Also, if you find a computer scientist who matches your desired skills and experience level, they will surely be in high demand. It is therefore important to react quickly.
7) Tech Gender Gap
It's really hard to find women as senior or as team leaders in the IT industry. Although there are several organisations, which are trying to raise awareness on this issue, and even as companies are trying to hire more and more women, the tech industry is still male-dominated. 
Over the past 4 decades, the gender gap in technology has widened: only 1 in 5 women work in the industry and only 5% of leadership positions in the technology sector are held by women. The goal of many organizations, such as "Women Who Code" or "Women in Tech", is to bridge the gender gap and promote women's empowerment around the world. Because diversity and inclusiveness are essential in every sector, including the tech industry.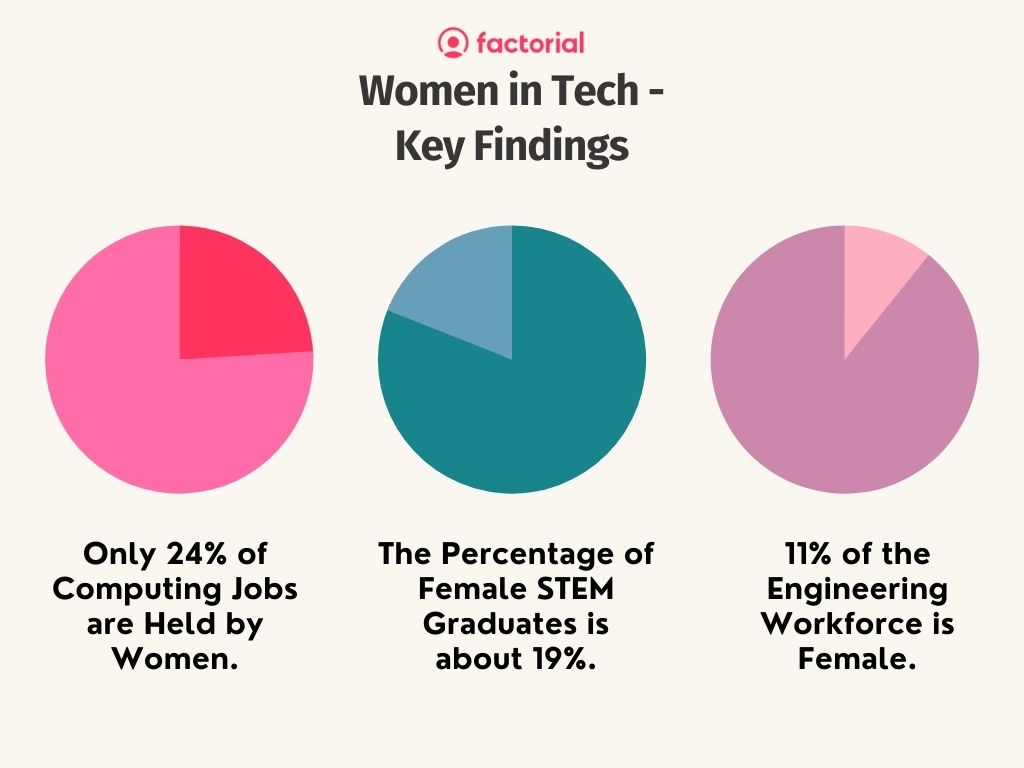 8) Ineffective onboarding processes
Employee onboarding is the first impression a new hire has as an official company member. It is not uncommon for companies to invest thousands of euros in recruiting new talent only to then spend very little time or money on hiring new hires once they have signed the contract. 
Recent studies state that 69% of employees are more likely to stay in a company for at least three years if they have experienced a good onboarding process. And 26% of workers leave a job because they are dissatisfied with the initial placement or training process. In the technology sector, it is crucial, especially since many professionals work completely remotely and it is, therefore, difficult to conduct good onboarding. Having a Human Resources specialist within the company dedicated to this task is of paramount importance.
Information Technology Average Salaries in England 2022
A UK Information Technology employee earns approximately £136,000 per year. Salaries range from £70,300 (lowest average) to £221,000 (highest average, the actual maximum salary is higher).
How ATS Software can improve the IT Recruitment Process
The Applicant Tracking System (ATS) recruitment software is a tool to facilitate the work of HR professionals. In short, this type of HR software enables employers to collect all the information from candidates and filter them according to their needs. Essentially, it allows you to automate all the management related to the search and hiring of a new employee.
There are many advantages of using ATS software, let's see some of them:
Improved employer branding

Save time on manual tasks

Stand out from the competition

Anticipate possible needs

Reduce human error in

remote recruitment.
Factorial is an HR software that has the recruiting and selection functionality within their ATS software. Also, Factorial is an all-in-one tool that you can continue to use after your candidates join the company. From Onboarding to Document Management, Performance Reviews and more. Your employees will gain immediate access to the employee portal.