"Something was missing, and we decided to create it. Strengthened by mutual esteem and complementary skills, we founded a startup." And with these words, in 2018, Banca AideXa was born. It became the first Italian FinTech dedicated exclusively to small and medium-sized enterprises, aiming to ease the process of accessing credit for entrepreneurs. 
"We were born with the aim of simplifying the lives of entrepreneurs, especially the smaller ones, who are a huge segment in Italy," explains Federico Sforza, CEO and founder of the company that today has about 60 employees. "It's a somewhat abandoned segment of the traditional banking system. We were born for this: to simplify their banking experience."
But how? With a 100% digital approach. By harnessing the opportunities of open banking, Banca AideXa allows SMEs to receive a loan proposal in a few minutes and to have the amount credited to their current account in a few days, without the need to sign or upload paper documents. 

The Evolution and Goal of Banca AideXa
Banca AideXa's goal was to create something new and make the world of online financing more efficient and convenient for businesses. The idea was built on the need for speed and simplicity because entrepreneurs have no time to waste.  Every day, they must make decisions, seize opportunities and develop ideas at pace.  
Our aim? Give small and medium-sized Italian businesses quick and secure access to credit.
By harnessing the potential of data analytics and artificial intelligence technologies, Banca AideXa is able to accurately assess a company's credit profile in a few seconds, surpassing the "old" parameters. Data drives the digital experience and decision-making. Thanks to open banking and a large ecosystem of partners and information sources, Banca AideXa is able to reconstruct the history of companies, assessing their creditworthiness and alignment with the products offered.
Factorial and AideXa Bank
Speaking with the managers of Banca AideXa, they explained that the main problem they were facing concerned the management of attendance records in the company and the request for holidays and permits. More specifically, the problem was that employees did not clock in or out so hours worked weren't recorded. They also didn't have an effective way to log the days they worked from home and the days they were away from the office.
They needed a tool that would negate the need for time-consuming daily tasks and Excel files. For these reasons, they chose Factorial. With Factorial's all-in-one software they have been able to manage employee entries and exits for both remote and office working, and have finally solved the problem of holiday requests. 
Factorial has allowed us to eliminate the bureaucracy.
Federico Sforza – CEO and Founder
"We chose Factorial because we had a growing need to reduce the margins of error in day-to-day management," Alice Vinci, head of Banca AideXa's People Team, told us. She also explained that Factorial's proactivity and continuous desire to innovate has meant they have found features and ideas in the software that they had not yet thought about. "Not only have we been able to digitise all our processes, but also improve them."  
Factorial is not something static, it is constantly changing and I like to discover new features that can improve our processes.
Alice Vinci – People Team
Team leaders appreciate the simplicity, speed and ease of data management and information exchange within Factorial. Sforza explained: "We are a completely paperless company: for this reason and for a series of values ​​we share, we chose the Factorial platform, which we found very simple and allowed us to manage all our internal HR processes."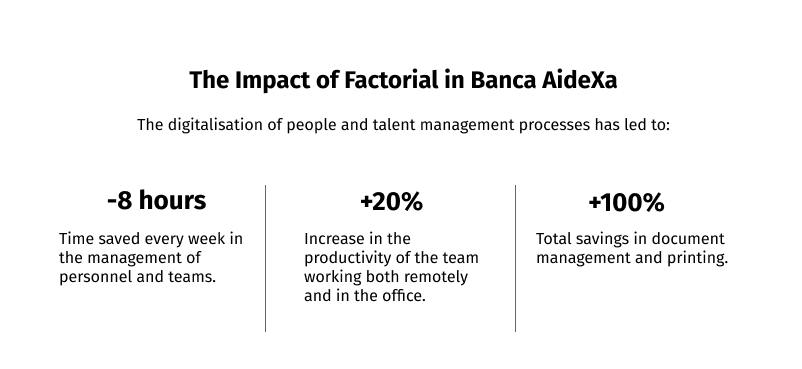 Alessandro Romano, Head of Development of Banca AideXa, added that in a world that is increasingly progressing towards flexible working, a platform like Factorial helps manage relationships with collaborators and allows for improved interactions and internal communication. This is a key point, he says, for retention and for attracting new talent.
Romano believes that the most valuable feature of Factorial is the performance appraisal because it drives employee motivation and defines work priorities. "Factorial is the lodestar for employees," he says.
In an avant-garde and technologically advanced startup like Banca AideXa, all that was missing was software to digitise and facilitate all HR processes. Now, managers and employees are enthusiastic about Factorial and its possibilities. They are always keen to learn of updates on new features to be able to make the most of the platform.
The Processes with the Greatest Impact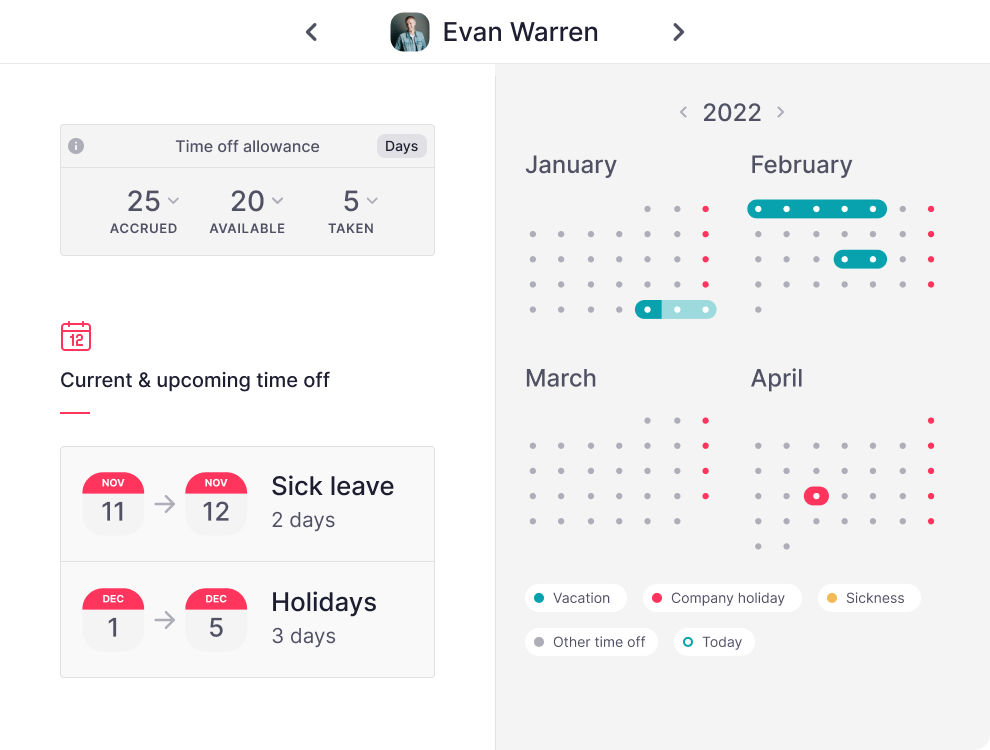 The main business processes that Banca AideXa has digitised thanks to Factorial are related to people management, from attendance tracking and holiday management to performance assessment and document management.
In each of these processes, since the implementation of Factorial in March 2022, Banca AideXa has saved time thanks to the automation of daily and repetitive processes, including:
The complete management of personnel, from

attendance recording

to the management of holidays and permits. 

The management of employee performance, objectives and activities.
The main saving in terms of resource was made thanks to the document management feature. Banca AideXa is now completely paperless thanks to Factorial. 
How Factorial Can Help SMEs and FinTechs
Factorial, like Banca AideXa, helps small and medium-sized enterprises to simplify all business processes. We aim to improve the experience and involvement of employees, especially after the pandemic and the rise of smart working. 
Banca AideXa responded to the needs of Italian entrepreneurs after realising that "something was missing from the solutions proposed so far by traditional banks and fintechs." The same happened at Factorial. After comprehending the biggest problems that entrepreneurs, HR managers and HR specialists faced on a daily basis, we realised that there was a lack of efficient HR software for transparent, quick and simple management of all HR processes in one place.
As we have seen, correct attendance management is extremely important for a company, not only to better organise tasks, duties, work shifts and absences, but also to increase transparency in the company. With Factorial, you can say goodbye to the classic Excel attendance sheet and instead digitise the attendance recording process through a clock-in tool that all workers can use directly through the app.
This way you can ensure that you always have an adequate number of employees whilst working, whether from the office or remotely.

Continuous, real-time employee performance monitoring is also possible with Factorial, allowing you to track the degree of satisfaction in your company. The software allows you to measure, monitor and manage employee performance from a single platform citing KPIs such as productivity, work quality, communication skills, efficiency, attitude, commitment and organisation.
Proper employee performance monitoring can yield great results and you will be able to understand where the company is and how you can improve to achieve your goals.
In addition, the software offers many other features that allow you to automate all of the repetitive, manual processes that require so much time. For example:
Manage holidays and permits and approve them with a simple click

Evaluate employee performance, giving them feedback and setting goals

Manage all

documents digitally

(payslips, contract signatures, etc.)

Manage employee

training

…and much more!
By digitising all business processes as Banca AideXa did, you will increase productivity and improve the functioning of departments crucial to your business.