Factorial HR is a fast-growing startup that was founded in Barcelona at the end of 2016, with the aim to help businesses to automate and streamline their HR processes and chores by using a free, cloud based HR software.
The idea was born when we noticed that many startups and other small businesses often struggled when it came to managing their HR tasks and their staff, and their processes would usually be very time consuming and difficult. The solution, a completely free HR software that is created with small and medium sized businesses in mind, but with room to grow and the tools to help them get where they want to go.
Now, 2 years later, we have a well established customer base in Spain and America and are well underway to take on Europe! With many UK businesses already on board, it makes sense to create more content specific for our UK customers with interesting news, facts and all things related to HR. Are you still wondering what all the fuss is about? Just keep reading.
A sneak peak on our free HR software
We want our HR software to be available to everyone, which is why it will always be free. No download of programs or plugins necessary, simply log in on the website and you have access to the full platform wherever you are. As long as you have an internet connection, of course.
In the HR software you will find many features which will help you streamline and ease the workload of your HR department, but also for employees and management. Here is a wee sneak peak of our software and all its features!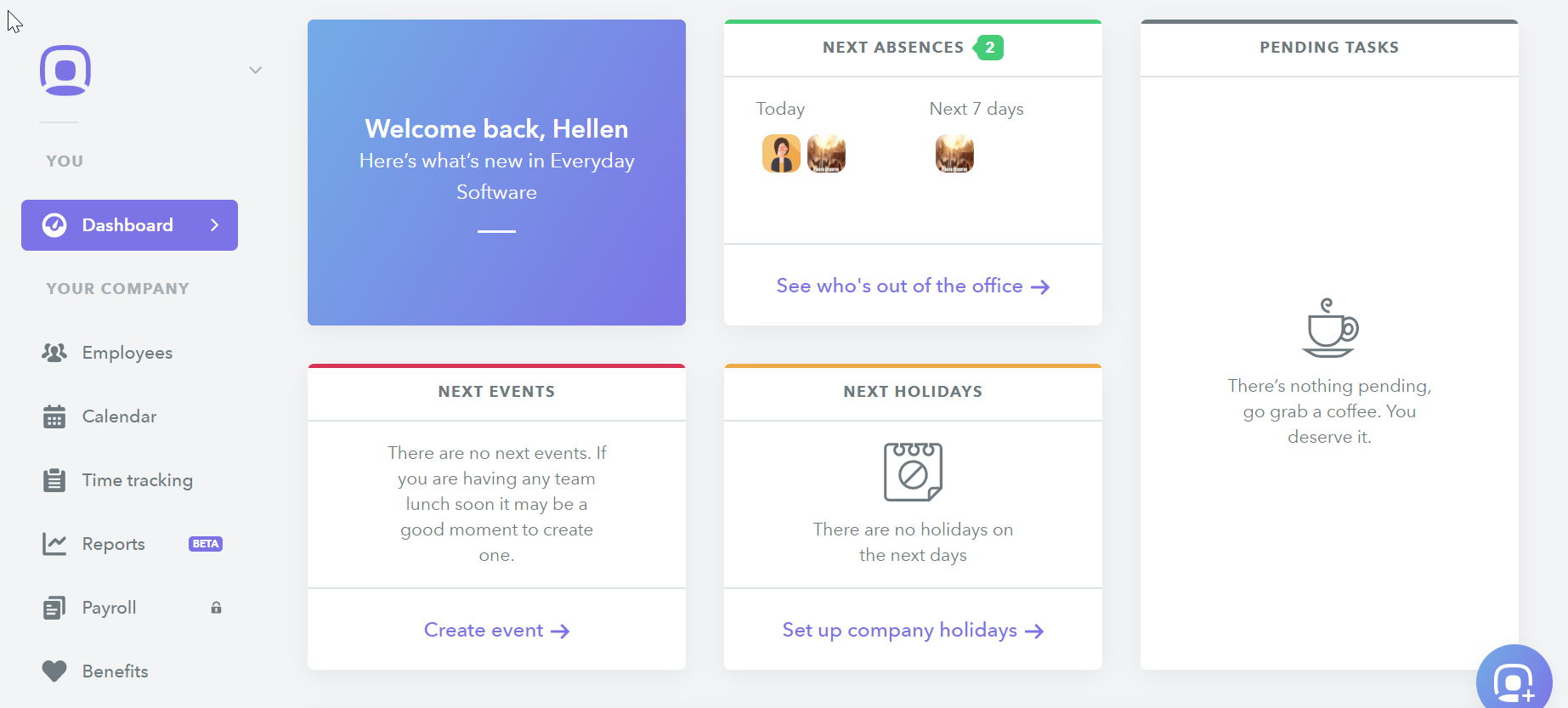 Document Management

All documents for the company and staff gathered in the cloud. Upload, save, download and share documents wherever you are.

Holidays and Absences

Manage the planning of annual leave and other time off requests, such as sick-leave, with the help from Factorials holiday calendar. Employees can request leave straight though the platform, see how many days they have left to take and view their approved leaves. The administrator can also create custom leave-types suited for the company, for example 'working while on vacation' or half days.

Reports and Analytics

Create custom reports and analytics automatically by using the data of your company and staff which is collected in the software. Get a greater understanding of your company diversity and distribution of, for example, gender, salaries and age-groups. It is also interesting to view your growth in staff-members from year to year, or even month to month if you have recently had a rapid growth.

Employee Portal

All staff members in the company have their own, unique log in to the employee portal. From here they can manage their documents, such as contracts or payslips, report illness, send requests for annual leave and view the company organizational chart. The organizational chart will be automatically created once you add employees to you company in Factorial, and will be updated if there are any changes in an employees contract.

Time and Attendance

The latest feature in Factorial! Employees can now report their worked hours directly in the platform from the employee portal. The time reports will be sent to the chosen manager at the end of the month for review and approval and can then be exported and sent to your payroll system.

Save hours every week with Factorial HR software
We spend so much time at work, it goes without saying that we should enjoy the time we spend there! But when most HR departments have their hands and desks full of time consuming and, lets be honest, outdated processes, they don't have time to actually focus on how their staff is doing.
Our system is not created to replace human interactions, in fact, it's the contrary.
It is created to ease the workload and help the HR staff to get free time to spend on the most valuable resource of your company, your employees.